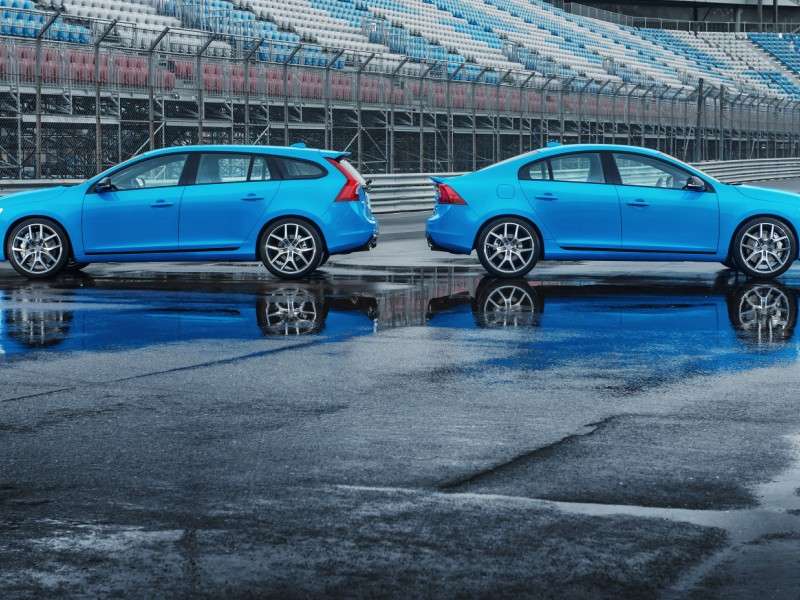 Volvo made a surprise announcement last week. The company has confirmed that the S60 and V60 Polestar will be coming to the U.S. next summer. Right about now, you're scratching your head and saying Polestar? What is Polestar?
Polestar is a well known Volvo tuner and racing team based in Europe. They became well known last year when the S60 Polestar Concept was revealed. This S60 used a highly modified turbocharged 3.0L inline-six producing a monstrous 508 horsepower and 424 pound-feet of torque. Paired with a six-speed manual and all-wheel drive system, the concept hit 60 MPH in 3.9 seconds and boasted a top speed of 186 MPH. Also around this time, Volvo announced that it would be offering performance packages from Polestar for certain models that would be installed at dealers. Now Volvo and Polestar are taking the next step by offering models tuned by Polestar that you can buy directly off the dealer lot.
The S60 and V60 Polestar begin with changes to Volvo's 3.0L T6 engine. The engine gets a new twin-scroll turbo and intercooler, along with a stainless steel exhaust system. This helps boost power from 300 horsepower and 325 pound-feet of torque to 350 horsepower and 369 pound-feet of torque. This is paired with a six-speed automatic with paddle shifters, and a Polestar-developed Haldex four-wheel drive system. This combination allows both models to hit 60 MPH in 4.9 seconds and reach a top speed of 155 MPH.
Other changes to the S60 and V60 Polestar include a much more rigid chassis, stiffer springs, larger brakes, twenty-inch wheels, new aero kit, and seats.
"We are proud to present the S60 and V60 Polestar. A car developed for those who share our passion at Polestar: That driving really matters and that a true driver's car should enable you to enjoy driving all year, on all roads and in all weather conditions. This is a driver's car for real life," said Christian Dahl, CEO of Polestar.