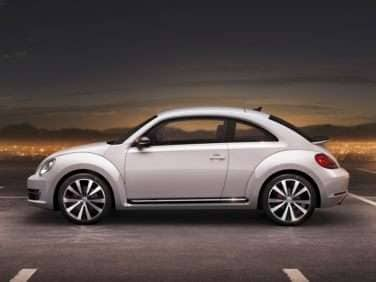 Volkswagen has dialed up the Fahrvergnügen on both the 2013 VW Beetle Turbo and 2013 VW Jetta GLI, thanks to a new version of the cars' 2.0-liter TSI engine. The turbocharged 4-cylinder unit delivers a 5 percent increase in horsepower—going from 200 to 210 hp—albeit without affecting torque. Still, Volkswagen is claiming the 2013 VW Beetle Turbo coupe is 2 tenths of a second faster to 60 than the 2012 model, regardless of transmission, getting the job done in a brisk 6.6 seconds with both DIY and DSG gearboxes. The 2013 VW Jetta GLI pushes down its 0-60 time to 6.7 seconds—.1 second faster than the 2012 version with a six-speed manual transmission and .2 seconds quicker when comparing cars kitted out with VW's six-speed DSG automatic.
Both cars also will see some running changes from the design department. The Beetle Turbo, in both coupe and convertible configurations, will wear bumpers borrowed from the VW R-Line for a more athletic appearance, while the GLI gains LED taillights. And enthusiasts take note: Until that uprated engine works its way into the VW GTI, the 2013 VW Beetle Turbo is the quickest vehicle in the Volkswagen lineup. Of course, to ensure it really looks the part, customers now can add the full R-Line package to either the 2013 VW Beetle Turbo or its open-air sibling.
In both cases, customers will enjoy those nifty bumpers along with 19-inch "Tornado" design wheels, Bi-Xenon headlights with LED daytime running lamps stainless-steel kickplates, a model-exclusive "chrome vanadium" dashboard panel, and assorted interior and exterior badging. The price? $30,135.
Now, that's a serious bump over the entry point to the 2013 VW Beetle family—which opens at $19,995—but the new 2013 VW Beetle Turbo R-Line also showcases goodies like a racing-style multi-function steering wheel (wrapped in leather), sport seats (with more leather), navigation, keyless access, and a 10-channel, 400-watt Fender sound system with eight speakers and a rear subwoofer.
For availability of the 2013 VW Beetle Turbo and VW Jetta GLI with their new and improved engines, check in with your local Volkswagen dealership.