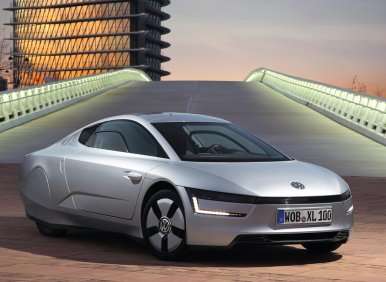 A bit more than 10 years after the first prototype was shown, the Volkswagen XL1 is now officially on its way to the marketplace as the most efficient production car in the industry and the most aerodynamic production car ever. The tale of the tape: A nifty 261 mpg combined in the European testing cycle and a coefficient of drag of just 0.189—to put that into perspective, the 2013 Toyota Prius manages a Cd of 0.29 and the notably slippery 2013 Tesla Model S comes in at 0.24.
Also, in addition to its mind-boggling fuel-economy performance, the XL1 will emit just 33.6 grams per mile of CO2. Picking on the Prius again—since the all-electric Tesla makes no tailpipe emissions—the VW XL1's performance compares to a 179 grams-per-mile rating for the Toyota. And note: Volkswagen's engineers have even managed to bake in a 32-mile all-electric driving range, thanks to the vehicle's plug-in hybrid technology, and the car will produce no emissions during those miles.
The flipside to the Volkswagen XL1's fuel-economy record? Despite a low curb weight of 1,753 lbs., the high-efficiency coupe is still being motivated by a mere 47 hp from its 1.0-liter, two-cylinder TDI engine, complemented by 27 hp from its electric motor.  That limits the top speed to 99 mph, which shouldn't be an issue, but its 0-60 time of 12.7 seconds could be. That's nearly a second slower than the 2013 Nissan Versa, although it's also a tenth faster than a Smart Fortwo. And like the Smart car, note that there's only room for two.
Regardless, as VW reports: "The XL1 will look spectacular going down the highway—a car of the future, built for today."
Autobytel readers can expect more details about the Volkswagen XL1 as we get closer to its public premiere in March, at the Geneva (Switzerland) Motor Show.