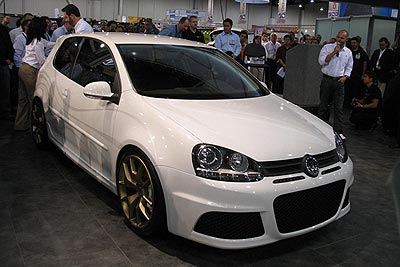 Volkswagen Thunder Bunny GTI Concept – Preview: SEMA, the Specialty Equipment Market Association, holds a show in Las Vegas each year for all the new automotive products – everything from cars to key chains. And the schedule just happens to include Halloween. It's a strange, wacky experience, and probably the most appropriate place for Volkswagen to show off its Thunder Bunny Concept. In Vegas, "Thunder Bunny" could mean many things, so make sure spouses, parents, bosses/employees, or religious figures know you're talking about a car. To back up that claim, you can display cool photos or praise the Bunny's 225-horsepower five-cylinder engine, the striking 19-inch gold wheels, and the alcantara interior trim. It just may lead to them wanting some Thunder of their own.
Why it matters
Volkswagen used the 2006 SEMA show to demonstrate what could be done with its new Rabbit and GTI models, first recognizing the works of individual tuner shops, and then displaying two models that saw more in-house work. One is the intimidating R GTI Concept, which packs 375 horsepower and multiple hardware mods. The other is the Thunder Bunny, built in conjunction with Neuspeed. Instead of juicing the already impressive GTI, Neuspeed amped a more basic Rabbit, which showcased what cold be done with a less-expensive, more mainstream version of the same car. This helps paint a picture of the Rabbit as a great starting point for tuners on a budget, or those who want to leave more cash available for individualized tuning.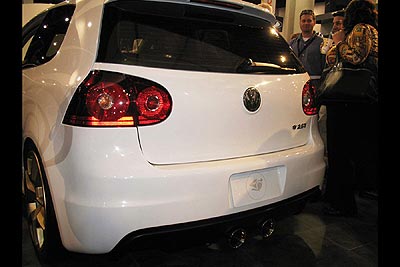 What's under the hood
Since it's based on the Rabbit and not the GTI, the Thunder Bunny draws power from a 2.5-liter, five-cylinder engine, though Neuspeed added its own turbocharger to boost output to 225 horses with a commensurate jump in torque. An upgraded clutch and Quaife differential were added to handle the extra power. Lightweight 19-inch alloy wheels roll on Michelin Pilot Sport Cup 235/35 tires, and Brembo calipers join large cross-drilled Brembo rotors. An adjustable suspension consists of Bilstein coil-over shocks paired with Neuspeed stabilizer bars. The setup can be set for street or track use.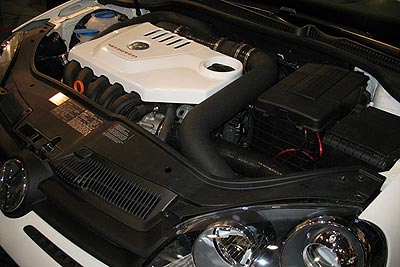 What it looks like
Sitting in stark contrast to the black R GTI Concept, the Volkswagen Thunder Bunny Concept has been sprayed in candy white paint, over which are subtle graphics designed to accent the Rabbit's fluid body shape. The bright paint is offset by gold 19-inch alloy wheels, and expansive black honeycomb grille inserts that find their way into a revised front fascia. Lower side skirts add a bit of style to the flanks, while the rear sees taillights borrowed from the R32, below which are dual exhaust tips positioned center stage. Thunder Bunny's interior features black and white checkered sport seats adopted from the GTI, white carbon fiber trim elements, a Neuspeed shifter accented by an aluminum ball, and a GTI steering wheel wrapped in alcantara.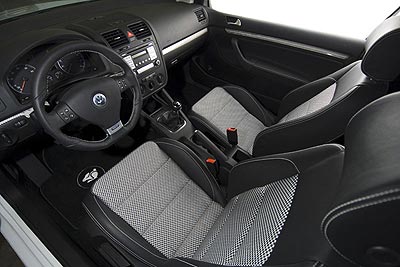 When you can buy it
Simply put, you can't go to your local Volkswagen dealer and pick up your own Thunder Bunny. You can't pre-order one either, for that matter. Though the company is using the SEMA debut to gauge public response to a modded Rabbit, there are no plans for a production version of the Bunny. But can you at least buy the parts? To some degree, yes. VW already offers a body kit and numerous wheel options for the new GTI, and to be sure, aftermarket companies are quickly developing products for Volkswagen's popular Rabbit/GTI lineup. Case in point – the turbo unit Neuspeed built for the VW 2.5-liter engine.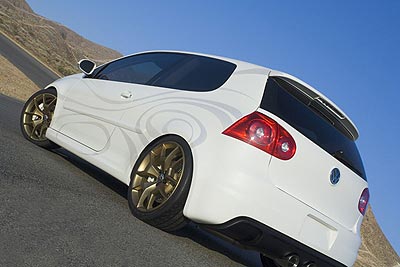 What we think
We're big fans of the GTI, though the 2.5-liter engine used in the Rabbit leaves us less impressed. However, with a Neuspeed turbo tacked on to pump horsepower up to 225 or so, our perspective would likely change pretty darn quick. Add in a suspension system that could quickly and easily accommodate the daily commute or a hard run through the twisties, and we suddenly become even more excited. Clearly, we're in favor of what the Thunder Bunny Concept represents, which is a whole lotta fun and capability in what started out as an everyday hatch. What's more, the Bunny deserves kudos for offering just as much go as show.
Photos courtesy of Thom Blackett and Volkswagen