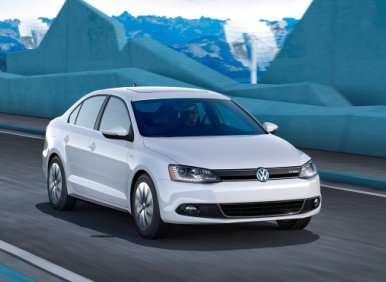 After seeing its redesigned compact sedan achieve record-breaking sales in its first year on the market, Volkswagen will soon add the 2013 VW Jetta Hybrid to the family, with a starting price of $24,995. The debut of the Jetta Hybrid will double the number of compact hybrid sedans available to U.S. customers, while also becoming the first hybrid in any segment to roll with a seven-speed automatic transmission. In this case, it's an enhanced version of Volkswagen's proven DSG dual-clutch setup, and when used in the Jetta Hybrid, it's expected to deliver 45 mpg in combined driving. What's more important—at least for those who prefer a dynamic driving experience—is that the car also will be able to run from 0-60 in as little as 9 seconds flat. (A Honda Civic Hybrid, for comparison, takes a tick over 10 seconds. The Jetta Hybrid also provides 60 more system horsepower, an additional 53 lb.-ft. of torque and a 1-mpg advantage in combined driving—and is $795 more expensive, too.)
Providing that kind of motivation is an advanced hybrid powertrain with a brand-new 1.4-liter turbocharged I4 engine, featuring VW's TSI direct fuel injection, as well as a lightweight lithium-ion battery pack and 20-kW electric motor. Those components work together to deliver 170 hp and 184 lb.-ft. of torque and a "genuinely sporty vehicle" according to VW. On the efficiency front, the Jetta Hybrid also can travel up to 1.2 miles on electricity alone, at speeds up to 44 mph.
2013 VW Jetta Hybrid: Parsing the Pricing
Volksagen will offer the 2013 VW Jetta Hybrid in four flavors, but don't expect to find the $24,995 starter model at dealerships; well-equipped with standard features like a leather-wrapped steering wheel, six-speaker sound system, Bluetooth tech, and VW's Climatronic automatic climate-control system, it will be available by special order only. As for the rest of the lineup, it will look like this:
Jetta Hybrid SE—Upgraded with LED taillights, power-reclining front seats, a premium touchscreen audio system and push-button start, the SE model starts at $26,990.
Jetta Hybrid SEL—Gaining 16-inch aluminum-alloy wheels, a power sunroof, premium audio with navigation, heated front-washer nozzles, heated front seats and a six-way, power-adjustable driver's throne, the SEL model will open at $29,325.
Jetta Hybrid SEL Premium—The acme of the Jetta Hybrid roster has an MSRP of $31,180, which includes a Fender sound system, LED daytime running lights, automatically adjusting bi-xenon headlights, 17-inch aluminum-alloy wheels, and a rearview camera.
The 2013 Volkswagen Jetta Hybrid is scheduled to reach VW dealerships before the end of the year.