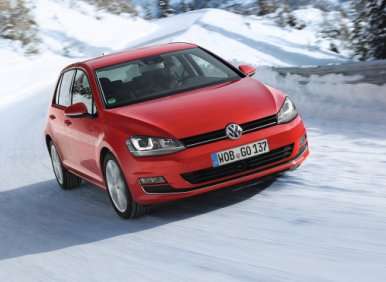 When the all-new, seventh-generation of the 2015 VW Golf made its recent American debut at the New York Auto Show, a lot of the focus was on its trio of turbocharged internal combustion engines, which will include both 1.8- and 2.0-liter gasoline-fueled varieties as well as a 2.0-liter clean diesel, all in I4 configurations.
Now, that certainly makes sense, since those powerplants will deliver some nice power and efficiency gains as compared to their 2013 counterparts, and it's also notable from a historical standpoint that the starting point to the 2015 VW Golf team will be dropping its current, oddly cylindered I5 (for that aforementioned 1.8-liter gas turbo). But it also turns out that Volkswagen has a few surprises up its corporate sleeve.
For example, when discussing the 2015 VW Golf recently being named "World Car of the Year 2013," Prof. Dr. Martin Winterkorn, chairman of the Board of Management for Volkswagen AG, noted that: "This car sets new benchmarks again and again, not least in terms of efficiency and environmental credentials. Soon, for instance, the Golf will also be launched as a plug-in hybrid and as a 100 percent electric car."
That comes on top of another alt-fuel announcement from earlier this year at the 83rd Geneva Salon d'Automobile in Switzerland. There, in addition to showcasing the new 2014 VW Golf Variant—destined to become the next-gen VW Jetta SportWagen in this country—the automaker indicated that there was "a Golf Estate* TGI BlueMotion with [compressed] natural gas drive (CNG) in the pipeline, too."
Autobytel will provide further details about these vehicles' potential/eventual appearances in the U.S. as soon as they're available.
(*"Estate," of course, being European for "station wagon.")