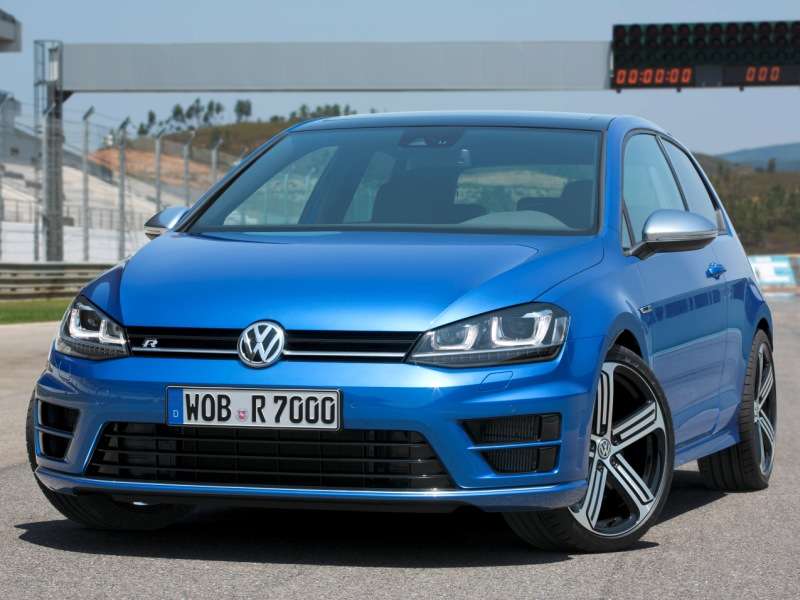 The North American International Auto Show (NAIAS) is set to open to the public in Detroit on January 18, but Volkswagen, like a growing number of other automakers, has decided to offer an early peek at some of its upcoming debuts.
First up is the 2015 VW Golf R, which will be nothing less than the most powerful production Golf ever sold in the United States. Relying on a further upgraded versionof Volkswagen's newest 2.0-liter turbo, the four-cylinder engine also features direct injection to deliver 290 hp and 280 lb.-ft. of torque. The 2015 VW Golf R will then get that power to the ground through a 4Motion all-wheel-drive system, aided by the driver's choice of a six-speed manual transmission or similarly cogged DSG automatic.
Needless to say, the 2015 VW Golf R will make a strong push to reclaim its crown as the king of the hot-hatch hill, but not without equally strong efficiency gains. Proving that point: Along with a 0-60 time of under 5.3 seconds, the manually transmissioned 2015 VW Golf R has been rated at 33 mpg combined on the European driving cycle. (And although VW didn't mention mpg with an automatic transmission, the company did confirm that that unit lowered the car's 0-60 time below 4.9 seconds.
Volkswagen's second scheduled NAIAS premiere isn't quite so peppy, but it is even more efficient. The VW Passat BlueMotion Concept was to push the fuel-economy envelope but without pushing standard internal combustion technology to the background. Thus, the mid-size Passat BlueMotion can reach up to 42 mpg in highway driving without hybrid help or diesel fuel. The concept is instead fitted with a new 1.4-liter engine that is the first four-cylinder powerplant in the industry with cylinder de-activation technology. Other powertrain features helping to boost the car's fuel-efficiency performance include direct injection, turbocharging, a stop/start system, and an engine-decoupling feature that reduces drag on the driveline while coasting.
For more information about both these vehicles—and many others—be sure to stay tuned to Autobytel for full coverage of this year's NAIAS.