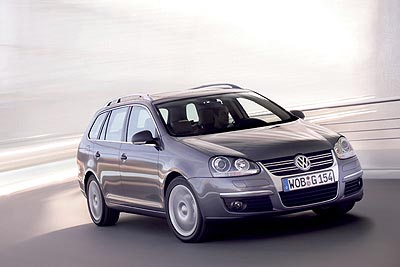 Volkswagen Jetta Wagon Preview – Geneva Auto Show: Long viewed as one of the least desirable segments in the automotive realm, station wagons are forging a comeback at a time when buyers look for solutions that blend utility, style, and efficiency. For many, large SUVs aren't cutting it, crossovers don't get their hearts a pumpin', and minivans will forever be a no-sale. Filling the gap are rides like the Mazda6 wagon and the Dodge Magnum. Also expected to join the mix is the 2008 VW Jetta wagon, a stylish and useful hauler that has been confirmed as the Golf Variant for Europe, though any rumblings about a North American version remain unofficial at this point.
What's Under the Hood
Coinciding with its Geneva debut, Volkswagen has suggested that the new Jetta wagon will offer buyers a variety of gas and diesel engines. That's for the European market; the North American version will likely get some of its own powertrains, though details have yet to be released. We expect the Jetta sedan's 150-horsepower 2.5-liter five-cylinder engine, mated to either a five-speed manual or six-speed automatic transmission, to be standard fare, and look for the TDI powerplant to be an option. That updated diesel engine is good for 140 horses, 235 lb.-ft. of torque, and a reported top speed of 127 mph. One can also hope for a 2.0T model featuring the Jetta GLI's 200-horsepower turbocharged four-cylinder.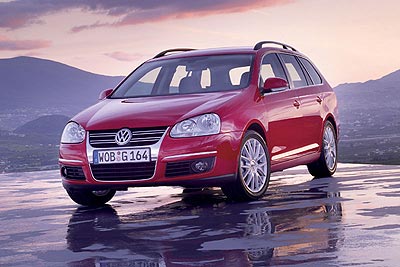 What it Looks Like
With its large chrome grille, prominently displayed center badge, and Terminator-like horizontally-stacked headlights, this wagon's Golf/Jetta lineage is unmistakable. Move to the side profile and the look quickly, and not surprisingly, bears a strong resemblance to the larger Passat Wagon, including features such as the body-side crease, the relative dimensions of the greenhouse, and the arc of the roofline. But the devil's in the details, and that's where the Jetta Wagon stands apart with different taillights that are below the crease and quarter windows on the rear doors. The interior design will mirror that of the Jetta sedan, though cargo volume jumps to 24.4 cubic feet behind the rear seats and 54.7 cubic feet with the rear seats folded.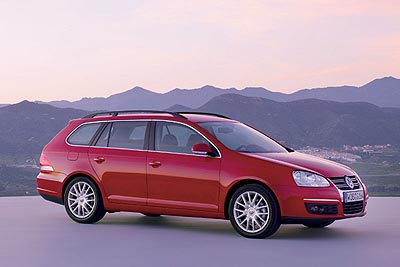 What We Think
We're really coming around in favor of small and midsize wagons, especially when they're styled like the Jetta. Next to minivans, they're some of the most practical vehicles to consider, and given the plethora of models available with four- and six-cylinder engines (and to a lesser degree, diesels), they're an especially good choice for buyers who need efficient utility. The likely TDI version sounds especially enticing, with its 235 lb.-ft. of torque making for some serious off-the-line grunt its promise of superior fuel economy.
Photos courtesy of Volkswagen