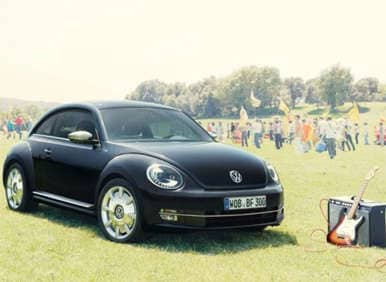 When it comes to brand loyalty, there are probably no fiercer rivals than cars and guitars, and Volkswagen is now pairing up with storied guitar maker, Fender, to create a new special-edition version of the 2013 Volkswagen Beetle. Volkswagen first paired up with Fender to introduce the Fender Premium Audio System in the redesigned Jetta sedan two years ago, but now one of the most iconic guitar companies is being featured in one of the world's most iconic cars with the 2013 Volkswagen Beetle Fender Edition. This will be the first Volkswagen model in Europe to get the Fender system, and it will be on sale in the United States this fall.
To match the styling of Fender's renowned guitars, all 2013 Beetle Fender Edition cars will come in a Deep Black Metallic paint job with plenty of chrome including the door mirror caps and the removable disc covering the18-inch aluminum alloy wheels. The Fender logo will be prominently displayed at the base of each A-pillar. Inside, the guitar theme continues with a "sunburst" insert painted on the instrument panel to resemble a guitar. This trim would be even better if it was actually wood and not painted plastic, but judging from the pictures, we're sure most guitar fans won't take issue the styling. To match the dash insert, the Beetle Fender Edition also uses contrasting stitching on the steering wheel, seats and shift lever to tie everything together.
As its name suggests, the highlight of the 2013 Volkswagen Beetle Fender Edition is its sound system. Using nine Panasonic speakers, the Fender Edition Beetle is designed to give crisp, clear sound at all ranges thanks to four tweeters, four midrange speakers and a subwoofer that combine for 400 watts of total power. Speaking of power, since the Beetle Fender Edition starts life as the Beetle Turbo, it comes with VW's peppy 200-horsepower 2.0-liter turbocharged inline-four.
While final pricing has yet to be announced, we would expect the new 2013 Volkswagen Beetle Fender Edition to command a higher starting MSRP than the 2013 Volkswagen Beetle Turbo which ranges from $23,395 for the base Turbo model up to $29,095 for the Beetle Turbo with Sunroof, Sound and Navigation. The Beetle Fender Edition will come standard with Bi-Xenon headlights with LED daytime running lights, but while the official pictures of the car released by Volkswagen show it with navigation, this will likely be an optional set up.