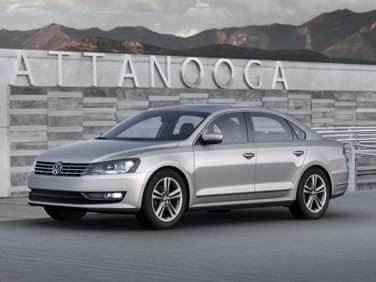 Showing exactly why Volkswagen's production complex in Chattanooga, Tenn., is the first and only auto plant in the world to have earned LEED Platinum certification from the U.S. Green Building Council, the facility—already home base for the record-breaking 2013 VW Passat—now also hosts the largest solar array of any automotive manufacturing facility in the country. The Volkswagen Chattanooga Solar Park spans 33 acres, relies on 33,600 solar modules and can produce 13.1 gigawatt hours of electricity each year.
To put that number into context, it's enough electricity to annually power some 1,200 homes, and the new installation is expected to deliver 12.5 percent of the plant's energy needs when the facility is at full production for the 2013 VW Passat; during non-production periods, the solar array will be able to supply a full 100 percent of the plant's power.
"We are proud to power up the biggest solar park of any car manufacturer in North America today," said Frank Fischer, CEO and chairman of Volkswagen Group of America, Chattanooga Operations LLC. "The solar park is another proof point of Volkswagen's worldwide commitment to environmental protection under its 'Think Blue. Factory' philosophy, a broadly focused initiative for all Volkswagen plants to achieve more efficient use of energy, materials and water and produce less waste and emissions."
And remember, the 2013 VW Passat itself is plenty efficient as well, especially when fitted with a TDI clean-diesel engine that enables fuel-economy marks of up to 31 mpg city/43 mpg highway/35 mpg combined.