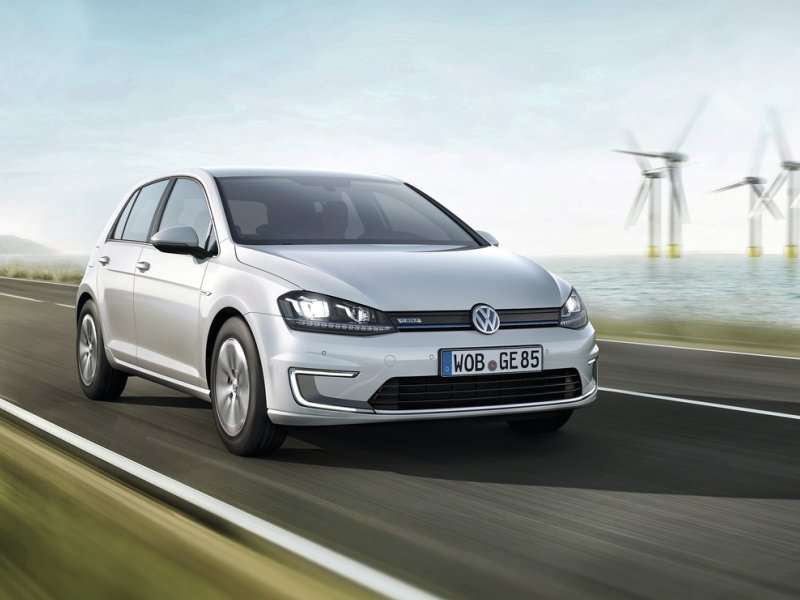 Volkswagen recently unveiled an all-electric version of the European 2014 VW Golf - and an EV variant of its global "Up!" city car - at this year's International Motor Show in Frankfurt, Germany. And while some might think the company's first production EVs are a bit late to the party, Prof. Dr. Martin Winterkorn, CEO of the Volkswagen Group, begs to differ.
"We are starting at exactly the right time," Winterkorn said during the duo's debut. "We are electrifying all vehicle classes, and therefore have everything we need to make the Volkswagen Group the top automaker in all respects, including electric mobility, by 2018."
Now, Autobytel first reported on an all-electric VW Golf this spring, but it's only with the car's public introduction that VW is releasing details about its electric propulsion system. As configured for European drivers, the setup includes a 24.2-kWh lithium-ion battery pack and an 85-kW electric motor, making approximately 113 hp and 199 lb.-ft. of torque. In terms of performance, VW is claiming the e-Golf runs from 0-60 km/h (37.2 mph) in 4.2 seconds, can get from 0-100 km/h (62 mph) in 10.4 seconds, and is electronically limited to a top speed of 140 km/h (86.8 mph).
More to the point, the VW Golf EV has a zero-emissions, all-electric driving range of up to 190 km (117.8 miles) that is more than 40 miles beyond that of a 2013 Nissan LEAF or 2014 Ford Focus Electric. Of course, just for comparison's sake, it's also less than half of the EPA-certified range of a top-of-the-line 2013 Tesla Model S. In regards to charging, because it can be tricky to try to convert the European numbers to U.S. equivalents, we'll just note that European customers can charge the e-Golf from zero to full capacity in about 13 hours using a typical household outlet or in about eight hours with a home-charging unit. Additionally, the vehicle has fast-charging capability that allows it to be charged to 80 percent of capacity in about 30 minutes when using compatible charge stations.
The new e-Golf won't join the U.S. VW Golf family for at least another year though, as the traditionally powered all-new models themselves aren't expected until 2014, but we do have some more details to whet your appetite until then…
VW e-Golf: Braking a Difference
The VW e-Golf naturally offers a wealth of technologies—including plenty of infotainment, connectivity and safety features—but Volkswagen engineers also have deployed a pair of braking enhancements that not only help stop the car, but also help stop it from wasting energy.
Thus, the e-Golf doesn't just have a multi-mode drive selector with Eco and Eco+ settings, it also boasts a driver-selectable regenerative braking system with five different levels of engagement to optimize energy recapture for a particularly wide range of driving styles and scenarios. In addition, the VW e-Golf is fitted with an electromechanical brake servo that can blend stopping power from its "regular" system with the braking torque provided by the car's electric motor. Other highlights of the e-Golf, at least for European drivers, will extend to: 
All-LED exterior lighting, a first for a Volkswagen
Enhancements for its standard eight-inch touchscreen, adding EV-specific functionality to its also-standard audio and navigation features
Acoustic tuning that creates a "luxury class" cabin environment
A new instrument layout, with an EV power display replacing a traditional tachometer
Exclusive seat upholstery (in fabric or leather) that's complemented by a leather-wrapped steering wheel and shifter knob, a heated windshield, and interior accents in Iridium Matrix/Dark Magnesium
Volkswagen's full suite of driver-assistance measures, including adaptive cruise control and "City Emergency Braking"
The automaker's "Volkswagen Car-Net e-Remote" app that provides remote control over charging and other key vehicle systems via compatible smartphone
The new VW e-Golf is merely a starting point for Volkswagen's efforts to re-imagine the future of motoring.
According to Winterkorn: "We must have a holistic mindset and a comprehensive approach to mobility—from generating energy through development, production, retail and vehicle operation right down to recycling. Our clear goal, therefore, is to lead with holistic, modern mobility concepts."