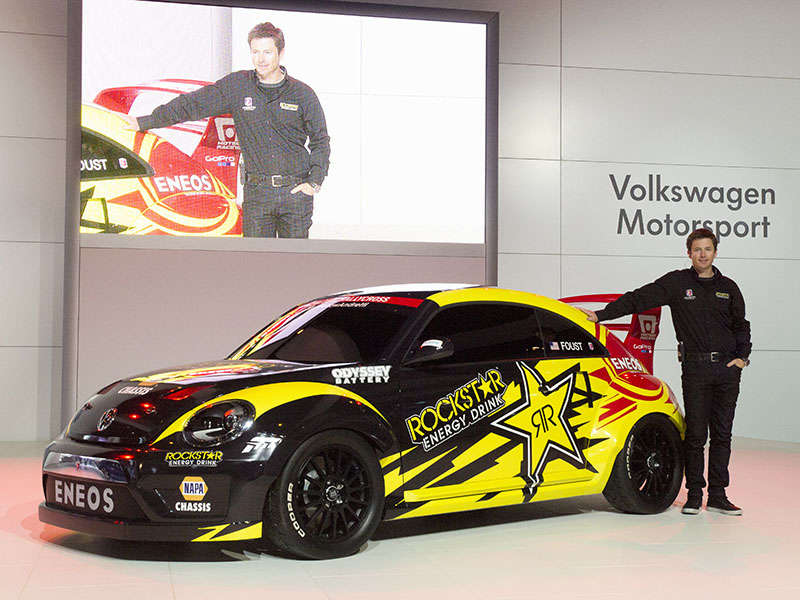 Remember that 2014 VW Beetle racecar that Volkswagen introduced in April, when the automaker announced it would compete for this year's Global Rallycross Championship (GRC)? Well, it turns out that that was more of a prototype than the real thing, and Volkswagen premiered—but did not race—the "definitive" version of the car this past weekend at the VW-sponsored Rallycross event held in Washington, D.C.
There has been some bodywork done in between the two debuts, most obviously to the car's massive rear wing and front air inlets, while a few more details about the hardware were released as well. Motivation, for example, will come from a 1.6-liter four-cylinder engine that's been upgraded with TSI fuel-injection/turbocharging technology to make 544 hp. That power will be routed to all four wheels, which in turn get the kind of brakes needed to handle those horses, with 14- and 11.8-inch vented discs, as well as four-piston aluminum calipers, front and rear. Tipping the scales with a GRC-mandated minimum weight of 2,668, the 2014 VW Beetle GRC entry is expected to run from 0-60 in about 2.1 seconds.
But perhaps the biggest difference between the GRC prototype and the definitive version is that the former was wrapped in the Rockstar Energy Drink livery of VW driver Tanner Foust; the latter was done in a sophisticated white-and-black that made the car look like it was ready for production. Now, to be clear, the automaker has made no official mention of bringing a hi-po, GRC-inspired Beetle to the marketplace, but it seems like it would be a no-brainer, especially given the current spike of interest in hot hatches and high performance in the industry at large.
I'll also point to the double-level rear wing of the 2014 VW Beetle GRC car: It's very easy to imagine that as one of those automatically deploying rear spoiler setups—something Volkswagen already used for the previous-gen Beetle Turbo.
As for the D.C. Rallycross event itself, the Volkswagen Andretti team finished 5-6, with Foust finishing directly ahead of Scott Speed. However, after Speed won the first two GRC events of the year, he does remain atop the driver standings, albeit by a single point.
(Note: Foust and Speed remain in VW Polo racers at this stage in the GRC campaign, with the 2014 VW Beetle body expected to "run later this season.")
For more on Global Rallycross, visit www.RedBullGlobalRallycross.com.