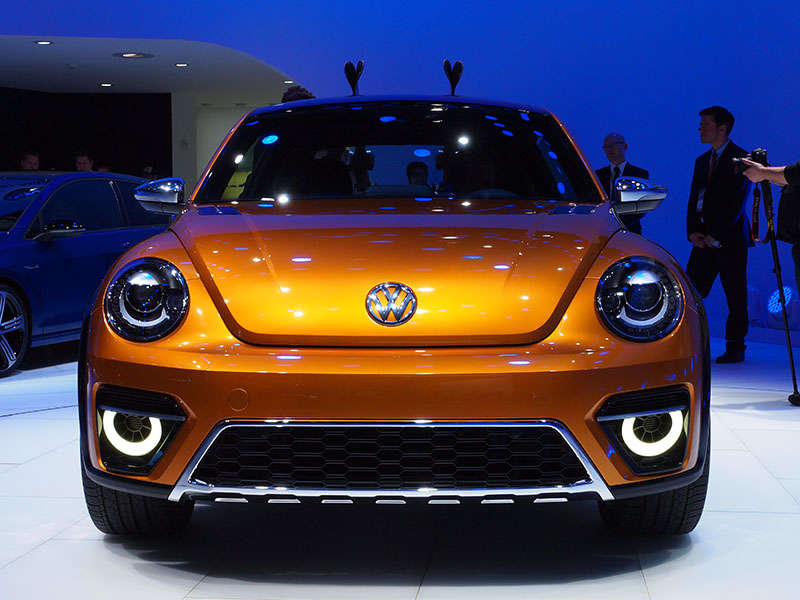 You may have noticed an emerging trend in the automotive market. Car companies are increasingly exploring the idea of a subcompact crossover SUV, as evidenced by concept vehicles like the Audi Allroad Shooting Brake and production models such as the Mercedes-Benz GLA250. With the Volkswagen Beetle Dune Concept, which debuted at the 2014 North American International Auto Show in Detroit, VW is looking to get in on the action, and is leveraging its heritage by modeling its take on the segment after classic Baja Bugs.
The greater question, though, is why does the Beetle Dune Concept matter? Without an optional 4Motion all-wheel-drive system, it probably doesn't. So if Volkswagen is considering bringing something like this to production, it had better offer AWD.
What's New for the Volkswagen Beetle Dune Concept:
Off-road themed Beetle with front-wheel drive
Innovative ski and snowboard roof rack
Arizona metallic paint color
Active Matrix Organic LED touchscreen infotainment system
New Volkswagen Sideways app technology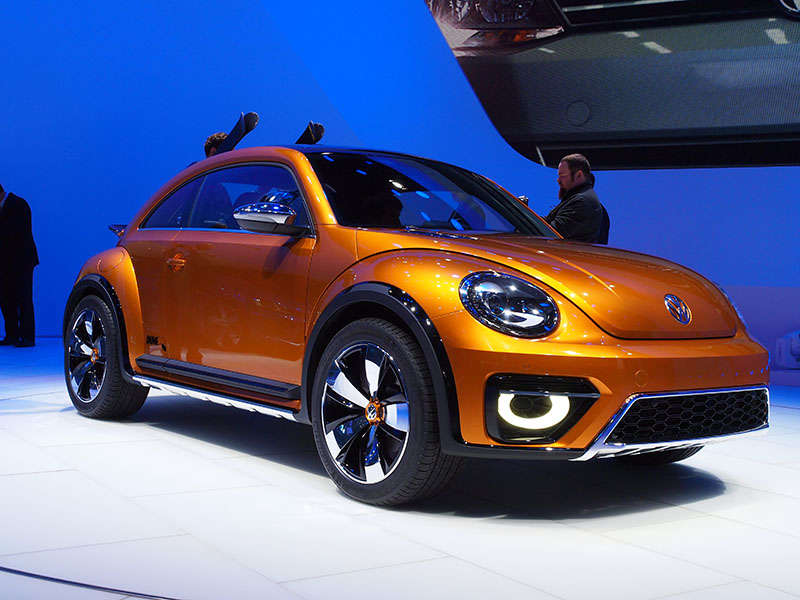 Volkswagen Beetle Dune Concept: Styling and Design
Based on the Beetle R-Line, the Beetle Dune Concept has what VW calls "a cool, off-road look." Painted a color called Arizona, a yellowish gold metallic hue, the Beetle Dune Concept features matte black wheel arch extensions and brushed aluminum sill panels topped with gloss black trim designed to resemble the original Beetle's rubber running board covers.
Half an inch longer, 2.2 inches wider, and almost an inch taller than a stock Beetle R-Line, the Volkswagen Beetle Dune Concept adds 2 inches of ground clearance in keeping with its implied mission. The front and rear track measurements are wider by 1.1 inches each, and VW bolts 19-inch aluminum wheels wrapped in 255/45 tires to each corner of the car.
Bi-Xenon headlights, LED fog lights, and LED turn signal indicators are mounted to a restyled front end that includes a new hood and exposed aluminum underbody skid protection at the front and rear of the car. Dual exhaust outlets and a large rear spoiler mounted beneath the rear window give the Beetle Dune Concept a sporty look, and a rack designed to hold skis or snowboards is built into the roof.
Inside, the Beetle Dune Concept is bathed in natural light thanks to a panoramic glass sunroof. The predominant accent color within is Arizona, to match the outside, and a grab handle is mounted to the dashboard in front of the front passenger. Titan Black leather-bolstered seats have Ceramique breathable sport fabric inserts and exposed Arizona-colored stitching.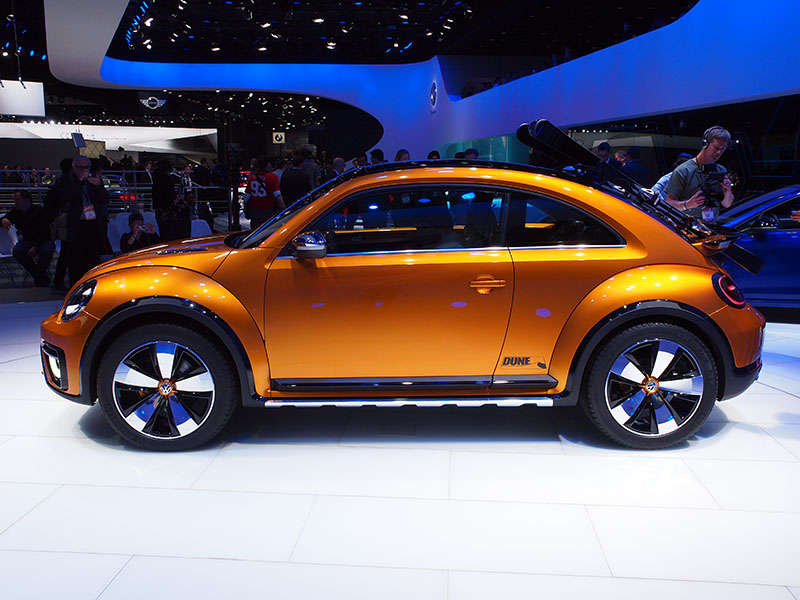 Volkswagen Beetle Dune Concept: What's Under the Hood
Like the Beetle R-Line upon which it is based, the Beetle Dune Concept is equipped with a turbocharged 2.0-liter 4-cylinder engine. With 210 horsepower peaking at 5,300 rpm and 207 lb.-ft. of torque on tap starting at just 1,700 rpm, there's plenty of oomph to scoot the Beetle Dune Concept to speed. A 6-speed Direct Shift Gearbox is installed in this concept car, delivering power to the front wheels through VW's electronic cross-differential system (XDS).
Might Volkswagen be planning to actually build the Beetle Dune? Could be, as the automaker claims it will get 23 mpg in the city and 29 mpg on the highway. Those numbers don't match anything published by the EPA.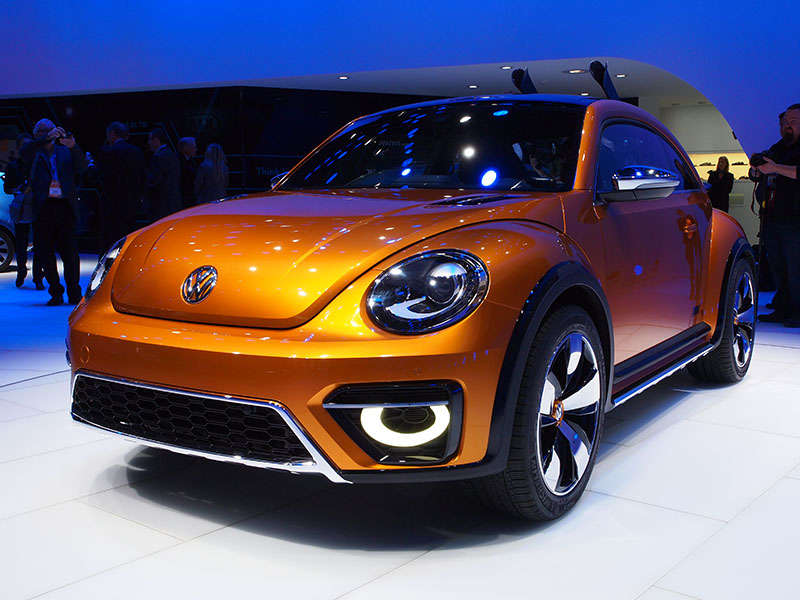 Volkswagen Beetle Dune Concept: Features and Technology
If time proves the Beetle Dune Concept to be nothing more than a styling exercise, it seems like a good bet that the show car's 7.7-inch color touchscreen infotainment system with Active Matrix Organic LED display is probably heading for production.
The Beetle Dune Concept also has a Volkswagen Sideways app that monitors the driver's friends for "check-ins" and allows the driver to see where friends might be dining nearby on the car's navigation screen. To my 46-year-old brain, that's just weird. Who wants uninvited guests dropping in on dates, or strolling in to family gatherings?
VW also says the Sideways app monitors weather conditions so that POI guidance is relevant to what's happening outside. That way, the company explains, the system won't direct you to an outdoor pool, in Minnesota, in January.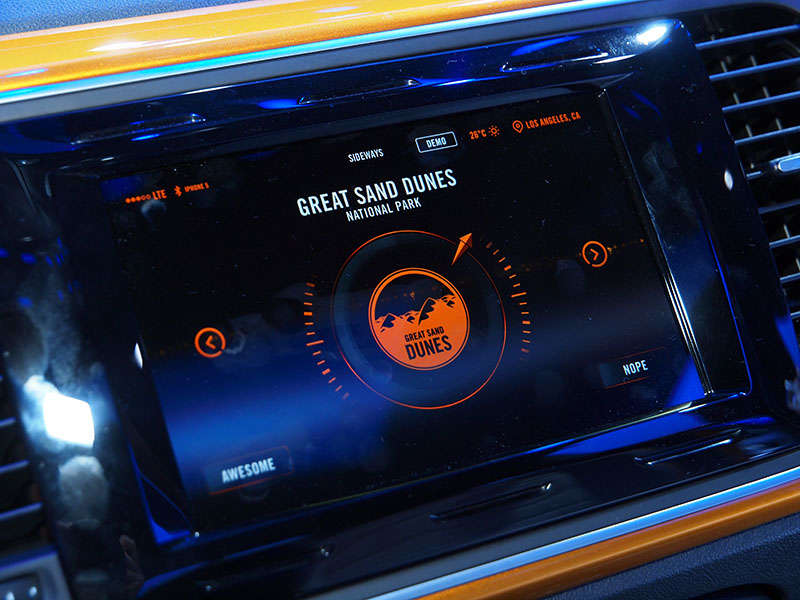 Volkswagen Beetle Dune Concept: What Autobytel Thinks
Older guys like me will remember the AMC Eagle Kammback like it was some kind of trippy horror flick, and wonder why a new generation of car buyers might want to drive something like the Volkswagen Beetle Dune Concept. And then we'll look a little closer and realize that a car like the Beetle Dune makes all kinds of sense, just as that crappy Kammback did almost 35 years ago.
But c'mon, VW, it's gotta have 4Motion all-wheel drive. Otherwise, what's the point?
Photos by Megan Green