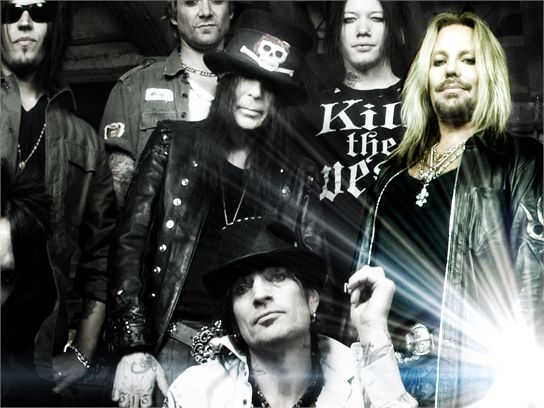 With over 70 million albums sold, the self-proclaimed "most notorious band on earth", Mötley Crüe, is getting back together for a giant summer tour in support of their brand-new album, The Saints of Los Angeles. Crüe Fest, as it's being called, will hit 40 cities, and in addition to Mötley Crüe, it will feature bands Buckcherry, Papa Roach, SIXX: A.M., and Trapt. The fact that they will be playing in Edmonton puts to rest the myth that Mötley Crüe were collectively banned from the city (more city tour dates below). While Crüe frontman Vince Neil will probably spend a good deal of this summer on a tour bus, we thought it would be a great time to do a Autobytel With.
In addition to his role with Mötley Crüe, Vince Neil keeps pretty busy off the stage as well. He runs a tattoo shop in Las Vegas (Vince Neil Ink), a nightclub in West Palm Beach (Dr. Feelgood's), a winery in Napa Valley (Vince Vineyards), and a charity dedicated to children's illnesses (The Skylar Neil Memorial Foundation). He also has a ridiculous whip collection which you can read about below. Turn up the volume for another Autobytel With.
What was your very first car? My very first car was a '54 Chevy pickup truck. It was pretty cool, it didn't have any paint, it was just primer gray, like rust color. My mom made Hawaiian curtains for it, I put on some Thrush side pipes, I had it all raised up in the back…I used to tinker around with cars a lot. It had a Hurst shifter on the floor that I mounted myself too. I did a lot of work to that car on my own, surfboard racks on the back, it was pretty cool. My mom and dad worked during the day so I actually got the car when I was 15, so I wasn't even a freshman yet—I was in junior high. I was the only guy driving to school, I didn't have a license, but I would drive anyway! Yeah…and I had a lot of sex in the front seat of that truck too, which is great.
Tell us about your current car situation, what you're driving, etc. It's funny, yesterday I just picked up a 2008 Lamborghini Gallardo Spyder, black on black, yellow stitching on the seats and yellow brake calipers, so that's pretty cool. I also have a Ferrari 360 Modena F1, a Rolls-Royce Phantom, a Rolls-Royce Silver Spur III, a Mercedes SL550, a brand-new Bentley GT, a Hummer H2 all flamed and tricked out, a [Dodge] Magnum wagon, a '32 five-window Ford coupe hot rod, a bunch of motorcycles…that's about it, I think.
You at one time were involved with Indy Lights, any current racing involvement? I haven't raced in a while. It all started out when someone gave me a gift certificate to go to Skip Barber Racing school down in Sebring, Florida, and so they teach you on the Formula Fords and I just loved it. They have a thing where you can pay to race the Fords and I did that for a while, and then I guess it seems like one day all of a sudden I was racing in the Indy Lights circuit. That was a blast.That was a lot of fun. But the thing about racing is that you really have to be in the seat every day and drive constantly, and I just ran out of time. I'm glad I did it and wish I could have done more, but it's either spend a lot of money driving or make some money singing in the band, you couldn't do both.
Your fellow band mate Tommy Lee has been pretty involved in promoting environmental awareness with his show Battleground Earth, any interest on your end in green vehicles? No…If they come out with a green Ferrari I'm in!
kind of have everything I really want. I think the next thing I might do is something to that Rolls-Royce Silver Spur III which I bought from a Saudi Prince. It's this really bad-ass red color with a cream interior and red piping—it's beautiful, and it still only has 21,000 original miles on it. So I'm thinking what can I do with this? So the guy that built my hot rod and built my bikes, a guy named Danny Koker who owns Count's Kustoms in Las Vegas, said, "Let's just chop it up and make it into a lowrider", and I'm like, "Dude, that sounds pretty cool!" So he said, "Dude, no one's taken a Rolls and really tricked it out like that." So I think that's the next little project, trick out the Rolls, put some hydraulics on it—I think that would be pretty cool.
When talking to Vince Neil it didn't cross our mind to ask why he didn't just take the bus to school, though if someone handed us the keys to a '54 Chevy when we were 15, well, we would have been on that too. Vince might be in luck with a green Ferrari. Back in December 2007 they stated they were committed to reducing fuel consumption by 40% over the next five years. Ferrari even brought a biofuel F430 Spyder to the Detroit Auto Show. Finally, a Google search of the term "Lowrider" returned 6,450,000 results; contrast that with 17 for "Lowrider Rolls-Royce" which confirms his friend's intuition. We say go for it, because after all, Mötley Crüe has never been about blending in, right? Best of luck Vince, keep rocking with Autobytel.
By Staff Photos courtesy of Autobytel.com, Tenth Street Entertainment