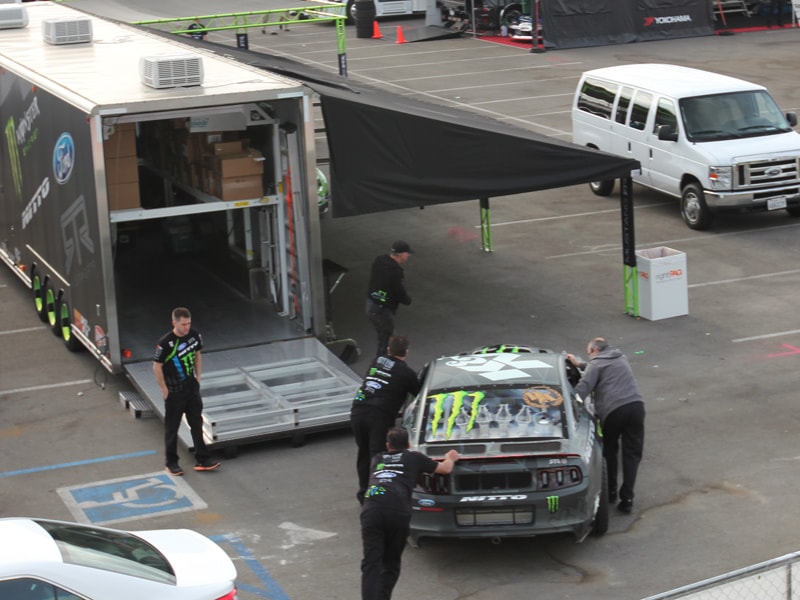 The streets of Long Beach always make for an interesting start to the Formula Drift season. Set against an iconic skyline and with the world-famous port as a backdrop, the Long Beach Grand Prix circuit is one of the most iconic places to race in all of motorsport. Formula Drift occupies only a corner of the entire track; however they are able to pack a world-class competition that brings drivers from around the world.
While the paddock looks empty as the RTR Ford Racing Mustang gets pulled from its transporter and prepped for a day at the track, there will be little room to maneuver once the drifting fans arrive in search of autographs and well-worn rubber.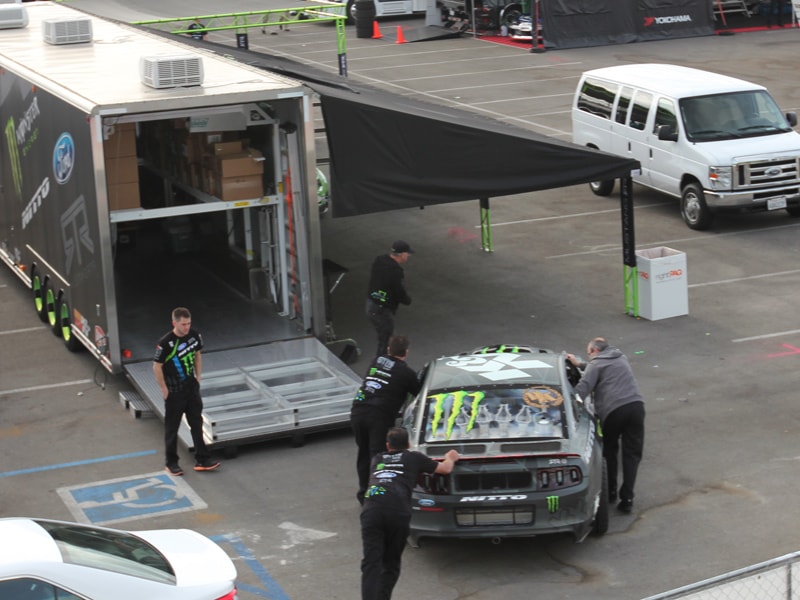 Over the past few years, drift cars have gone from glorified street cars to serious racecars, many producing well over 1000 HP. With this level of performance, routine maintenance is critical to not only ensure that the car can compete at the highest level, but also to make the driver feel safe going sideways at speeds close to 100 MPH.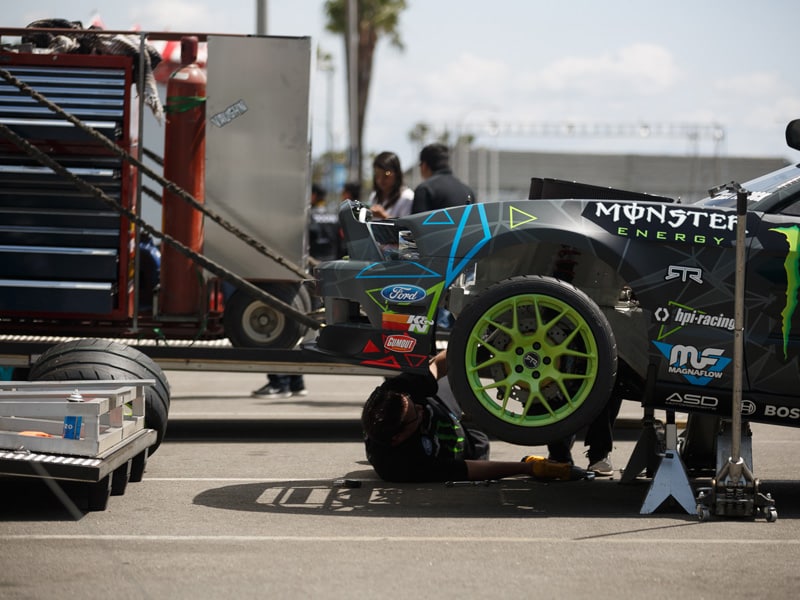 Confidence is key for Ford Mustang RTR driver Vaughn Gittin Jr. That's because he is the man that will be flinging his carbon fiber Mustang at concrete barriers later this afternoon. JR is a new kind of ambassador for the Blue Oval. Before Vaughn took a chance on a 2005 Ford Mustang, fans of the brand were more likely to associate themselves with guys like John Force and Parnelli Jones, despite being an affordable rear-wheel-drive platform, no one driving a Mustang had ever heard of drifting.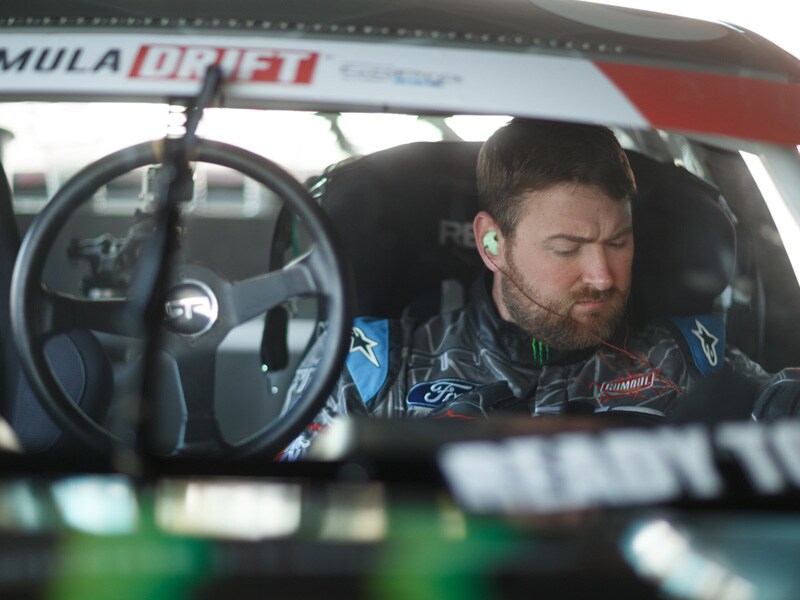 After spending a few years wearing the teal and blue paint scheme of Team Falken, JR struck out on his own; started his own racing team, developed a line of aftermarket parts for road-going Mustangs and continues to represent the domestic brand he helped to establish in this highly Japanese-influenced event. His RTR Mustang parts are sold at AmericanMuscle.com.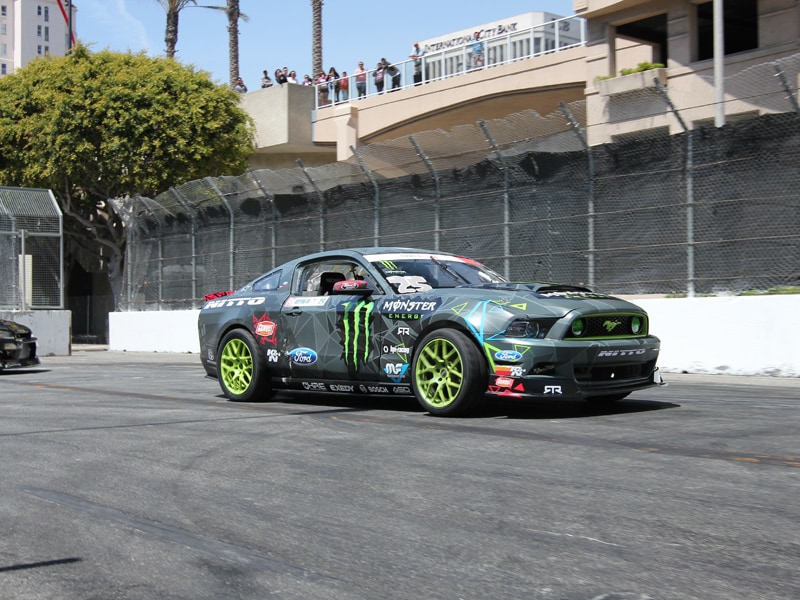 JR was the first drifter to win an international competition in an American-made machine. Not only that, but in a sport dominated by small sport compact cars powered by turbocharged four-cylinder-engines, Vaughn was one of the first to race with a V8, a trend that is dominating the sport.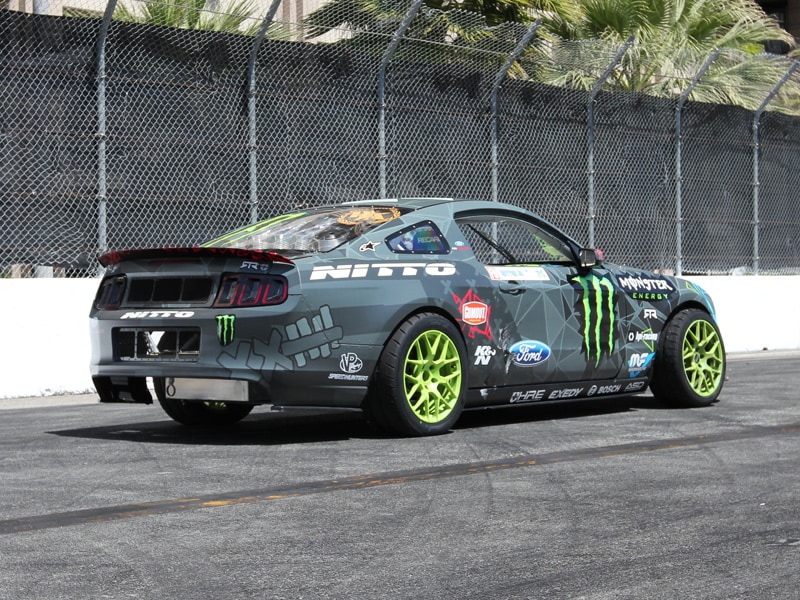 While the Ford Racing Mustang RTR looks a lot like the car your cousin wants to buy, it's not. This is a $150,000 purpose-built racecar designed to do one thing - drive sideways at speed. 
To the casual onlooker, drifting may look like a bunch of cars driving out of control, but these professionals are so good that they can place the car exactly where they want it. Often, judges require drivers to scrape their back bumpers along a precise set of barriers, much to spectators' delight. Professional drifters are so skilled that they often moonlight as stunt drivers for television commercials and film.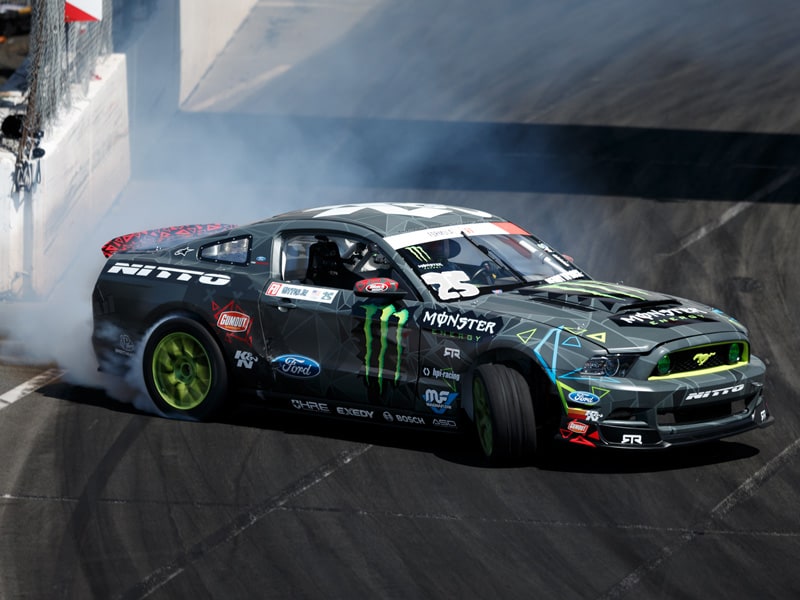 Being the entrepreneur that he is, JR has expanded from tuning Mustangs to trucks with the RTR Ford F-150 Ultimate Funhaver. RTR parts for the Ultimate Funhaver, which is pictured putting up some smoke for fans at the SEMA Show, will be available at AmericanMuscle.com in late July 2015.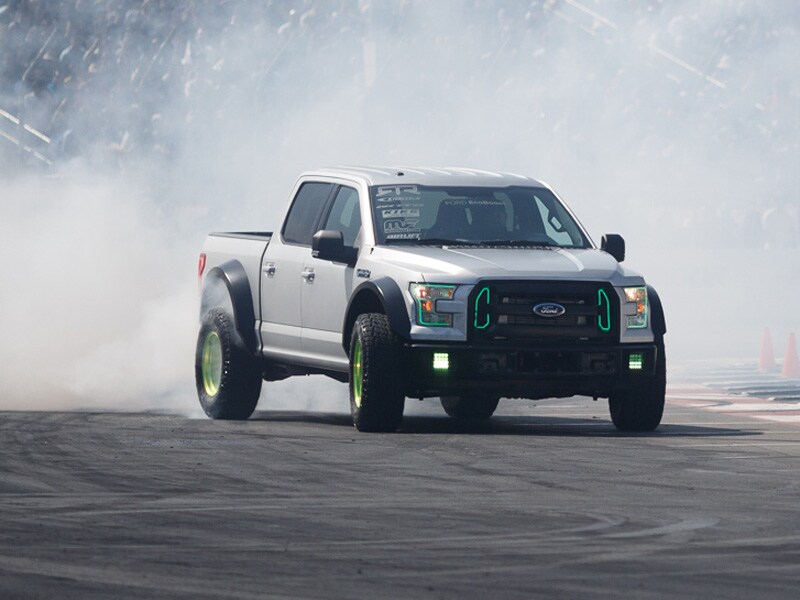 Always a showman, Vaughn Gittin Jr gets the fans and photogs excited before the main competition with his signature point and hat-swinging maneuver.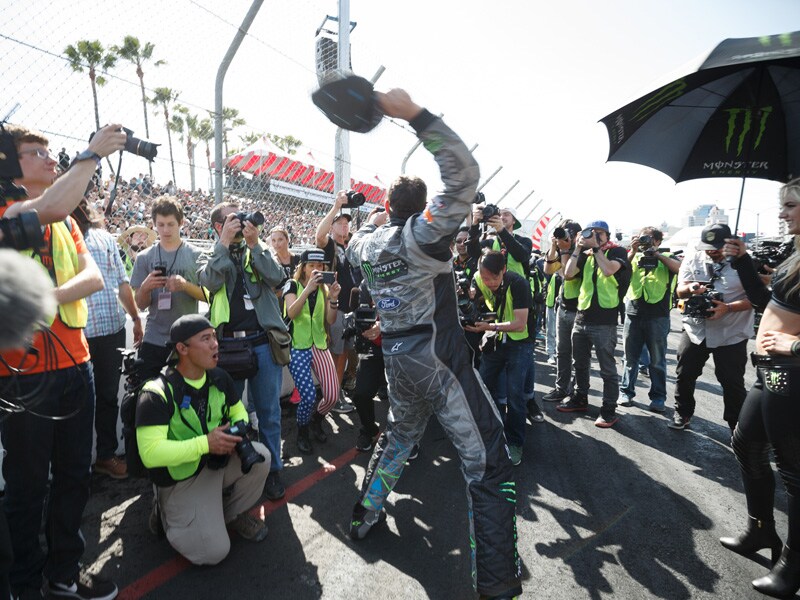 However once the helmet goes on, JR gets very serious.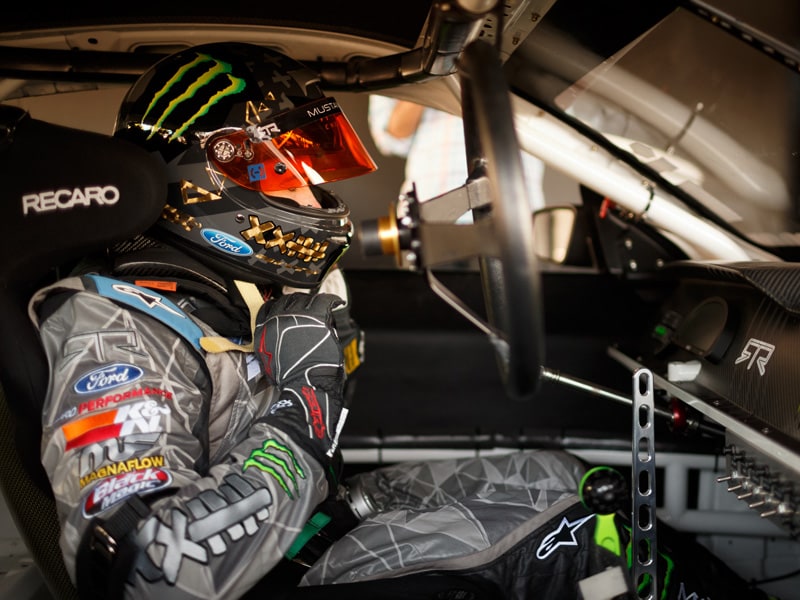 Drifting is about having fun behind the wheel, and with this wall of smoke behind him, Vaughn is most definitely having a good time. Vaugn Gittin Jr. has gone from dreaming to living the dream, and thanks to years of hard work and dedication, JR can say that he is more than just a professional drifter.