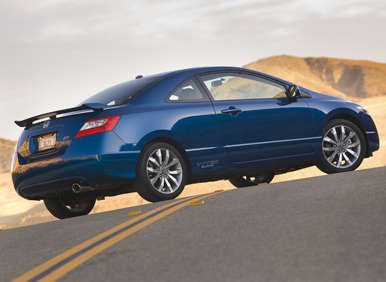 With its recently introduced 2012 model comprising the ninth generation of this very popular car in the American market, the Honda Civic is one of the best-loved small cars currently available. Over the years, there have been a number of variants of the Civic, including two-seat CR-X and delSol models, as well as the CR-V SUV. For this article however, we'll focus on the four-seat hatchback, coupe and sedan variants of the Civic. Known for a broad range of seemingly conflicting attributes, while renowned for their reliability and economy, Honda Civics are also appreciated for their performance and environmental friendliness.
An aspect of the eighth generation Civic's lineup with strong appeal is the broad palette of safety features offered with the car. Antilock brakes, front-seat side airbags and full-length side curtain airbags are standard. However, if you're looking for A/C you'll have to spring for a higher priced version of the car, Honda does not offer A/C on base Civic models.
The mainstream engine is 1.8-liter, 140-horsepower, inline four-cylinder unit. A five-speed manual transmission is standard and a five-speed automatic is offered as an option. If booming and zooming is your thing, you'll want to focus your search toward the Si. That'll get you a 197-horsepower engine and a six-speed manual gearbox. Big fun to drive, the Civic Si is easily the raciest small car in its category. Civics also come as hybrids, and with natural gas-burning engines. The natural gas version makes 113 horsepower, while the Hybrid features a combined output of 110 between its electric motors and gasoline engine. Good for 45 miles per gallon on the highway, the Civic Hybrid is one of the most fuel-efficient cars available today.
With sales beginning in 2000 as a 2001 model, this seventh version of the Civic was the last (so far) to be offered in the U.S. with a hatchback. Offered only in the Si configuration, the hatchback ran a 160-horsepower version of Honda's 2.0-liter four'"along with a six-speed manual transmission. The base engine was a 1.7-liter four that made 117 horsepower in the lower line Civics, while in the highline Civic EX, the engine produced 127 horsepower. The Civic Hybrid (offered from 2002 forward) paired an 85-horsepower four with a 13-horsepower electric motor. Fuel economy is rated at 51-mpg highway. While Honda is justifiably noted for infusing the Civic with exceptional engine technology, to get niceties like air conditioning and power windows, you'll have to opt for the more expensive models of the Civic'"as those features are not standard equipment. Models built in 2003, were recalled in 2010 to repair an ignition interlock system problem. With wear, the interlock would malfunction, allowing the key to be removed from the car when the auto transmission was still in one of its drive modes rather than only in park.
Gen-six Civics were more an evolution of gen-five Civics than all-new models. All three body variants were sold'"sedan, coupe and hatchback. The base engine in these models is a 106-horsepower, 1.6-liter inline four, Honda's variable valve technology, called VTEC, enabled the more upscale Civic EX to run a version of the engine making 127-horsepower. The 115-horsepower HX coupe was the fuel-economy leader for this version of the car. In 1999, the Si was introduced as a coupe with a 160-horsepower 1.6-liter four. Five-speed manual transmissions were offered across the board. The optional automatic was a four-speed (not available for Si). The HX got a continuously variable automatic transmission (known as a CVT). Radios and power steering were optional for the base model hatchback CX sixth-gen cars.
Offered in a broad array of configurations, Honda's Civic is typically a good used car buy. They're pretty reliable, although you do have to keep an eye on their maintenance, as their engines are typically a bit more complicated than say, their Toyota rivals. However, properly maintained, a Civic should easily return a few hundred thousand miles of driving. As is always the case, before purchasing, make sure you get any Civic you're serious about buying inspected by a trusted professional mechanic specializing in Honda products.