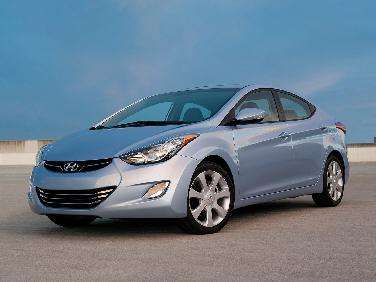 It was the kind of problem other automakers would love to have, but it was still a problem—U.S. demand for the all-new Hyundai Elantra and Hyundai Sonata has been so strong that the company hasn't been able to keep up. But a new report from "Automotive News" indicates low vehicle supplies won't be a problem much longer, since Hyundai has now expanded its Hyundai Motor Manufacturing Alabama facility—where the Sonata and Elantra are both built—and secured additional volume from South Korea for the also all-new Hyundai Accent. The bottom line: Hyundai claims it now has the production capacity to reach its goal of selling 600,000 vehicles in this country in 2011.
: Production Bumped
On the other hand, it has to be noted that even this increase may not be enough to satisfy American customers. Hyundai sold 538,228 vehicles in 2010, and an increase to 600,000 would represent a boost of "just" 11.5 percent. And while that may seem like robust growth in today's industry, Hyundai's year-to-date sales performance represents a 29 percent jump over the same period in 2010, with the Elantra and Sonata leading the way. Both cars found more than 20,000 new customers last month, when both also were among the nation's top-20 best-selling vehicles.
In addition, the two cars have plenty of momentum behind them. The completely redesigned Elantra, despite facing an increasingly high level of competition—e.g., all-new rivals like the Ford Focus, Chevy Cruze, Honda Civic and VW Jetta—offers a customer-attracting position as the only compact able to get 40 mpg in all trim levels and regardless of transmission choice.
The Sonata also should see a bump in its already-high levels of consideration in the mid-size segment now that supplies of its hybrid model are growing across the country. It's true that the Sonata hybrid is built in South Korea, and the increasing availability of this vehicle reflects the normal ramping-up process for newly introduced products, but the added halo affect it brings to the Sonata lineup is sure to lift sales of the standard model and eat up the extra Alabama production.
Putting further strain on Hyundai vehicle supplies will be the launch of the all-new Hyundai Veloster three-door coupe, as well as growing awareness of the latest Hyundai Assurance effort, which guarantees the resale value of the automaker's new products.
Long-term, Hyundai does have significant room for growth in Alabama. The automaker's current U.S. production complex in Montgomery, Ala., sits on approximately 539 acres of land, but Hyundai owns an additional 1,200 acres in the surrounding area. However, it could take years to convert empty land into a high-tech manufacturing plant capable of building more vehicles.
Which might not be soon enough for a company that already has set five consecutive monthly sales records in 2011.