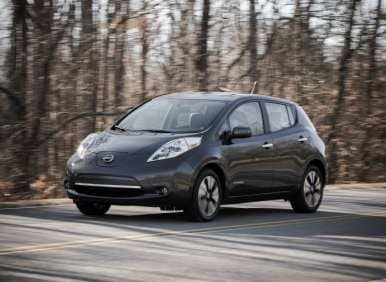 When it comes to establishing an EV infrastructure in this country to support cars like the Nissan LEAF, Nissan—and its dealers—are taking matters into their own hands: They're teaming up to install DC quick chargers at more than 100 Nissan dealerships across the United States, where drivers will be able to recharge the Nissan LEAFs from a depleted charge state to 80 percent charged in approximately 30 minutes. (Although, to be clear, the chargers will rely on the CHAdeMO standard and will be compatible with other EVs as well.)
Installations will begin on the East Coast later this summer, then expand throughout 21 key markets by April of 2014. And this is in addition to the 24 dealers who helped kick off the initiative through a West Coast pilot program earlier this year.
"Nissan is undertaking a proactive, multi-pronged approach to expand charging infrastructure to enhance awareness of electric cars like the LEAF and instill range confidence in potential customers," said Brendan Jones, director of Electric Vehicle Infrastructure Strategy for Nissan. "We know that available charging infrastructure opens the doors for more Nissan LEAF sales."
Of course, those doors are already welcoming a massive influx of Nissan LEAF buyers this year, attracted by a new, more affordable model that is available for a net price of $21,300. With that kind of pricing, deliveries of the Nissan LEAF leapt ahead of last year's pace by 315.9 percent in June, on the strength of 2,225 sales.