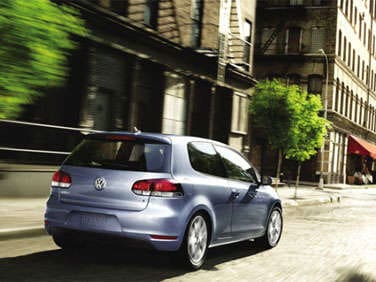 These days it's not enough for an automaker to have just a single small car in its portfolio.  Some brands have seen the number of compact and subcompact options in their showrooms swell to as many as three different models, but for the most part a pair of small cars has become the new norm across the industry.  Sometimes these entry-level offerings have a lot in common when it comes to platform sharing and other mechanical details, while certain other brands prefer to differentiate their small vehicle strategies across very distinct lines.
Let's take a look at two small cars from five different manufacturers and get a taste of what these 10 compact and subcompact automobiles have to offer.
01. 2012 Volkswagen Golf
The 2012 Volkswagen Golf is a compact hatchback that can be had in both two-door and four-door editions.  The Volkswagen Golf has become a popular choice with urban families (especially in four-door trim) who don't have a lot of parking space but who do appreciate the versatility that the hatch has to offer (46 cubic feet of cargo room in total).  The Volkswagen Golf also features a level of driving refinement not often found in the affordable car segment, and buyers can choose between either a 170 horsepower, 2.5-liter five-cylinder engine or a 2.0-liter turbodiesel four-cylinder that generates 140 horses and returns an admirable fuel economy rating of 30-mpg city and 42-mpg highway.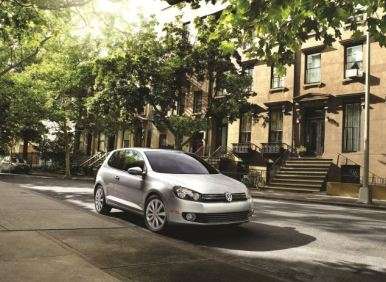 02. 2012 Volkswagen Jetta
The 2012 Volkswagen Jetta used to represent the sedan edition of its Golf sibling, but a recent redesign has give the compact car its own unique flavor.  Longer and roomier than the hatchback, the Volkswagen Jetta comes with a healthy list of standard equipment but loses some of the premium feel inside (and on the road) that used to be one of its calling cards.  That being said, the 2012 Volkswagen Jetta matches the Golf in terms of its power plants (offering both the five-cylinder and the turbodiesel unit) while adding an entry-level, 2.0-liter four-cylinder motor that is good for 115 horsepower and fuel mileage of 24-mpg city and 34-mpg highway.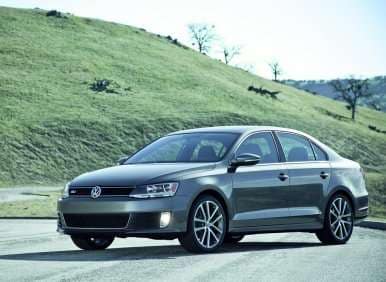 03. 2012 Dodge Caliber
The 2012 Dodge Caliber is the result of the domestic brand's experiment with replacing its previous compact sedan option with a small crossover hatchback.  Although Dodge has since recanted this strategy, the Dodge Caliber remains on sale to appeal to families who appreciate its macho good looks and its 47.4 cubic feet of total cargo space with the rear row of seating folded forward.  The Caliber is motivated exclusively by a 2.0-liter, four-cylinder engine that develops 158 horsepower, output that is sent to the front wheels via either a five-speed manual or a continuously-variable automatic transmission.  Fuel mileage for the crossover checks in at 24-mpg city and 32-mpg highway.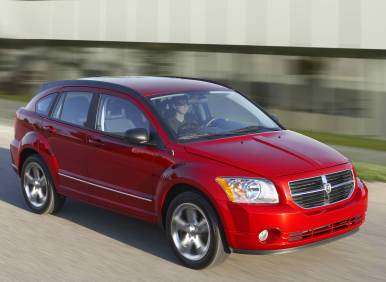 04. 2013 Dodge Dart
The 2013 Dodge Dart represents the small car future for the domestic brand.  The Dodge Dart adapts one of its parent company's Alfa Romeo platforms in order to present a dynamically interesting and tech-laden face to compact vehicle shoppers.  The Dart is offered with three engine choices: a 160 horsepower, 2.0-liter four-cylinder, a 1.4-liter, turbocharger four that generates the same number of ponies but adds a torque boost, and a 2.4-liter four-cylinder that provides 184 horsepower.  Fuel mileage for the most efficient version of the Dodge sedan is expected to check in at 40-mpg combined.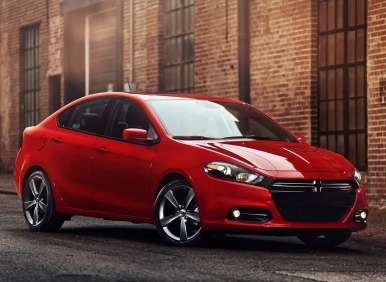 05. 2012 Honda Civic Coupe
The 2012 Honda Civic Coupe presents entry-level buyers with a pair of personalities.  The standard Honda Civic Coupe is oriented towards providing solid fuel economy in a reasonably comfortable package, thanks to its 1.8-liter, four-cylinder engine that generates 140 horsepower and returns 29-mpg in city driving and 41-mpg on the highway when ordered in HF trim.  For those who are looking for a legitimately sporty ride, the Civic Coupe's Si trim delivers 201 horses and 170 lb-ft of torque from its 2.4-liter unit, and also comes with a six-speed manual transmission and a highly-tuned suspension system that is suitable for devouring a corner or two.
06. 2012 Honda Fit
The 2012 Honda Fit makes a strong play for drivers who want the convenience of a crossover but not the size penalty that it brings with it.  The Honda Fit subcompact hatchback makes excellent use of its Magic Seat feature, which allows for easy reconfiguration of the vehicle's cargo compartment and helps the tiny car swallow an astonishing 57.3 cubic feet of gear.  The Honda Fit makes use of a 1.5-liter, four-cylinder motor that produces 117 horsepower, managed by either a five-speed automatic or manual transmission.  Fuel mileage for the tiny hatch is rated at 28-mpg city and 35-mpg highway.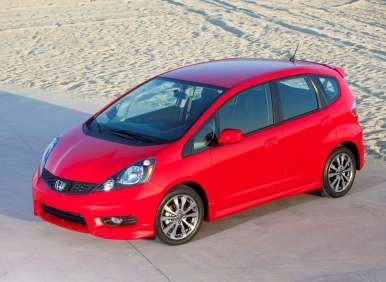 07. 2012 Mazda MAZDA2
The 2012 Mazda Mazda2 is part of a new wave of subcompact cars that prioritize fun and efficiency without jacking up the price of entry.  The Mazda MAZDA2 is a four-door hatchback that maintains the brand's reputation for providing above average handling in each of its models, thanks in large part to its low curb weight and advanced suspension tweaking, and it can also be had in a fairly basic entry-level model to help further save on cost.  The MAZDA2's 1.5-liter, four-cylinder engine might only put out 100 horsepower, but it does returns 28-mpg in stop and go driving and 34-mpg during highway cruising.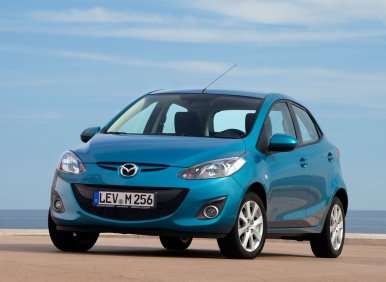 08. 2012 Mazda MAZDA3
The 2012 Mazda Mazda3 is another fun-to-drive entry from the Japanese brand, available in both hatch and sedan editions.  The Mazda MAZDA3 turns up the performance compared to its little MAZDA2 brother and can be ordered with three different engine options, including a new Skyactiv 2.0-liter, four-cylinder unit that puts out 155 horsepower while posting fuel mileage numbers of 28-mpg city and 40-mpg highway.  The base 2.0-liter unit (148 horses) checks in with 25-mpg city and 33-mpg highway, while the 2.5-liter range-topper (four-cylinders, 167 horsepower) is good for 22-mpg around town and 29-mpg highway.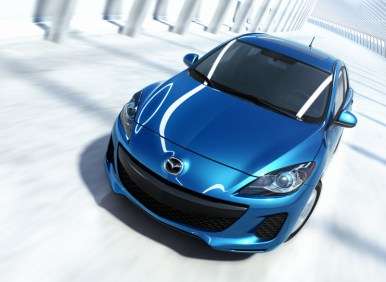 09. 2012 Toyota Corolla
The 2012 Toyota Corolla is the oldest model on this list, a tried-and-true design that keeps soldiering forward with comfort and reliability as its key traits.  The Toyota Corolla might not have the pizzazz of some of its competitors, but it continues to attract buyers with its value-oriented pricing and the availability of features such as a sunroof and a navigation system.  The Corolla is powered by a 1.8-liter, four-cylinder engine that produces 132 horses (paired with either a five-speed manual or a four-speed automatic gearbox), and fuel economy is listed at 27-mpg city and 34-mpg highway.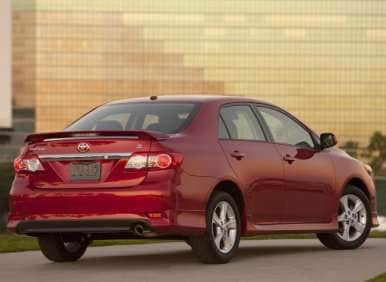 10. 2012 Toyota Matrix
The 2012 Toyota Matrix can be thought of as the hatchback edition of the Corolla - but with a twist.  Not only does the Toyota Matrix bring almost 50 cubic feet of cargo space to the table when compared against its sedan sibling, it also provides the rare option of all-wheel drive in a compact hatch.  A 2.4-liter engine making 158 ponies is the only available power plant for all-wheel drive editions of the Matrix, while those who select the base model will benefit from the same 1.8-liter unit found in the Corolla.  Fuel economy for the smaller engine leads the way with a rating of 26-mpg city and 32-mpg highway.