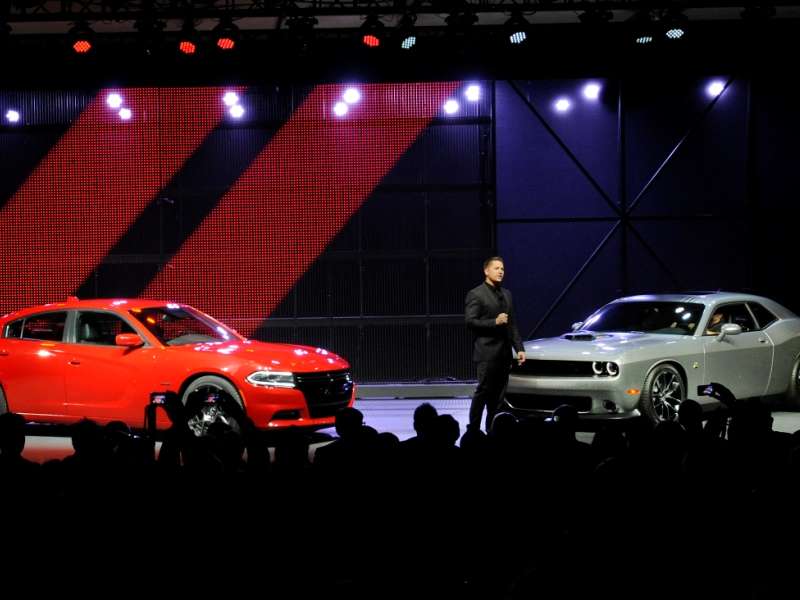 It looks like the sibling rivalry between the 2015 Dodge Charger and Challenger will be settled the new-fashioned way: Twitter war.
In a new "Tweet-to-Win Contest" that runs from 8:00 a.m. (ET) on April 28, 2014, through 8:00 a.m. (ET) on April 30, 2014, folks are being to asked to Tweet about which of the two Dodge muscle cars—both significantly refreshed for the 2015 model year—is their favorite, and why. Dodge advises the Twitterati to use hashtags #2015Challenger and #2015Charger, but not to use any negative language about any of the cars' rivals, including each other.
Of course, it's not just the 2015 Dodge Charger or Challenger that will win this contest. One randomly selected grand prize winner will get an official 2014 Dodge media kit from the recent 2014 New York International Auto Show (NYAIS), where the redesigned Charger and Challenger made their world premieres. The kit is the same one distributed to the press in New York, and includes a thumb drive packed with photos and information about the 2015 Dodge Charger and Challenger, full-color print brochures for the cars, and some nifty Dodge stickers and temporary tattoos. Additionally, two other randomly selected Dodge fans will receive sticker/tattoo sets.
(Complete rules for the contest can be found here: https://docs.google.com/file/d/0B5a-rs1rbxHAX2ViTHBlaVVOams/edit.)
As for the 2015 Dodge Charger and Challenger themselves, Tim Kuniskis, president and CEO for the Dodge Brand reports: "The Charger's all-new exterior design combined with its standard new TorqueFlite eight-speed transmission and the latest in-car technology builds on the brand's promise to deliver American performance machines with world-class efficiency, technology, authentic materials and standout styling for our customers."
Further, he added: "We have completely re-engineered the Challenger with a new best-in-class 485 horsepower 392 HEMI and TorqueFlite eight-speed transmission powertrain, an upgraded suspension, new class-exclusive technologies and a completely new interior."
Production for the new Challenger and Charger is expected to begin in the third and fourth quarter of 2014, respectively.