U.S. Production to Kick off for New Model Year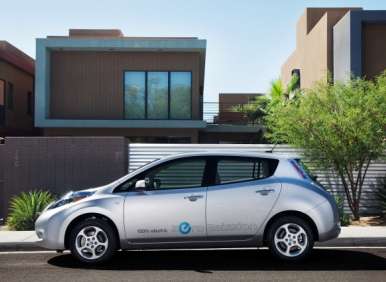 With a new wave of electrified vehicles now coming on the market, anticipation is beginning to build for the launch of the 2013 Nissan LEAF, which is expected to offer some notable changes to better compete in the new EV landscape. Leading the list is a lower price, and there also have been rumors of a longer range, both of which would be helpful. The 2012 LEAF has an MSRP of $35,200, and even with a full federal tax credit of $7,500, you're looking at a compact car that starts at $27,700 and provides a relatively limited 73 miles of driving range.
But regardless of its exact specs, the 2013 Nissan LEAF will definitely have one new advantage for American buyers. Both the car and its advanced eMotor will be built here, too: The former at Nissan's assembly complex in Smyrna, Tenn., and the latter at a facility in nearby Decherd. In fact, Nissan recently reported that it had begun testing its first U.S.-built electric motors just this month, allowing Tennessee team members to start honing their skills in advance of the official start of production late this year.
The American-made 2013 Nissan LEAF is then expected to go on sale very early next year.