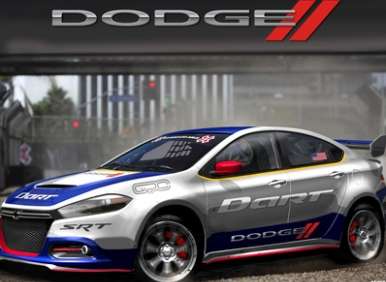 Four-time Rally America champ and 17-time X Games gold medalist Travis Pastrana will drive a new 2013 Dodge Dart in this year's Global RallyCross (GRC) competition. It's one of the country's fastest-growing motorsports and features some of the top names from the rally world, all competing on highly demanding, closed-course dirt and asphalts circuits—each of which includes a 70-foot "gap jump" that must be conquered at least once per heat.
 "The sport is extremely exciting and the on-track action can be brutal on the drivers and the cars," said David Bailey, senior engineering manager for the Chrysler Group's SRT Motorsports. "The cars are jumping higher than ever and landing safely. The Dart rally car is lightweight with a very powerful motor. The zero to 60 mile-per-hour times are incredible, as low as 1.9 seconds, so with Travis behind the wheel, we can't wait for the season opener."
 Of course, as should be obvious from its sub-2-second 0-60 time, Dodge's RallyCross entry has been slightly modified from the production Dart. Well, perhaps more than "slightly." Much as is the case in NASCAR, the GRC vehicles are based on production models in theory, but are completely different animals in practice. So, while the Dart rally car will boast the same sleek shape as the production model, its highly aerodynamic sheet metal is wrapped around a 2.0-liter 16-valve I4 engine that makes a turbo-enabled 600 hp and more than 550 lb.-ft. of torque, and it leverages a robust four-wheel-drive gearbox from Sadev.
And with that kind of power, it's no surprise that Bailey isn't the only one geeked to see the Dart RallyCross do its thing.
"When I first heard about GRC, I was really interested, and after watching some of the rounds last year and then actually competing at X Games, I was hooked!" added Pastrana. "Now to be able to partner with Dodge to field my own program this year is a dream come true. The new Dodge Dart offers the perfect platform for rally cross, and I look forward to putting it on the podium all season long!"
All events in the 2012 Global RallyCross series will be telecast live by the "ESPN family of channels," with racing slated for the following venues:
Charlotte Motor Speedway, Charlotte, N.C.—May 26
Texas Motor Speedway, Fort Worth—June 10
X Games, Los Angeles—June 30-July 1
New Hampshire Motor Speedway, Loudon, N.H.—July 14
TBD—Sept. 1
Las Vegas Motor Speedway—Sept. 29
(Note: Just to re-emphasize the point, although most of the races are being held at NASCAR tracks, the Global RallyCross events use specially configured rally-type courses located at those sites.)