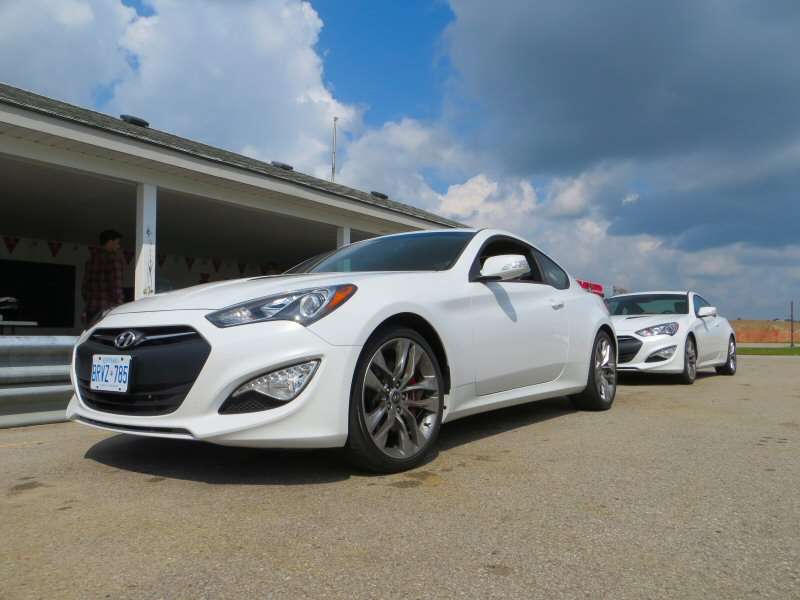 It's not easy to introduce a new sports car onto the market, especially one that's priced affordably.  While the idea of a cheap performance car being a hard sell might sound a little backwards, it's a fine line to walk between a vehicle that offers enough thrills to intrigue the street-and-track set, and one that isn't so inexpensive that serious buyers pass it over.
The 2013 Hyundai Genesis Coupe that faced an uphill battle when it was first introduced just a few short years ago, as it was the first stab at creating a legitimate performance vehicle from a company known more for value than adrenaline.  After an important set of revisions for the current model year, the Hyundai Genesis Coupe makes a more valid claim on the attentions of those seeking a comfortable daily driver that won't embarrass itself on a race track.
More Power, Please
The big story for the 2013 Hyundai Genesis Coupe - aside from an attractive re-styling package that gives it more of a premium look than when it first debuted - has been the generous dollop of extra horsepower squeezed out of each of its two available engines.  The entry-level Genesis Coupe features a 2.0-liter, turbocharged four-cylinder mill that is good for 274 ponies and 275 lb-ft of torque, while the car's top-tier 3.8-liter V-6 jumps to 348 horsepower and 295 lb-ft of twist.  These are significant increases for each engine, especially the base motor, and the renewed muscle has kept the Hyundai in the same conversation as vehicles like the Ford Mustang V6 and the Nissan 370Z without a concomitant jump in MSRP.  That's important for a car that starts at $24,250 and only climbs past the $30,000 mark when ordered in its most well-equipped trim levels.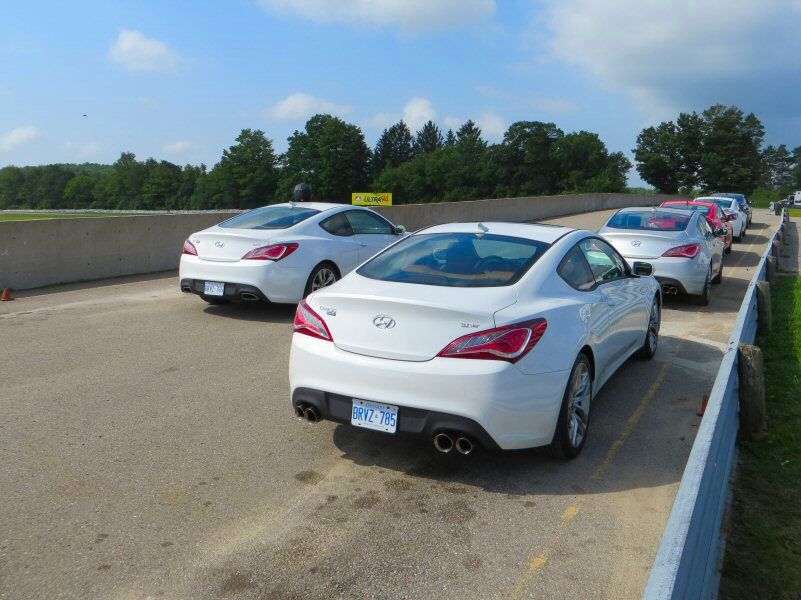 Balanced And Fun
I had the opportunity to put the 2013 Hyundai Genesis Coupe 3.8 Track edition through its paces on the driver development course at Canadian Tire Motorsports Park.  The most serious version of the Genesis Coupe, the 3.8 Track features Brembo brakes for maximum stopping power, a limited-slip differential out back, a suspension system that is stiffer than the entry-level version of the car, and grippy front sport seats.  It also features such premium luxuries as leather upholstery, HID headlights, and a slick exterior body kit that includes a rear spoiler.
My first session had me familiarizing myself with the Hyundai Genesis Coupe's chassis, which proved to be more willing to dance than I had anticipated based on my experiences with the turbocharged base version of the 2010 model.  It wasn't long before I was able to coax variable amounts oversteer from the car's rear-wheel drive layout, using the throttle to gently suggest that the Hyundai step out from a straight line and re-position itself properly for the next apex.  In fact, the Genesis Coupe was so predictable in its handling that hanging the tail out simply became a matter of when and where, with no danger out this behavior presenting itself unexpectedly and spoiling a quick lap.  Understeer was also muted, or at least as much as it can be in a production car, and the factory rubber held up well to a full 20 minutes of traction demands.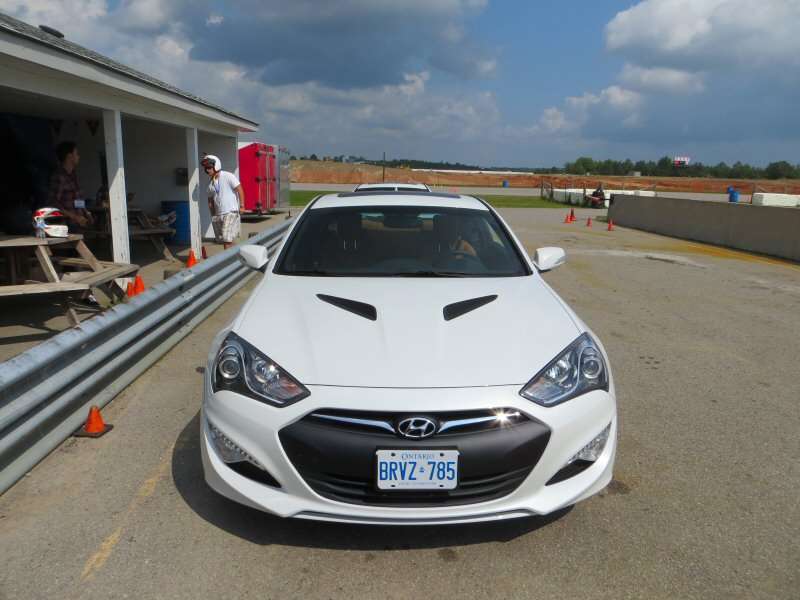 A Generous Powerband
My second session of the day revealed a few more pleasing aspects of the 2013 Hyundai Genesis Coupe 3.8 Track's high performance personality.  The vehicle's V-6 engine not only sounded magnificent coming out of the car's optional axle-back, quad tip exhaust system, but it also pulled hard in all the right places and never had me stuck between usable gear ratios.  The vehicle's six-speed manual transmission occasionally betrayed the kind of coarser drivetrain feel that I have come to expect out of Hyundai products, particularly on the three-two downshift, but overall the gearbox felt much smoother than any other shift-it-yourself unit available from the brand.
I was also impressed by the resiliency of the Hyundai Genesis Coupe's brakes.  The factory Brembos were overstressed during the initial part of my on-track foray due to my own negligence in leaving the stability and traction control system engaged.  A definite no-no during performance driving, the constant engagement of the ABS system to keep the car point in the right direction began to fade the Hyundai's binders at roughly mid-session.  Fortunately, de-activating the electronic nannies and turning in a couple of cool-down laps had the brake pedal back up to snuff, and aside from smoking like a pair of chimneys as I pitted at the end of my second tour of track duty, they performed flawlessly for the rest of the day.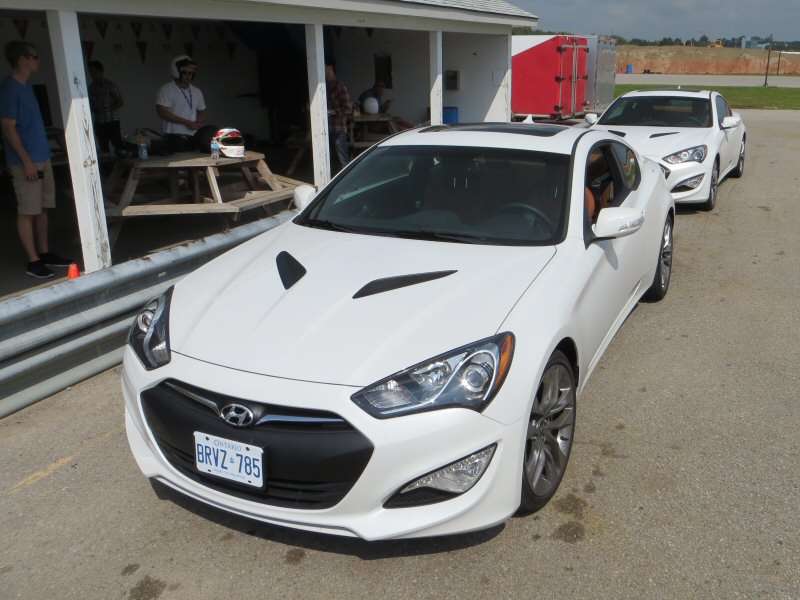 A Much Improved Contender
Hyundai is an automaker that has proven time and again that it can learn from past mistakes and listen to feedback from critics and owners in an effort to improve its products.  The Korean brand also isn't shy about paying attention to where the market is going and making sure that its vehicles can keep up, which is a marked divergence from some more established brands that seem content to offer the same models year after year despite significant evidence that they aren't up to par.
The 2013 Hyundai Genesis Coupe 3.8 Track is an excellent demonstration of Hyundai's willingness to evolve its offerings within a relatively short window of time in order to remain relevant with its target demographic.  The Genesis Coupe surprised me with just how much fun it had in store when operating in a challenging performance environment, surpassing my expectations and re-arranging my own internal pecking order when it came to affordable, and entertaining sports coupes.