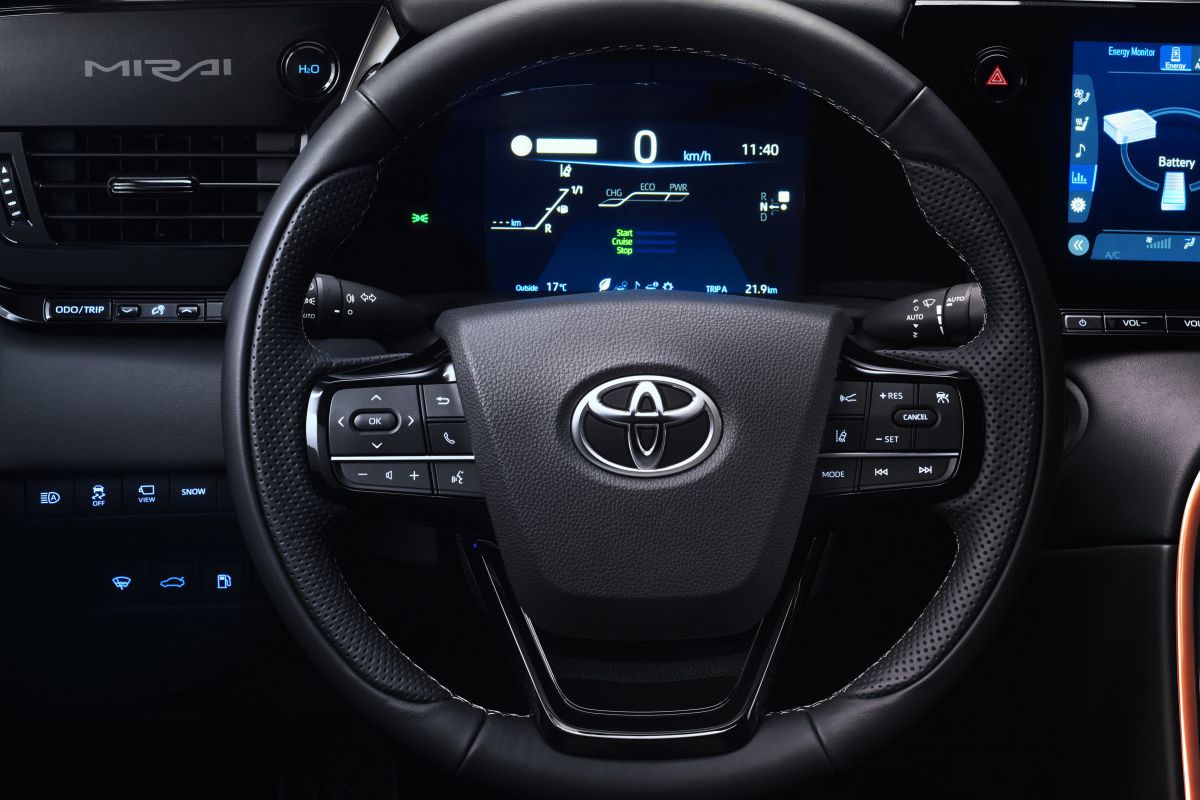 2020 Toyota Mirai, the future of hydrogen cars. ・ Photo by Toyota
Toyota has long been considered a leader in green automotive technology, starting with the debut of the iconic Prius hybrid over 20 years ago. As the brand continued to move forward, it offered a plug-in hybrid (PHEV) version of the Prius in 2012, later called the Prius Prime. But Toyota also strongly believes in hydrogen as another form of alternative fuels and introduced the Mirai, a hydrogen fuel-cell electric vehicle (FCEV), in 2016.
Hydrogen fuel-cell electric vehicles are less common in the marketplace, but several automakers are doubling down on the powertrain because of its tremendous potential. Toyota introduced the second-generation Mirai sedan last week in Greensboro, North Carolina. The FCEV received a mega makeover and looks completely different from the homely first-generation model. The new design is inspired by coupes and is lower, longer, and wider than the first generation. Its new rear-wheel drive platform also makes a dramatic difference to the Mirai's updated styling.
Pictured above: First-generation Toyota Mirai (top), the all-new 2021 Toyota Mirai (bottom)
However, changes to the new Mirai reach beyond the aesthetics. Not only is it (much) more attractive, but it also received several updates to make it more appealing in other ways. Thanks to improved fuel-cell system performance and increased hydrogen storage capacity, the new Mirai receives a 30% increase in range, which is a significant feat for any electrified vehicle. The new Mirai also promises a quieter ride, despite a more powerful driving experience than the current model offers. Interior luxuries include a standard 8-inch digital gauge display, a 12.3-inch high-resolution infotainment touchscreen, a 14-speaker JBL sound system, and even an available digital rearview mirror.
Toyota says its goal is to make the Mirai an appealing car first, and the fact that it is an FCEV a welcome "bonus."
Toyota recognizes that education about fuel cell technology is sparse, and the company states, "the easiest way to understand an FCEV is that it is a 'plug-less' electric vehicle." Hydrogen fuel-cell vehicles do not have a battery to charge even though they are electric. FCEV vehicles fuel with compressed hydrogen instead of gasoline, and the system combines the hydrogen with oxygen to fill the tank and provide electricity, with heat and water as harmless byproducts.
Toyota says it will still bring lithium-ion battery-powered vehicles to their lineup, and confirmed that all of its models would have an accompanying electrified version by 2025. But ultimately, the brand feels that there are limitations to battery technology, and will continue to build hydrogen fuel-cell vehicles and work to expand the fuel infrastructure such vehicles will need.