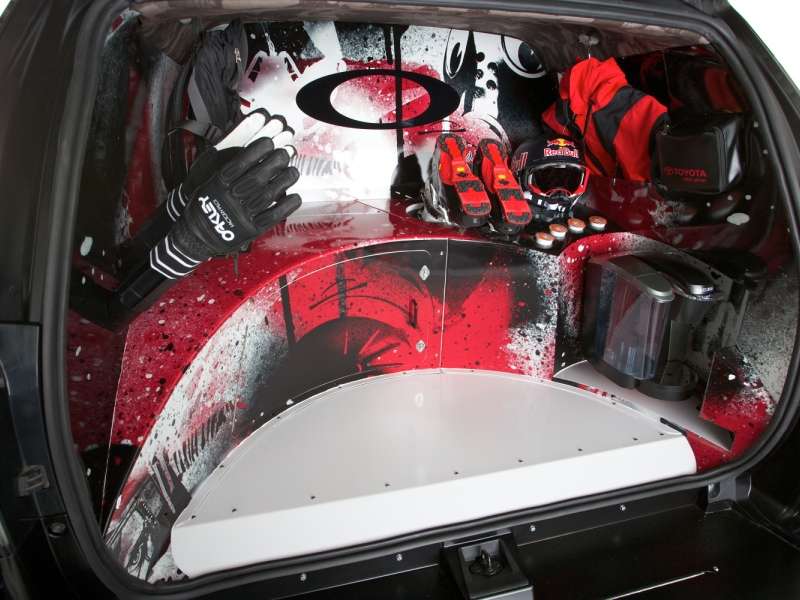 Before the madness of the SEMA Show is let loose, Toyota has revealed their Dream Build Challenge vehicles. The Dream Build Challenge pits four teams of Team Toyota athletes, world-class brand partners, and customization shops against each other to build their top dream vehicles within seven weeks.
Fans can vote for their favorite vehicle ahead of the group's unveiling on November 5th by visiting ToyotaDreamBuild.com.
But before you rush out and vote, it would be a good idea to show you the contenders vying to be the winner.
Let's Go Moto Tundra
First up is the Let's Go Moto Tundra. This comes from the minds of Josh Grant and Justin Brayton, teammates of Joe Gibbs Racing Motocross (JGRMX). The two wanted a vehicle that could handle the demands of a motocross course. Their canvas was a Tundra Crewmax and with some help from the JGRMX and N-FAB shops, the Let's Go Moto Tundra was created. 
Starting off, the shops removed the short bed and replaced it with an eight and half foot bed from a regular-cab Tundra. From there, the bed was extensively modified. There is a custom metal box that holds a motorcross bike. On one side of the bed, you have a set of televisions that can be used to play video games, watch TV, and monitor engine diagnostics on the bike. The other side houses a fridge, power washer, tool storage, and more. Finishing off the truck are a set of expandable electronic awnings, a twelve-inch lift, and a distinctive paint job.
"The competition is not going to be able to hang with this truck and all the resources JGRMX and N-FAB brought to the table. Our industry has a lot of unique needs, and this Tundra hits them all," said Grant.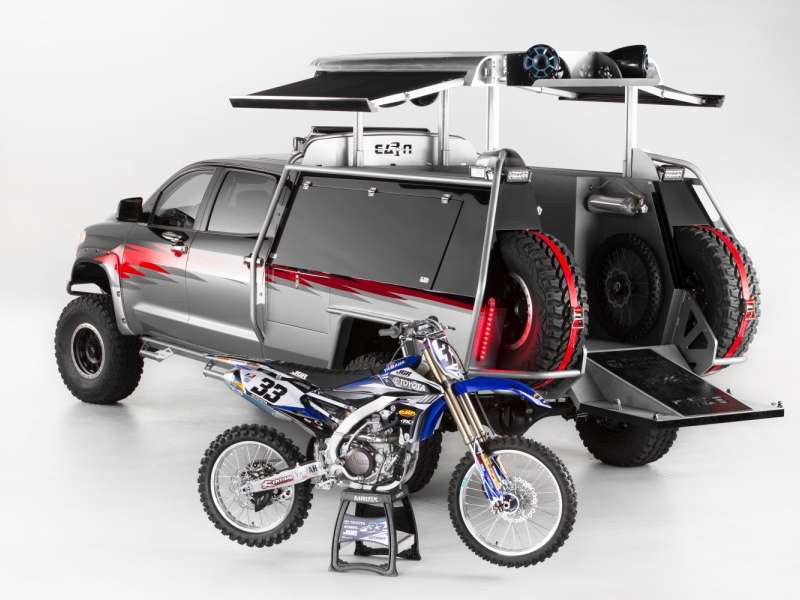 Crusher Corolla
Next up is the Crusher Corolla. This comes to us courtesy of BMX rider and Team Toyota athlete Drew Bezanson. Teaming up with headphone maker Skullcandy and Motorsports Technical Center, the goal of the Crusher Corolla was to mesh BMX and music together.
The changes to the Corolla begina with custom grind rails added to the front and rear of the vehicle. There is also a set of rally wheels fitted to the Corolla and a rack that mounts two BMX bikes along the back window. Open the trunk and there is a pair of mountable speakers with light bars that can be placed on the vehicle. Inside, the Crusher Corolla features a custom integration of an iPad to control media and upgraded speakers that are shaped as Skullcandy's logo.
"When designing the Corolla for SEMA, we imagined a BMX rider could drive next to any drainage ditch and transform the space into a performance with bikes, lights and music. Anyone who loves spontaneity in sports and deep bass sounds should vote for my entry in the Toyota Dream Build Challenge," said Bezanson.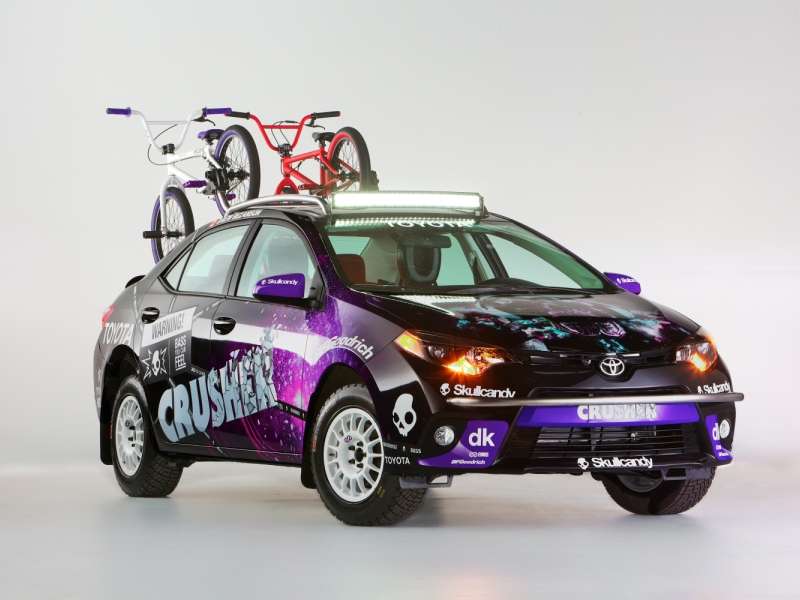 Ultimate Dream Ski 4Runner
Following the Corolla is the Ultimate Dream Ski 4Runner. This comes from the mind of skier Simon Dumont who teamed up with Oakley and the folks at Herbst Smith Fabrication to create it.
This 4Runner features a dark Oakley camouflage-patterned wrap, an oversized grille that looks very fitting on Hannibal Lecter, LED lights, and a metal roof rack that can lower and open to store two sets of skis. Inside is all about the creature comforts. There are three separate iPads to control many interior features such as media and windows. The interior also houses coffeemaker, a dryer for each glove and boot, and a mountable grill
"When you're going to attack the slopes, this 4Runner is an assault vehicle. It was incredible to be part of the Toyota Dream Build Challenge and watch details of my sport and personality be transferred into this car," said Dumont.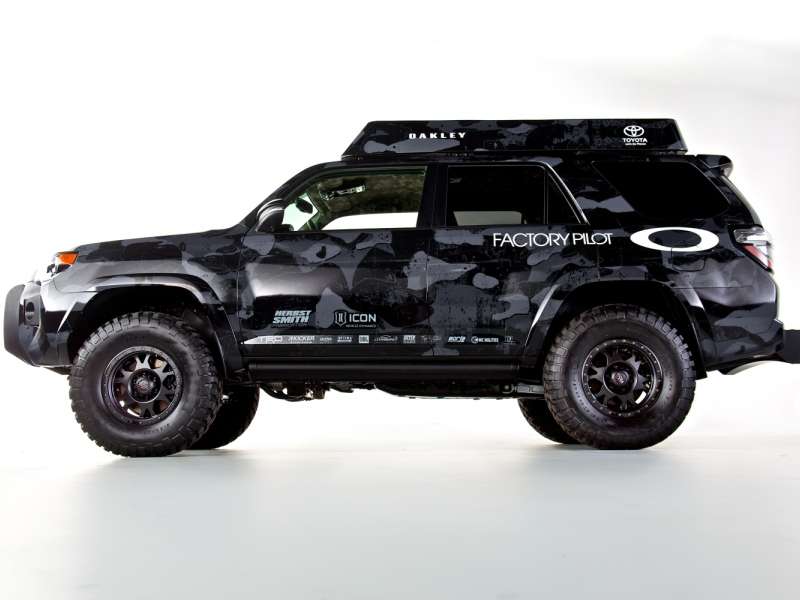 CamRally
Wrapping up this group of vehicles is the CamRally. Coming from the mind of NASCAR driver Parker Kligerman, his idea was to take a Toyota Camry sedan and make it into a bonafide rally car. To help make Kligerman's idea become reality, he teamed up with Busch Motorsports and Detroit Speed, Inc.
The Camry's exterior is draped in the company's vintage racing colors of red, orange and yellow. There is also a set of fog lights on the front end and a new aero package. The interior is kitted out with racing seats, windows, and a roll cage. Mechanical changes include a turbocharger for the 3.5L V6 and improved brakes.
"This Camry may look like a work of art, but we put some real muscle and functionality throughout the entire vehicle. In rally racing, we're not just protecting against a wall, but from trees too. Detroit Speed did an amazing job and after working with them I can see why they are the defending champs. With the help of their many partners, they were able to put all the bells and whistles on this car and they left just enough room in the trunk for us to bring the trophy from the Toyota Dream Build Challenge back to Kyle Busch Motorsports for the second straight year," said Kligerman.