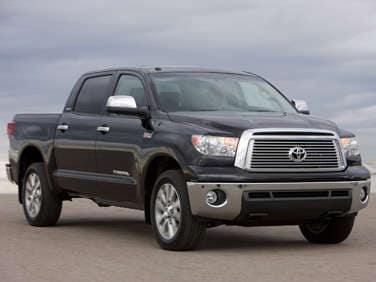 The American automotive landscape was considerably different back in 2000. The SUV boom had yet to show signs of weakening, the best selling vehicles in the U.S. were full-size pickup trucks, and trucks were the only area in which Detroit manufacturers were profitable.
Ford's F-150 ruled the roost, followed closely by Chevy's Silverado and the Dodge Ram. Toyota meanwhile was busy eating the American manufacturer's breakfast, lunch and dinner on the car side of the house and the company was flush in black ink. Its profits were strong. But when you're number one, there's no room for growth, unless you shift your attention to a different market.
The only market left for Toyota to conquer was full-size pickup trucks. In 1999, as a 2000 model, Toyota introduced the Tundra, in an effort to do just that. In continual production since then, there have been but two generations of Tundra to date.
Used Toyota Tundra: 2000 – 2006
That first Tundra was really more of a mild upgrade from Toyota's previous large(r) pickup effort, the T100, rather than a full step up to the big league. Slightly larger than its predecessor, the first Tundra still didn't quite measure up to the "big boys". But if you were an urban dweller in need of more utility from your vehicle, and also wanted to enjoy ease of use as well as a modicum of creature comforts, that first generation Tundra was a pretty compelling package.
The Tundra was introduced with two engine choices. The base engine was a 190-horsepower, 3.4-liter V6 producing 220 ft-lbs of torque. Toyota mated that engine to a a choice of four-speed automatic or a five-speed manual transmission. A 245-horsepower V8 was the other choice, displacing 4.7-liters and producing 315 ft-lbs. The sole transmission with that engine was a four-speed automatic. With the V8 the Tundra had a payload of 2000 pounds and would tow 5000 pounds (7000 when equipped with the optional tow package). Either engine could be had with both rear- and four-wheel drive.
Though not broadly advertised, a Toyota Racing Development (TRD) supercharger kit was available for the V6, capable of pushing its output to 260 horsepower and 260 ft-lbs. Similarly, in 2001,TRD offered a supercharger kit for the V8 as well, which could be retrofitted to 2000 models. With it, the V8 would produce horsepower in the mid-300's and more than 400 ft-lbs of torque.
Cab configurations were regular and extended cab. The extended cap used rear-facing doors to more easily accommodate ingress for the back seat. Interestingly, Toyota chose to offer the regular car with an extended bed and the extended cab (Access cab in Toyota-speak) with a short bed.
That first Tundra was offered in three trim levels; Base, SR5 and Limited. The Base model was strictly V6. The five-speed manual was the standard transmission offering, the four-speed automatic was optional. You got cloth upholstery, a bench seat, power steering; an AM/FM cassette head end for the audio system and that was about it. However you could option in A/C, a CD player, a bed liner, fog lights, a tonneau cover and a rear step bumper.
All SR5 regular cab models came with four-wheel drive. If you wanted a rear-drive SR5; you had to get the Access cab. Standard equipment for SR5 included the five-speed manual transmission, a split bench seat up front, a tilt steering wheel, A/C and a cassette-based AM/FM audio system. Captain chairs topped the list of SR5 options, along with an automatic transmission, a bedliner, a tonneau cover and ABS.
Tundra Limited was strictly an extended cab situation. To the list of SR5 standard features, the Limited folded in power windows and door locks, a CD player in conjunction with the cassette player for the audio system and alloy wheels. The Limited's options list featured leather upholstery, a power-actuated driver's seat, a trailer hitch, running boards, a CD changer, and two-tone paint.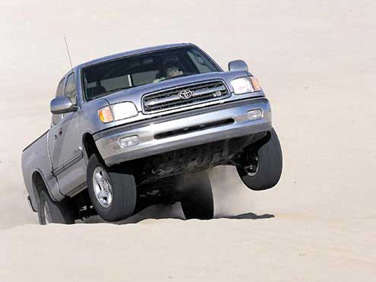 Used Toyota Tundra: 2001
A few detail changes carried Tundra through 2001. These include the addition of a TRD off road package for V8 powered access cab models; the cassette players were kicked to the curb and to further distinguish the Limited, its bumpers and door handles were rendered in the primary color of the body. For 2002, the SR5 got an upgrade to 16-inch wheels. A limited-slip differential was specified for V8-equipped versions of the Tundra.
Used Toyota Tundra: 2003
For 2003, the front-end styling of the Tundra was updated a bit to make it look more rugged. Access Cab models with the V8 got a step-side bed, again in an effort to make it look more like the big, tough American trucks. If you went step-side you also had the option of a sport suspension system. ABS was made standard equipment across the board for all Tundra models and the Limited got a power sliding rear window. The double cab Tundra debuted in 2004, in SR5 and Limited trim, featuring four normal doors, a more spacious rear passenger compartment and a longer bed.
Used Toyota Tundra: 2005
Model year 2005 saw significant changes for the Tundra. The 3.4-liter V6 was dropped in favor of a 4.0-liter unit producing 245 horsepower. The 4.7-liter V8's output was pushed to 282 horsepower and a five-speed replaced the four-speed automatic transmission. Similarly, the five-speed manual was supplanted by a six-speed.
Regular cab models got the V8 as an option, even with rear-drive. If you opted for that configuration, your Tundra's grille was color matched to the body and it ran a chrome front bumper. Even with the power increase, the utilitarian aspect of the regular cab was not overlooked—vinyl covered the floor and the bench seat was cloth. This clearly was a work-oriented configuration.
Meanwhile, Access Cab and Double Cab models got more of a luxe treatment. Alloy wheels, navigation systems, traction control, and stability control debuted in 2005 for access cab models. Double Cab models also got DVD players as optional equipment.
Used Toyota Tundra: 2006
With an all-new model due for '07, 2006 Tundras were largely the same as 2005 models, except for the advent of a special "Darrell Waltrip Edition" of the Double Cab Tundra. Commemorating Toyota's entry into the NASCAR truck series, a run of 2000 Waltrip Tundras were built, their primary distinguishing feature from other Double Cab Tundras being unique badging and an 18-inch alloy wheel.
Used Toyota Tundra: 2007 – 2010
used Toyota Tundra: 2007 – 2010
At the 2006 Chicago Auto Show, Toyota rolled out the all-new Tundra and suddenly, the Japanese pickup was no longer almost as big as the American trucks. It unashamedly matched them. Boasting a 10,000-pound towing capacity, and a 2000-pound payload capacity, Toyota was officially running with the big dogs. With three cabs, three bed lengths and three engines, the 2007 Tundra represented a significant step forward. It was said there were more than 30 ways to configure a 2007 Tundra between all the bed choices, cab choices, engine and transmission choices and trim levels.
In the engine room, the biggest news was the introduction of a 381-horsepower, 5.7-liter V8, capable of 410 ft/lbs of torque. The middle engine offering was a 271-horsepower 4.7-liter, which made 313 ft-lbs. The exact same V8 found in the '05 Tundra, its numbers are different from the '05 model's because the SAE realigned its power and torque quoting methods for the 2006 model year. Similarly, the 4.0-liter V6, carried over from the '05 model, was rated at 236 and 266, down from 245 and 282. Manual transmissions were done away with altogether. A five-speed automatic handled power routing detail for the V6 and the small V8. The big V8 got a six-speed automatic.
There were three basic body configurations, Regular Cab, Double Cab and Crew Max. Within each body configuration there were trim levels, although the Regular cab came only in a single (DX) configuration. Double and Crew Max offered SR5 and Limited.
The Regular Cab's DX package featured 18-inch steel wheels, a cloth bench seat, dual-zone air-conditioning and a four-speaker CD stereo with an MP3 player input jack. Moving up to the Double Cab and the Crew Max SR5s added chrome bumpers, two more speakers for the audio system, cruise control, power windows and mirrors and door locks, and keyless entry. Figuring long-bed Double Cab SR5 buyers would be into hauling more, they also got a towing prep package with a tow/haul mode for the transmission and manually extendable exterior mirrors.
CrewMax SR5s featured heated mirrors; rear A/C, a reclining rear bench seat and a defrosted sliding rear window. If you sprang for the full-boat Tundra Limited, you saw alloy wheels, a bed rail system with adjustable tie-downs, leather, and captain's chairs. (The driver's chair was power adjustable.) Other Limited kit included a telescoping steering wheel, automatic climate control, a 10-speaker JBL sound system with an in-dash CD changer, Bluetooth, and power-retractable exterior mirrors with an auto-dimming feature. Limited CrewMax sound systems got a 12-speaker audio system.
On the options list was found navigation, a backup camera, 20-inch wheels and a sunroof —but only for the CrewMax. An upgraded suspension system with Bilstein shocks comprised the TRD Off Road Package, along with BFGoodrich all-terrain tires and fog lights.
Used Toyota Tundra: 2008
With the redesign so fresh, things largely remained the same for MY'08, except for the designation "Tundra Grade" making its first appearance in the order books. Basically denoting the base model of each of Tundra's configurations, Tundra Grade ushered in no changes to the way the trucks were configured. Also in 2008, TRD released a supercharger kit for the 5.7-liter V8, pushing its capability to 504 horsepower and 550 ft-lbs.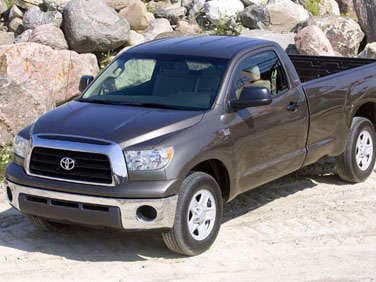 Used Toyota Tundra: 2009
TRD was given free reign to develop new suspension packages for the '09 Tundra. Thus, the TRD Sport and TRD Rock Warrior models debuted. Additionally, the 5.7-liter V8 was endowed with flex-fuel capabilities.
To enhance Tundra's off road chops; all-terrain tires, Bilstein shocks and 17-inch alloy wheels, were the mechanical bits of the Rock Warrior package. To further differentiate the model, Toyota's product planners specified a black cloth interior, and fog lights. Rock Warrior gear could only be added to four-wheel-drive 5.7-liter Double Cab standard bed and CrewMax Tundras. The TRD Sport package was configured for rear-drive 5.7-liter regular and Double Cab standard bed models. That package consisted of 20-inch alloy wheels, and a unique shift knob and pedal treatment.
Used Toyota Tundra: 2010
The middle engine was replaced for 2010. The new V8 added to the mix displaced 4.6-liters, made 310 horsepower, 327 ft/lbs and replaced the 271-horsepower 4.7-liter engine. An even more upmarket Platinum edition (think the Lexus of pickup trucks) was added. Slotting in above the Limited trim level, every option available for the Tundra was standard equipment on the Platinum model.
Used Toyota Tundra: Current Model
Perhaps in an acknowledgment of too many available configurations, the Tundra lineup was streamlined for 2011. Additionally, the 4.0-liter V6 got an upgrade to 270 horsepower and 278 ft-lbs of torque. In other engine news, flex-fuel capability was added to the 5.7-liter V8.