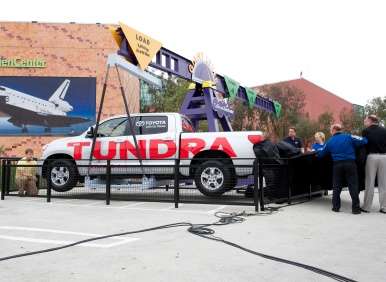 Last year, a 2012 Toyota Tundra CrewMax pickup towed the Space Shuttle Endeavour over the 405 Freeway Manchester Boulevard Bridge during its journey through Los Angeles and to the California Science Center. Now, the same Tundra that pulled the space shuttle is part of an exhibit at the center.
This past week, the California Science Center and Toyota unveiled the Giant Lever Exhibit which features the Tundra and demonstrates the science behind how lever works.
"We are thrilled to unveil the Toyota Tundra as an addition to our Giant Lever Exhibit, as we commemorate the anniversary of Endeavour's last mission. We are grateful for Toyota's longstanding commitment to science learning," said the president of California Science Center, Jeffrey Rudolph.
Toyota also donated $401,300 to the California Science Center thanks in part to a tweet drive called Toyota's Tundra Endeavour Tweet Drive which took place during Endeavour's transport.
"Toyota has been a supporter and partner of the California Science Center from the very beginning. We are honored to continue our partnership through this fun, interactive exhibit," said Toyota's vice president of Diversity, Philanthropy and Community Affairs, Michael Rouse.