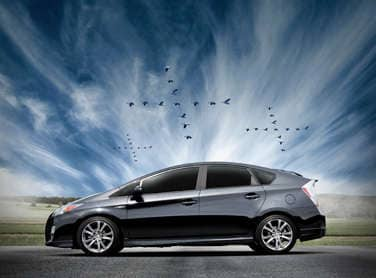 The Toyota Prius is not a vehicle that is typically associated with the term "performance," but in the course of expanding its lineup of Prius-branded vehicles Toyota hopes to change at least a small part of how its flagship hybrid vehicle is perceived by drivers. This new strategy includes the introduction of the Prius PLUS Performance Package, which will be made available across all models of the 2011 Toyota Prius starting this July.
The primary goal of Toyota's Prius PLUS Performance Package is to interest enthusiasts in the fuel-efficient compact car, which doesn't exactly enjoy a reputation as one of the most exciting automobiles to drive. The Prius PLUS Performance Package makes a number of interesting changes to the 2011 Toyota Prius hybrid, including lowering the suspension system by 1.1-inches in the front and 1.3-inches out back and installing a high carbon steel rear sway bar in order to improve handling. 17-inch forged alloy wheels and low-profile tires give the Toyota Prius a wider track and help it stick better to the pavement, and a seven-piece aero kit installs skirts on both sides of the hybrid while also adding front and rear spoilers. Four special colors are offered with the Prius PLUS Performance Package to help further set the automobile apart from more staid-looking trim levels.
Not only does the 2011 Toyota Prius with the Prius PLUS Performance Package look much more aggressive than any other version of the hybrid, but it also manages to be more responsive to driver inputs and actually boasts an improved coefficient of drag thanks to its aerodynamic add-ons. The Package doesn't boost the power output of the Toyota Prius' battery-assisted gasoline drivetrain, but given that it is being presented as merely the first in a new line of hybrid performance products being engineered by Toyota Racing Development (TRD) there could be hope in the future for a more muscular and less reserved version of the car.
The one remaining question regarding the concept of a TRD hi-po hybrid lineup has to be "is this the answer to a question that no one asked?" The Honda CR-Z sport hybrid has been almost universally panned due to the fact that in an attempt to forge a compromise between appealing performance and impressive fuel economy it has been able to achieve neither. A faster Toyota Prius that did not offer the same traditional level of miserly fuel sipping might fly in the face of the established Prius brand and have difficulty finding an audience amongst new car buyers. The 2011 Toyota Prius with the Prius PLUS Performance Package is definitely a looker, and the tightest-ever version of the hybrid to have hit the streets, but it could be the first step down a murky path for the world's leading battery-powered car.