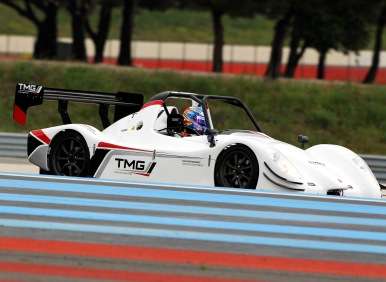 Last year at the Pikes Peak Hill Climb, Toyota took home the electric class win with the GmbH EV P001. The GmbH EV P001 set a record-breaking run time of 10 minutes 15.380 seconds with well known Pikes Peak competitor, Rod Millen behind the wheel. Now, Toyota has announced they will be competing again at Pikes Peak in June with a new and better vehicle.
The Toyota Motorsports Group EV P002 comes with improvements that engineers made during the downtime between climbs. The electric powertrain is now producing more power; 400 kW (about 536 horsepower) and 1200Nm of torque (about 885 pound-feet of torque). Top speed is 230 km/h (about 142.9 MPH). A 42 kWh Lithium ceramic battery provides the power for the EV P002. To charge the EV P002, Toyota will use Schneider Electric EVlink™ DC Charger which uses a 42 kWh lithium-ion battery to provide the charging power. This allows the team to charge the vehicle quickly without being anywhere near the electrical grid.
Toyota is still doing some aerodynamic work and track testing before the actual hill climb. Still, it should be interesting to see how the EV P002 and Rod Millen will fare against Nobuhiro "Monster" Tajima, who will be piloting a electric vehicle as well.