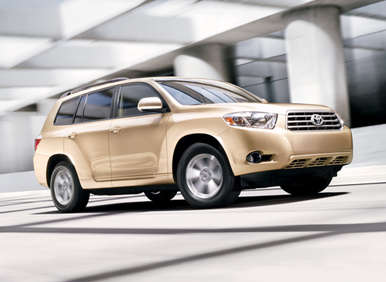 By the time model year 2000 rolled around, the SUV-mania afflicting American car buyers had surpassed epidemic proportions. Marketers, looking for ever more imaginative ways to put additional butts in their particular seats were coming to realize a vast number of people who would never be caught dead in a station wagon (unless of course it actually was a hearse) would probably be seduced if they made station wagons look like SUVs.
After all, most people liked the way cars drove more than they liked the way the truck-based SUVs drove. Cars were lighter, more agile, more fuel efficient, and just generally more comfortable all around. With that in mind, product planners were assigned to roll all of those attributes into something with the profile of a SUV. The thought being if they could do so successfully, the company would probably have a huge hit. And best of all, those gullible consumers would never realize they were buying into station wagons!
And that's where we say hello to the 2001 Toyota Camry station wagon — also known as the 2001 Toyota Highlander "crossover utility vehicle". Nothing less (or more than, for that matter) a tall Camry, the Highlander also shared its platform with the contemporary Lexus RX and ES of the time. Which, when you think about it, was absolute genius. After all the Camry was then (and still is) perennially one of the best selling cars in America. If you were trying to create the best selling SUV in America, it would make perfect sense to clone a Camry — right?
Toyota's Highlander was first offered for sale in North America in 2001. There have been two generations of the midsize crossover utility vehicle since it was launched.
2001 – 2007 Toyota Highlander
Introduced at the New York Auto Show in April of 2000, the Highlander went on sale in January of 2001 in the United States. As we alluded earlier, the Toyota Highlander was (and still is actually) based on the underpinnings of the Toyota Camry. This, by extension, means it employs a unit body and an independent suspension system, which makes it drive like a car.
That first Highlander was offered in a five-seat configuration and in three trim levels; "Base" and "Limited". Base models rode on steel wheels and featured A/C, power windows, power mirrors and power door locks. The Base 2001 Highlander also featured cruise control and a CD player as standard equipment. The top of the line Limited trim kit flaunted heated outside mirrors, remote keyless entry, power operation for both front seats, and a more powerful sound system by JBL.
On the Highlander's options list were leather seating (for the Limited), an in-dash CD changer, and a towing package. A navigation system was also available – but for only for the Limited model.
Available in both front- and all-wheel drive, the 2001 Toyota Highlander's engine offerings were a 155-horsepower, 2.4-liter inline four making 153 ft-lbs of torque, or a 220-horsepower 3.0-liter V6 generating 222 ft-lbs of torque. Both engines used four-speed automatic transmissions. The inline four was the sole engine offering for Base-trimmed Highlanders, Limited buyers got the V6.
Disc brakes with ABS, electronic brake force distribution (EBD), and brake assist were standard for both models, as were traction and skid control. Side curtain airbags were optional for both Base and Limited trim.
2002 Toyota Highlander
No significant changes were made to Highlander for model year 2002.
2003 Toyota Highlander
For 2003, Toyota offered the 3.0-liter V6 with the Base trim kit and front-wheel drive. To get a V6 and all-wheel drive, buyers still had to opt for the Limited package.
2004 Toyota Highlander
The 3.0-liter V6 was shelved in 2004, in favor of a 230-horsepower 3.3-liter V6, capable of 242 ft-lbs of torque. Offered with a five-speed automatic transmission, just as in 2003, the new V6 could be had with a Base model Highlander, however for 2004 it was also offered with all-wheel drive on the base model. A third row seat was specified for all Highlander models for 2004 as well. The Limited trim package got a new six-spoke alloy wheel, so the five-spoke wheel worn by the earlier Limited models were bequeathed to the Base model as hand me downs.
2005 Toyota Highlander
Model year 2005 made a roof rack with cross bars, remote keyless entry, and a cargo cover standard on both Highlanders. For colder climates, the parking position for the windshield wipers was equipped with a heating grid as an option on Base models and as a standard feature on Limited. Also in 2005, DVD players were offered for the first time in Highlander.
2006 Toyota Highlander
While it may sound somewhat oxymoronic, particularly given the Highlander's overall mission in life, Toyota began offering a "Sport" trim package in 2006 for the Highlander. The Toyota Highlander Sport package was comprised of 17-inch polished alloy wheels, a firmer sport suspension, foglights, a color-keyed grille, strategically placed chrome exterior trim, a power-operated driver's seat, a leather-wrap for the steering wheel and gearshift, and a CD player.
2007 Toyota Highlander
Approaching retirement, the first generation Highlander's 2007 model year iteration was granted only mild improvements. Side curtain airbags were made standard equipment, DVD players found their way onto the options list for all three models, and the look of the headlights was changed.
2008 – 2010 Toyota Highlander
Toward the end of its run, the first generation Highlander, while benefiting tremendously from the exceptionally good platform on which it was based, was beginning to lose its competitive edge. Largely because of its success, nearly every other manufacturer selling in that segment of the marketplace had fielded something like the Highlander by 2008 — and many of those offerings were very good.
The primary hindrance affecting Highlander was its size. As a result, the 2008 model is considerably larger than the ' 07. Further, its third-row seat is more usable by a broader range of the population. The third row seat that appeared in the 2004 version of the Highlander was best suited only for kids and pets, and even they had to be on the small side (the kids, we mean…well, actually yeah…the pets too).
More than anything, according to the vast majority of reports from the day, the primary problem was accessing the third row. Installed as it were as an afterthought, clamoring over the second row seat to get to that original third row seat was an exercise best undertaken by only the most nimble members of the traveling party.
With the 2008 redesign, the second row outboard seats were capable of being moved out of the way more effectively. There was the added option of walking between the second row seats—if the middle section was folded, taking advantage of the 'Center Stow" feature. This enabled the center section of the second row to slide forward into the center console between the front seats, thus opening a space between the outboard second row seats.
For the 2008 redesign, the 2.4-liter inline four was jettisoned in favor of V6 power across the board. Displacing 3.5 liters, the engine produced 270 horsepower and 248 ft-lbs of torque. The transmission was a five-speed automatic, and as before, the Highlander was offered with both front- and all-wheel drive.
Even though the Highlander was all-new, the trim packaging strategy remained the same. For 2008, Base Highlanders came with 17-inch alloy wheels, privacy glass, a fold-flat third-row seat, a tilt-and-telescoping steering wheel, A/C, a CD-based stereo audio system with an auxiliary input jack for portable audio devices, as well as power mirrors, windows and door locks.
The more aggressive Sport package consisted of 19-inch wheels, a firmer sport-tuned suspension, a flip-up rear hatch window, and a 3.5-inch monitor on which the output of the rear back-up camera was also displayed. The Sport package's audio system featured an in-dash CD changer with MP3/WMA capability. And, while it shared cloth upholstery with the Base model, the Sport model employed an upgraded seat fabric. Naturally, the steering wheel was leather-wrapped and there was one-touch folding capability for the second-row seats.
The Highlander Limited got 19-inch wheels too, but its suspension was tuned more softly than the Sport's. Limited was also adorned with power folding and heated outside mirrors, an auto-dimming inside rear-view mirror, leather upholstery, and a 10-way power driver seat. Keyless start and wood-grain interior trim added an extra luxurious touch, while dual-zone automatic climate control rounded out the Limited package's standard offerings.
In deference to the increased size of the passenger compartment, a manual rear air-conditioning system was made available on Base and Sport models. In keeping with its more upscale nature, Limited models offered it too, but with automatic temperature and fan control. Buyers had the option of dropping the third row seat from Base and Sport models. If they chose to do so, a price credit was given.
Completing the 2008 Toyota Highlander's options list were a sunroof, a power liftgate, heated front seats, a rear DVD entertainment system, and a towing prep kit. Navigation and Bluetooth connectivity were available as well. However, buyers had to spring for the high-end JBL sound system to get them. If they chose that option, the Highlander's speaker count jumped to nine from six to nine, but its CD changer's capacity dropped to four from six.
2009 Toyota Highlander
An inline four-cylinder powerplant option returned to the Highlander's lineup for 2009. This time it was a 187-horsepower engine displacing 2.7-liters and generating 186 ft-lbs of torque. Fitted to Base front-drive Highlander models only, the four-cylinder engine was mated to a six-speed automatic transmission.
2010 Toyota Highlander
For 2010, some of the most popular optional offerings were bundled into a new trim package designated "SE". And while it offered the 17-inch wheels from the Base model, it also co-opted a sunroof, dual-zone automatic climate control, heated seats, leather, and a power-actuated passenger seat.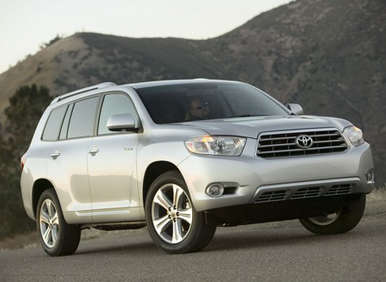 Current Model (2011 Toyota Highlander)
The Sport package was dropped for 2011, making way for the SE package to add to its 2010 offerings a power tailgate (with a separate glass hatch), roof rails, foglamps, a heated windshield wiper parking position de-icer grid, an eight-way power driver's seat, an auto-dimming rearview mirror, a back-up camera, and an upgraded audio system (which was also offered as optional on the Base model) with satellite radio as well as a USB port. The system offered Bluetooth phone connectivity and audio streaming.
Toyota Highlander Summary
Offering the best of a passenger car's attributes with the "command" seating position and expanded cargo capability so many people appreciate about SUVs, the Toyota Highlander ignited the explosion of an entirely new segment within the automotive marketplace. The success of Toyota's Highlander demonstrated conclusively that all most SUV buyers really wanted was the look of the behemoths—without the overkill of their capability.
Blending Toyota's reputation for quality, longevity and economy of operation into the mix didn't hurt either. Yeah, the company has taken a few hits lately, and arguably much of it is due to becoming complacent in the number one spot, but the fact remains, very few car companies build cars with all of the aforementioned attributes the way Toyota does.
(There ain't no sense in hatin' y'all, that's just how it is…)
Which isn't to say Highlanders are flawless. Just like any other mechanical device, failure is a Highlander option too. That said, there have been a number of recalls for Toyota's mid-size CUV over the years. To find which ones affect the model year you're considering, run an Internet search for "Toyota Highlander recall" incorporating the model year of your interest.
And while the Toyota's nature pretty much ensured the vast majority of Highlanders ever built were sold to pretty responsible people, the possibilities of mechanical problems still exist. Make sure you have any pre-owned vehicle you're seriously looking at subjected to a pre-purchase inspection by the most anally retentive mechanic you can find. Ideally, one intimately familiar with whatever make and model you're considering.