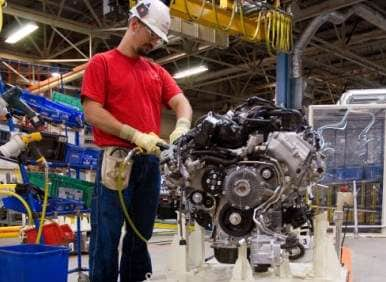 Could Toyota's reliance on hybrid vehicles as the sharp point of the spear in its overall fuel efficiency strategy be coming to an end? That was the main point of speculation in a recent article published by The Detroit News regarding the Japanese automaker's recent partnership with a European performance company to produce small displacement, turbocharged four-cylinder engines.
Many car companies such as General Motors, Ford and BMW have increasingly turned to forced-induction engine designs as a way to achieve respectable horsepower ratings while still turning in the fuel mileage figures required to draw potential buyers to the showroom. Turbocharged engines of roughly 2.0-liters or less are also helping manufacturers satisfy stringent corporate average fuel economy (CAFE) regulations.
In terms of its own small car strategy, however, Toyota has been relatively complacent over the past several years, relying on existing naturally-aspirated four-cylinder designs to power automobiles such as the Toyota Matrix hatchback, the Toyota Corolla sedan and the Toyota Yaris subcompact. The fact that each of these vehicles has fallen somewhat behind the pace in terms of both underhood performance and fuel efficiency has not escaped the notice of consumers or the automotive media, especially in the face of the repeated product introductions from competitors of sexy new compact and subcompact cars that deliver value and fun thanks to their turbocharged drivetrains.
This could all be changing for Toyota in the near future. The company has been working with Gazoo Racing Masters of Nurburgring, an imaginatively-named organization that is particularly adept at squeezing as much power as possible out of small engines for competition purposes. GRMN has built a special show edition of the Toyota Yaris that produces 178 horses thanks to the judicious use of turbocharging - a technology that the company says could easily be adapted to an actual production vehicle.
In combination with Toyota's recent forays into direct fuel injection, it is entirely possible that the automaker could begin to introduce small, efficient and robust engines in its entry-level automobiles as early as next year. The engines could also theoretically spread from the Toyota Corolla - a vehicle desperately in need of a refresh in order to remain competitive - all the way up to the mid-size Toyota Camry sedan to help stave off the publicity boost associated with the Ford Fusion's four-cylinder-only drivetrain strategy.
Toyota has achieved impressive success with its flagship hybrid, the Toyota Prius, and the company is anxious to spread that goodwill over a more varied lineup of Prius-based hybrids. Buttressing its affordable car lineup with fuel efficient, turbocharged engines would give the brand the dual-pronged efficiency strategy that it currently lacks.