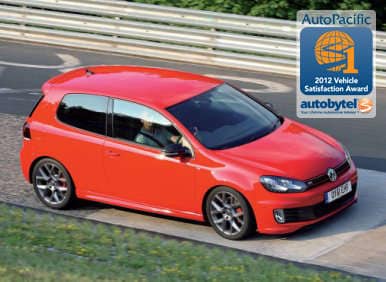 The AutoPacific 2012 Vehicle Satisfaction Awards (VSA) draw from a survey of 75,000 new car and new truck owners in the United States through the first three months of the year.  The VSA's tabulate owner satisfaction based solely on this survey input - no other criteria (outside opinions, previous road test data) are used in determining winners.
Taking the title of top-rated Premium Compact Car this year is the 2012 Volkswagen GTI.  The hatchback's status as the highest-rated Premium Compact Car in the AutoPacific survey will come as no surprise to those familiar with the Volkswagen GTI's compelling blend of premium comfort, practicality and usable, real-world performance.
Top-Rated Premium Compact Car: 2012 Volkswagen GTI
The 2012 Volkswagen GTI stands out from the rest of the pack thanks to the overall competency of its package.  The AutoPacific VSA highest-rated Premium Compact Car might not post the gaudiest horsepower numbers, turn in the quickest acceleration times or provide the longest list of luxury features but it does manage to squarely hit the mark in each of the categories important to buyers in its segment. 
The GTI's 2.0-liter, turbocharged four-cylinder engine delivers 200 ponies and 207 lb-ft of twist, sent to the front wheels by either a six-speed manual or a six-speed dual-clutch automated manual transmission.  Highway fuel economy checks in at a respectable 33-mpg, and the vehicle's sport suspension system provides good road feedback and enhances handling without sacrificing ride quality.
The 2012 Volkswagen GTI's interior provides additional clues as to why it deserves highest-rated Premium Compact Car status.  The German automaker has loaded up the compact hatchback with power everything, front sport seats (that include heaters), soft touch materials not often seen at the vehicle's price point and the option of HID headlights, a navigation system and leather upholstery.  Available in both two and four-door editions, the GTI is also capable of swallowing 46 cubic feet of cargo with the rear seats folded forward.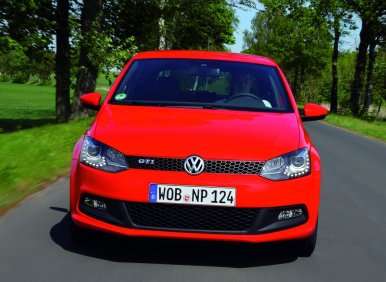 Top-Rated Premium Compact Car Winner: 2012 Volkswagen GTI Competitors
The competition to take home the top-rated Premium Compact Car hardware was tight, especially for such a small category.  Coming in just behind the 2012 Volkswagen GTI was the Audi A3, an upscale hatchback that shares much of its platform with its VW sibling.  Trailing further behind in AutoPacific's VSA survey results was the subcompact MINI Cooper, which placed solidly ahead of the Subaru Impreza WRX.  The latter features excellent performance but little in the way of creature comforts compared to its competitors.
How the Premium Compact Segment Rated
RankVehicleScore1Volkswagen GTi6652Audi A36533MINI Cooper6234Subaru Impreza WRX5785Mitsubishi Lancer EVO504