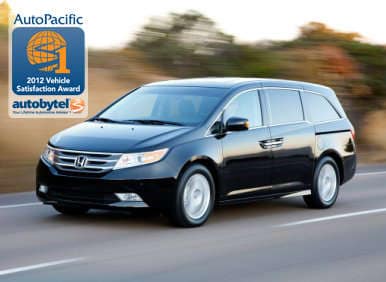 During the first quarter of 2012, over 75,000 owners of new cars and light trucks in the United States were surveyed  to determine the winners of the AutoPacific & Autobytel 2012 Vehicle Satisfaction Awards (VSA).  Based on the results of the survey, the 2012 Honda Odyssey is awarded the title of America's highest-rated minivan.
Honda's Odyssey, winning out over such highly vaunted models  such as Toyota's Sienna and Chrysler's Town and Country, is perennially one of the best rated minivans on the market. Flexibility, utility, and exceptional road manners are among the attributes of the highest-rated minivan. This determination is based solely on owner input and the resulting measure of owner satisfaction demonstrated. Neither AutoPacific nor Autobytel has a vote. In other words, the winners of the VSAs are based purely on the numbers generated by the owner rankings.
The awarding of the AutoPacific & Autobytel VSA is based specifically upon the experiences of people who actually bought the cars.  Because overall vehicle satisfaction is in fact derived from ownership experiences, AutoPacific & Autobytel's Vehicle Satisfaction Award is a significantly more accurate measurement of how satisfied new car and light truck buyers are with their recently purchased vehicles. 
Top-Rated Minivan: 2012 Honda Odyssey
With seating for up to eight passengers, a reconfigurable second row featuring a sliding center section to bring a child closer to the parents in the front seats, and a storable third row, AutoPacific & Autobytel's highest-rated minivan offers exceptional flexibility.
A highly desirable trait in family transportation, this flexibility was one of the major factors behind the 2012 Honda Odyssey being named the best-rated minivan. Other points in the Odyssey's favor are a broad array of innovative family friendly features such as the removable center console with its flip-up trash bag holder. The Honda also delivers engaging driving dynamics and good fuel economy.
Interestingly though, while its competitors offer more features, and in some cases even better quality, the precise blending of its attributes sets the Odyssey apart. In other words, yes, the Honda minivan is absolutely a case of a whole being greater than the sum of its parts
And, there are some very nice parts; keyless entry, automatic headlights, air-conditioning, full power accessories, and cruise control are all standard features on the base model. Optional kit includes a blind spot warning system, a voice-operated navigation system with 15GB of digital storage, a multi-view camera, a rear-seat video entertainment system with a widescreen monitor, and a high-end 12-speaker surround-sound theater on wheels audio system.
To keep its families protected, the AutoPacific & Autobytel best-rated minivan's safety gear includes antilock disc brakes, stability and traction control, active front head restraints, front side-impact airbags, and side curtain airbags covering all three rows.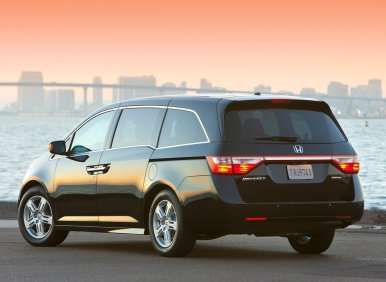 Top-Rated Minivan-Winner: 2012 Honda Odyssey Competitors
Trailing the best-rated minivan to the mall (in order of ranking) are  the Nissan Quest, Chrysler Town and Country, Toyota's Sienna, and the Kia Sedona. Proof there's more to building a good minivan than power sliding doors and a foldaway third row; the AutoPacifc & Autobytel highest-rated minivan category contains the most innovative and family friendly crop of minivans ever assembled. All offer outstanding safety features, good power, a broad array of family friendly attributes, and most of all, great value.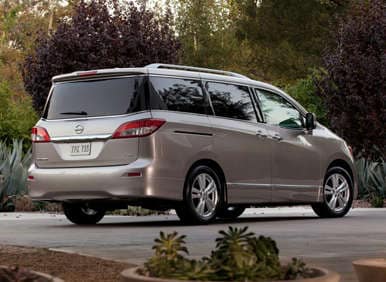 How the Minivan Segment Rated
 Minivan Rank Vehicle Score 1 Honda Odyssey 691 2 Nissan Quest 680 3 Chrysler Town & Country 663 4 Toyota Sienna 657 5 Kia Sedona 639 6 Volkswagen Routan 614 7 Mazda5 581 8 Dodge Grand Caravan 546 9 Ford Transit Connect 539