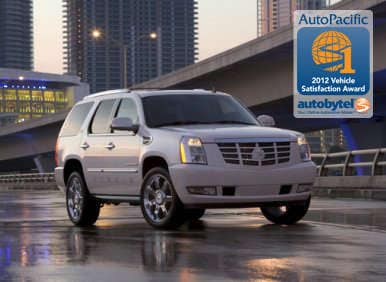 The AutoPacific Vehicle Satisfaction Awards (VSA) are based on the responses from actual new car and new truck owners across the United States to a survey that asks them to rate 48 different attributes of their particular vehicles.  This provides a clear picture of the opinions of 75,000 survey respondents, polled during the first quarter of 2012, as to what exactly they think of their own automobiles.
This year's AutoPacific VSA for top-rated Luxury SUV was snagged by the full-size 2012 Cadillac Escalade.  The Cadillac Escalade has a well-deserved reputation as a brash, incredibly comfortable and exceptionally useful entry into the luxury SUV segment, and its placing as the best-rated Luxury SUV is a reflection of how well the big sport-utility vehicle lives up to its hype.
Top-Rated Luxury SUV Consumer Award: 2012 Cadillac Escalade
The 2012 Cadillac Escalade isn't just dripping with premium features such as heated and cooled leather seats, a DVD entertainment system, an advanced navigation system and a Bose surround sound audio system.  It also comes with seating for up to eight passengers, as well as enough interior room for 108.9 cubic feet of cargo and the ability to tow as much as 8,300 lbs of trailer weight.  The full-frame Escalade cements its highest-rated Luxury SUV ranking with a prodigiously-powerful 6.2-liter V-8 under the hood.  This unit churns out 403 horses and 417 lb-ft of torque, sent to either the rear or all four wheels (if optional all-wheel drive is ordered) via a six-speed automatic transmission.  Fuel mileage for the Cadillac SUV shows as 14-mpg city and 18-mpg highway.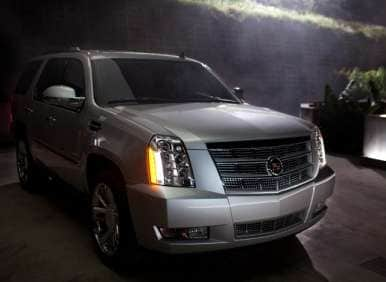 Top-Rated Luxury SUV Consumer Award: 2012 Cadillac Escalade Competitors
Competition for the title of top-rated Luxury SUV was contested by similarly large trucks, with second place taken by the more refined but not quite as prestigious Lexus GX.  The Infiniti QX56, whose size closely resembles a battleship when encountered out on the open road, came in third for its mixture of high tech features and excellent power, while the tried, tested and true Lincoln Navigator took the fourth spot by virtue of its ability to mimic the Escalade's street credibility despite its somewhat outdated drivetrain.
How the Luxury SUV Segment Ranked
 1 Cadillac Escalade 775 2 Lexus GX 742 3 Infiniti QX56 702 4 Lincoln Navigator 698 5 Range Rover 695 6 Land Rover LR4 645 7 Range Rover Sport 639