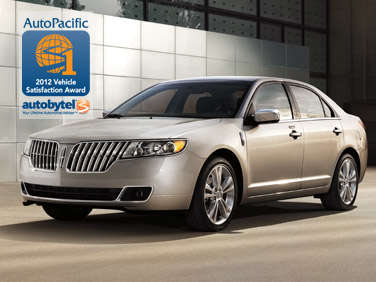 To determine the winners of the AutoPacific & Autobytel 2012 Vehicle Satisfaction Awards (VSA, over 75,000 owners of new cars and light trucks in the United States were surveyed in the first quarter of 2012.   Based on the results of the survey, the 2012 Lincoln MKZ is awarded the title of America's highest-rated Luxury Mid-Size Car.
Triumphing over such exceptional vehicles such as the Nissan Maxima and the Acura TSX, Lincoln's MKZ is a paragon of style,  quality and tech. The Lincoln also represents and excellent value, when its price is considered against what that money buys. For these reasons, MKZ owners say they are a very satisfied lot.
This determination is based solely on owner input and the resulting measure of owner satisfaction demonstrated. Because overall vehicle satisfaction is in fact derived from ownership experiences, AutoPacific & Autobytel's Vehicle Satisfaction Award is a significantly more accurate measurement of how satisfied new car and light truck buyers are with their recently purchased vehicles.
Top-Rated Luxury Mid-Size Car: 2012 Lincoln MKZ
Lincoln's steadfast adherence to the traditional qualities of craftsmanship is readily evident in the way it employs genuine wood and leather trim in its vehicles. These attributes serve the marque well, because in the case of the Lincoln MKX, we have an outstanding interior treatment that manages to be simultaneously classic, yet contemporary.
In the finest American tradition, the interior of the Lincoln MKZ, AutoPacific & Autobytel's best-rated Luxury Mid-Size Car, is a veritable living room on wheels. Loaded with features, as a luxury vehicle should be, the MKZ comes with traction control, the anti-lock braking system, remote keyless entry, and six airbags—including side curtain airbags for both rows of seating. Creature comforts include an AM/FM/MP3 compatible stereo with a six-disc CD player, Sirius Satellite Radio, dual-zone air conditioning, cruise control, one-touch up and down power windows, and a reverse sensing system.
That all of this is packaged in a handsomely designed exterior treatment is just icing on an already highly desirable cake. Available with either a highly efficient front-drive powertrain, or an all-wheel drive configuration, the Lincoln MKZ is a remarkably versatile automobile and well deserving of its ranking as the highest-rated mid-size luxury car.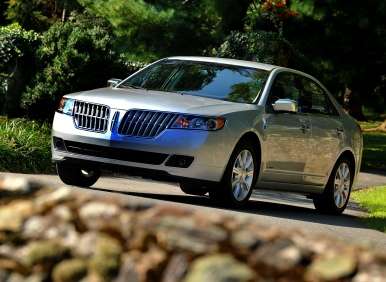 Top-Rated Luxury Mid-Size Car Winner: 2012 Lincoln MKZ Competitors
Marginally trailing the Lincoln for the title of AutoPacific & Autobytel's top-rated Luxury Mid-Size Car (listed in order of ranking) are Nissan Maxima, Acura TSX, and Volkswagen CC. All exceptional driver's cars, in addition to their luxury and technology orientation this group of automobiles provides a healthy dosage of youthful exuberance to go with their upright and respectable visages.
It's important to note a top-rated mid-size luxury car is typically required to do double and even triple duty. They must serve well from a comfort and convenience perspective, while also providing their owner with an engaging driving experience, cutting-edge technology, room for a growing family, and a respectable demeanor.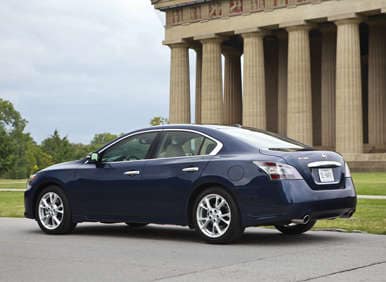 How the Luxury Mid-Size Segment Rated
RankVehicleScore1Lincoln MKZ6872Nissan Maxima6693Acura TSX6674Volkswagen CC648