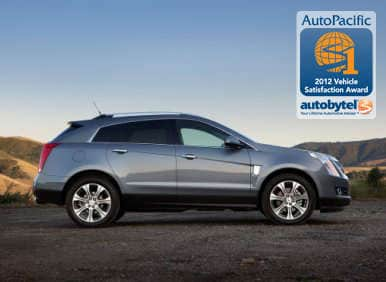 The AutoPacific Vehicle Satisfaction Awards (VSAs) are one of the industry's top third-party reports on customer satisfaction, thanks to both its high number of participants—including some 75,000 vehicle owners this year alone—and its comprehensive approach to measuring how happy consumers truly are with their new cars and trucks. And opposed to the typical recognition programs from other publications and websites, the Autobytel VSAs are based strictly on customer feedback—not the opinions of journalists who don't live with the vehicles day in, day out, the way real-world drivers do.
That provides an extra measure of credibility to the 2012 VSAs, which this year included the Cadillac SRX as the top-rated luxury crossover SUV in the country in one of the most competitive segments of the motoring marketplace, with a sharp focus on rugged style and premium amenities.
Top-Rated Luxury Crossover SUV: 2012 Cadillac SRX
The current-generation Cadillac SRX, with its big and bold Cadillac style, has benefited from steadily growing sales along with a steady stream of upgrades. For 2012, this included a new V6 engine that offers technologies like direct injection and variable valve timing, along with a robust 308 hp and 265 lb.-ft. of torque. Those numbers represent increases of 43 hp and 32 lb.-ft. of torque, yet, because of the SRX's also-new six-speed automatic transmission with an Eco driving mode, there's no real sacrifice in fuel economy. The highest-rated luxury SUV in the 2012 VSAs also features amenities like a heated steering wheel, heated front and rear outboard seats, an UltraView sunroof, a 10-speaker audio system with Bose 5.1 Cabin Surround Sound, HID headlamps with adaptive forward lighting, and Cadillac's RainSense automatic windshield wipers.
In addition, the SRX is available in both front- and all-wheel-drive configurations, with AWD models using an electronic limited-slip rear differential that improves handling in slippery road conditions and can vary the torque distributed to each of the rear wheels for improved control while cornering.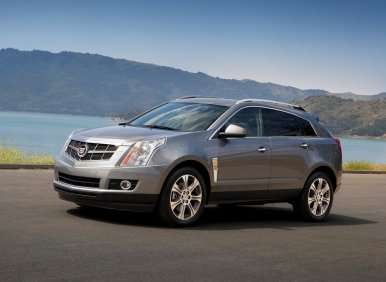 Top-Rated Luxury Crossover SUV WInner: 2012 Cadillac SRX Competitors
This year's highest-rated luxury crossovers included some of the highest-rated vehicles in the entire study, highlighted by the Range Rover Evoque (2012 North American Truck of the Year), Buick Enclave (a past Autobytel Editor's Choice) and the Lexus RX (the best-rated luxury crossover in the 2011 VSAs). Shoppers should keep in mind, though, that an all-new 2013 Lexus RX, significantly upgraded for the new model year, is now at Lexus dealerships, while a notably refreshed 2013 Buick Enclave will be at Buick stores shortly.
How the Luxury Crossover SUV Segment Rated
     1 Cadillac SRX 715 2 Lexus RX 706 3 Range Rover Evoque 701 4 Buick Enclave 700 5 Lincoln MKX 695 6 Audi Q5 688 7 Acura MDX 684 8 Volvo XC60 680 9 Volvo XC90 676 10 Acura RDX 672 11 Mercedes-Benz GLK 668 12 BMW X3 666 13 Volkswagen Touareg 663 14 Infiniti EX 642