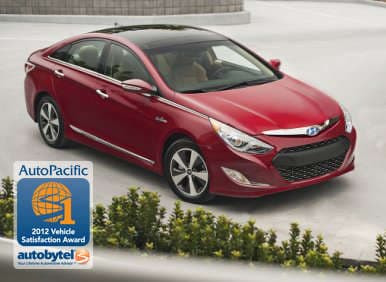 Based solely on input from actual owners—more than 75,000 of them—taken during the first quarter of the year, AutoPacific's 2012 Vehicle Satisfaction Awards (VSAs) provide a unique look at which vehicles provide the most satisfying overall ownership experience. Many other awards focus solely on specific aspects of that experience, or the subjective opinions of the media, and can't identify the vehicles that really satisfy real drivers.
For example, when looking at the top-rated hybrid car in this year's VSAs, the winner wasn't the one with the absolute highest mpg ratings. Yes, the main reason people buy hybrids is to save on fuel costs, but, at this stage in the game, people expect that plus all the benefits found in a traditionally powered vehicle, too. And that's exactly what they get in this year's highest-rated hybrid car, the 2012 Hyundai Sonata Hybrid.
Top-Rated Hybrid Car: 2012 Hyundai Sonata Hybrid
With its swoopy "fluidic sculpture" design, the Hyundai Sonata Hybrid showcases a hybrid-esque attention to aerodynamics, but still maintains a customer-satisfying sedan appearance—along with an equally satisfying price tag of $25,850 that is the lowest MSRP of any hybrid mid-size sedan on the market.
The Sonata Hybrid also delivers the highest net horsepower in its class, and, thanks to Hyundai's "Blue Drive" hybrid powertrain, EPA marks of up to 35 mpg city/40 mpg highway/37 mpg combined. Another Blue Drive benefit comes from the system's advanced battery technology that relies on polymer gel electrolytes instead of the typical nickel-metal hydride setup. In plain English, the result is a battery that is 25 percent lighter, takes up 40 percent less space, delivers 10 percent better efficiency and can maintain available power for 1.7 times longer than traditional hybrid batteries.
An impressive list of standard content also contributed to the vehicle's recognition as the highest-rated hybrid car in the 2012 VSAs. Every Sonata Hybrid comes complete with a smooth-riding suspension that features SACHs Amplitude Selective Damping (ADS) shock absorbers, a six-speaker AM/FM/CD/MP3 sound system, an eight-way power driver's seat, a Bluetooth hands-free phone system, fog lights and LED taillamps.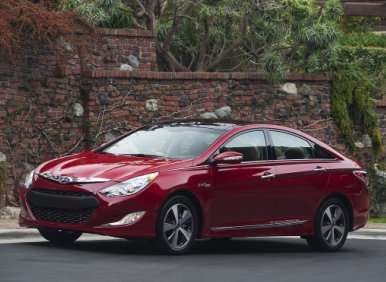 Top-Rated Hybrid Car Winner: 2012 Hyundai Sonata Hybrid Competitors
Hybrid vehicles continue to gain ground in this country, with sales up dramatically so far this year, and there's a growing number of strong choices in a variety of different segments. VSA participants were particularly satisfied with hybrid versions of existing models, which garnered four of the five spots among this year's best-rated hybrid cars. This included the Toyota Camry Hybrid, which was completely redesigned for the 2012 model year, as well as two luxury choices: The Buick LaCrosse eAssist and Lincoln MKZ Hybrid. The highest-rated dedicated hybrid was the Lexus CT 200h, which tied the Camry Hybrid for second place in the segment.
The most satisfying EV was the Chevrolet Volt, coming in just a few points behind the Buick and Lincoln.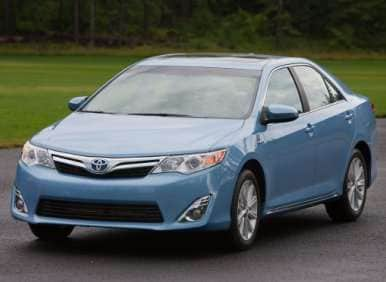 How the Hybrid Segment Rated
RankVehicleScore1Hyundai Sonata Hybrid6672Toyota Camry Hybrid6542Lexus CT Hybrid6544Buick Lacross eAssist6474Lincoln MKZ Hybrid6476Chevrolet Volt6437Lexus HS Hybrid6228Ford Fusion Hybrid6189Toyota Prius60810Honda CR-Z59911Honda Civic Hybrid59212Honda Insight55813Nissan Leaf553