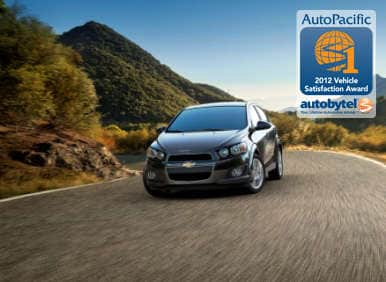 75,000 new car and truck owners participated in a survey this year to help AutoPacific determine who should win the 2012 edition of the Vehicle Satisfaction Awards (VSA).  The only criteria for the honor of receiving a VSA is the opinions of actual owners from across America collected throughout the first three months of the year, making the VSAs one of the purest forms of recognition in the industry.
The top-rated Economy Car according to the results of the 2012 VSA survey is the Chevrolet Sonic, a ground-breaking automobile from the domestic brand that finally provides GM fans with an appealing and affordable entry into the subcompact category.  The Chevrolet Sonic is an all-new model that trades on style, efficiency and an appealing MSRP.
Top-Rated Economy Car: 2012 Chevrolet Sonic
The 2012 Chevrolet Sonic's position as AutoPacific's best-rated Economy Car is cemented by the level of technology and engineering that went into the vehicle's platform, drivetrain and convenience features.  The Sonic also enjoys sportbike-inspired design that carries through from the pod-like headlights to the driver's gauges that boast a prominent tachometer as their centerpiece. 
Available as both a sedan and a hatchback (with the latter featuring 30.9 cubic feet of total storage space), the top-rated subcompact car presents two four-cylinder engine options to prospective buyers.  The first is a 1.8-liter that provides 138 ponies and 125 lb-ft of torque, while the second is a 1.4-liter motor that makes use of a turbocharger to match the larger unit in terms of horsepower but surpass its torque production with 148 lb-ft of its own.  The turbo engine also posts the most impressive fuel mileage numbers of the pair: 29-mpg city and 40-mpg highway.  The base Sonic features a five-speed manual transmission, while the 1.4-liter gains an extra forward cog for its row-your-own gearbox.  A six-speed auto tranny is available with each edition of the Chevrolet as an option.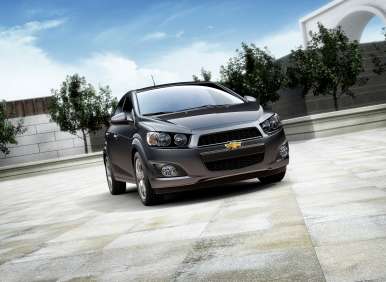 Top-Rated Economy Car Winner: 2012 Chevrolet Sonic Competitors
The 2012 Chevrolet Sonic had to stave off a long list of competitors in order to rank as AutoPacific's highest-rated Economy Car.  Runner up was the Scion xD, a subcompact hatchback that also focuses on style in a manner similar to the Sonic, followed by the Honda Fit which has long been prized by owners for its extreme practicality and reasonably fun-to-drive character.  Third runner up was the Hyundai Accent, a vehicle which has helped the Korean brand achieve sales dominance in the small car category.
How the Economy Segment Rated
RankVehicleScore1Chevrolet Sonic6482Scion xD6283Honda Fit6144Hyundai Accent6095Toyota Yaris6006Kia Rio5997Fiat 5005958Ford Fiesta5649smart fortwo56210Mazda255910Nissan Versa559