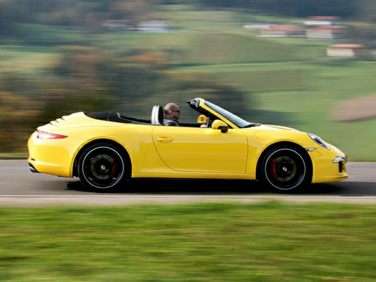 The Best Convertible in America is the 2013 Porsche 911 Carrera 4S Cabriolet.
At least that's the opinion of the Southern Automotive Media Association (SAMA), which brought together some of the countries most in-demand drop-tops recently for its third-annual Topless in Miami recognition program. More than 70 SAMA members participated in this year's carnival of convertibles, putting the contenders through an in-depth driving evaluation while also grading them on their design and top functionality.
Leading all automakers in what was admittedly a small class of winners was the Chrysler Group, thanks to segment victories for the Fiat and Chrysler divisions (no other automaker had more than one honoree).
"The distinctive tone and performance of the Fiat 500 Abarth Cabrio captured the judges' attention and let everyone know that the Italians have arrived," according to Jaime Florez, president of SAMA, who added that: "The elegance and craftsmanship of the Chrysler 200 Convertible, plus room for four adults is what tipped the scale in the full-size sedan category."
The full list of 2013 Topless in Miami winners:
Porsche 911 Carrera 4S Cabriolet—Best Convertible
Jaguar XKR—Best Exotic Convertible
BMW M3 Convertible—Best Luxury Convertible
Chrysler 200 Limited—Full-Size Convertible
Nissan 370Z Roadster Touring—Performance Convertible
Fiat 500 Abarth Cabrio—Small Convertible