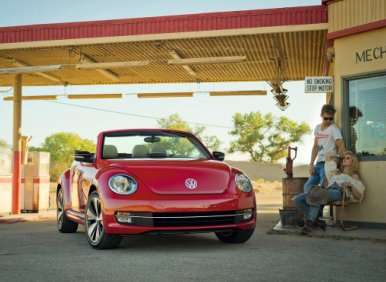 The latest member of the brand-new Bug family showed its face—and power-operated convertible top—to the public recently, as Volkswagen released the first photos of the 2013 VW Beetle Convertible in its production trim.
According to the automaker: "In creating the latest version of the Beetle Convertible, Volkswagen has reinterpreted the Beetle Convertible's timeless design with a sportier and more dynamic silhouette, just as it did with the latest Beetle coupe. The combination of a flatter roofline and a more upright windshield gives the car a shape that's more closely aligned with the first generation of Beetle convertibles."
The four-seater is slated to arrive at VW dealerships before the end of 2012, at a price that's still TBD, but Volkswagen has provided some details about the car …
2013 VW Beetle Convertible: Preliminary Data
The 2013 VW Beetle Convertible follows in the tire tracks of its predecessors with a soft convertible top, but this is no DIY setup. Raising the roof requires just one press of a button and about 10 seconds to accomplish, and when it's up, the result is a traditionally Beetle-esque profile. But the top also folds away into a notably more compact and flat position than in past Beetle Convertibles, providing greatly improved rear visibility.
In addition, for added occupant safety, engineers have installed an Automatic Rollover Support System that relies on the same computer sensors used to manage the Beetle's airbag system. The system deploys two rollover bars from the back of the rear seats—in just milliseconds—and those combine with the car's fixed A-pillars to deliver enhanced protection at all four seating positions.
All three powertrains from the VW Beetle Coupe will be proffered in the droptop versions, which means drivers can choose from a standard 170-hp I5 that also makes 177 lb.-ft. of torque, a clean-diesel TDI I4 engine capable of 41 mpg on the highway, or a potent 2.0-liter turbo with TSI fuel-injection tech, 200 hp and 207 lb.-ft. of torque.
The party line from Volkswagen: "Like its predecessors—the type 15 from 1949 and the 2003 New Beetle Convertible—the curvaceous convertible offers the perfect combination of practicality and fun for four."