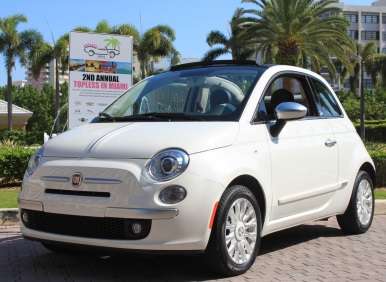 "By partnering with Gucci, we brought something truly unique into the marketplace, demonstrating that exquisite Italian style, features and technology could convene in a small-car formula," said Tim Kuniskis, Head of FIAT Brand North America. "Proof of this success is that we have almost immediately sold out every single model of this special edition."
And if you're looking for yet more evidence of success for the Fiat 500 Cabrio by Gucci, you can look to South Florida. There, the dramatic drop-top was recently honored as the Best Small Convertible of the Year by the Southern Automotive Media Association (SAMA) at its second annual "Topless in Miami" event. This year's winners were chosen by a panel of more than 60 of the region's most noted automotive journalists.
"We are glad that FIAT brand is present for a second year at our Topless in Miami event," said Jaime Florez, president of SAMA. "We had very strong competitors this year, and the Fiat 500c by Gucci captured the judges' votes by showcasing how chic style and personal transportation can go hand in hand in a formula that only Italy could create."
(Of course, those with long memories will remember that the Fiat 500c also won the same honor in last year's SAMA event.)
Fiat 500 Cabrio by Gucci: A Double Dose of Italian Flair
First introduced during New York's "Fashion Week" in the fall of 2011, the Fiat 500 by Gucci—available in both fixed-roof and open-air models—brings the elegance of haute couture to the brand's increasingly popular lineup and takes its inspiration from the look of classic black-and-white films. Thus, the car is offered with two distinct looks of its own: A Black version and a White one.
Both wear a striking pearl-gloss finish, with the former staking out a more aggressive and sporting position thanks to its polished chrome accents and sharply contrasting black on white interior; the latter presents a softer, more refined aura, with a subtly muted black and ivory interior and satin chrome highlights.
However, both are then filled out with a full complement of Gucci style enhancers, including chromed "Gucci" badging, chromed exterior mirrors and door handles, a chrome hood-spear accent, exclusive 15-inch wheels with Gucci's interlocking G's on the hubcaps, "Guccissima" print seating surfaces, and seatbelts striped in the fashion house's signature green/red/green color scheme. A similar stripe runs down the Cabrio's cloth top as well; on the coupe, this highlight stripe runs along the car's beltline.
There's also a notable attention to detail on display with the 500 by Gucci: For example, the insignia on those hubcaps aren't just stamped into the metal, they're also lacquered in Gucci green; and those chrome exterior accents are further distinguished by body-color highlighting for an additional element of sophistication. And there's more, too, like a hand-stitched, leather-wrapped steering wheel and an available collection of 500 by Gucci personal fashion accessories, including luggage and apparel.
The award-winning 2012 FIAT 500C by Gucci is on sale now, priced from $27,500, with the coupe available from $23,500.