Outrageous automotive creations, Vegas style...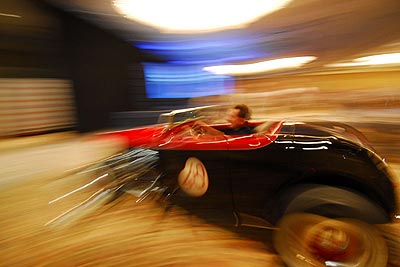 Any kind of car could be a hot rod, and there are some folks who would tell you that all cars are hot rods – somewhere, deep inside. If it goes fast and looks, eh, outrageous and beautiful in its own artistic way, it's a hot rod and deserves a special place in the hearts of car enthusiasts. So put it there. Next to drag strips, tattoo parlors and flaming paint jobs, and call it Vegas, baby, the perfect spot for the hottest rods. And as the annual trade festival called SEMA has grown, Hot Rod Alley has grown with it. Large or small, however, one thing is readily apparent with a walk down the Alley: this is where the enthusiast heart beats its strongest.
How we did it
Any talk of hot rods has to start with the '32 Deuce – arguably the most admired rod on the road. There's even a 40th anniversary '32 project car at this year's SEMA Show. And in the spirit of those 40 years, we've created a Top Ten of our favorite Rods on the Alley. Judging came down to a matter of style, flair and subtle detail. Okay – it came down to what we liked.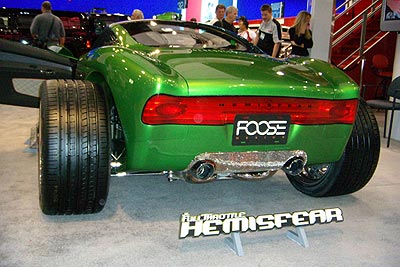 Tenth Place: 1933 Ford Victoria
Pagan gold paint is what they call it, and the look is downright evil. From an impeccable body to a GM LS6 engine, the Vic is graceful with its sweeping lines, running boards and perfect finish.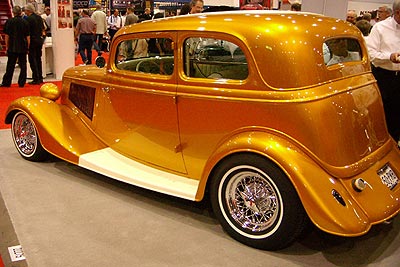 Ninth Place: 1932 Ford Deuce Convertible
Few things beat a bright red '32 deuce convertible. Just imagine: you and your significant other, cruising along the beach and enjoying sunshine, the wind in your hair and, judging from that big and beautiful exhaust pipe, the frightened squeals of children as you roll on down the road. In this case, power windows are standard, and the body is stamped from 18-gauge steel.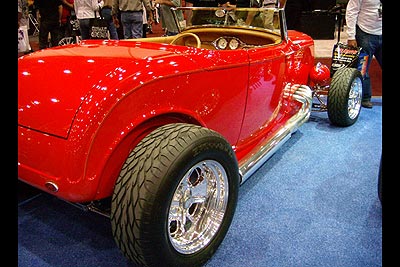 Eighth Place: Dreamsicle
Based on a 1937 Ford Roadster, the Dreamsicle is, indeed, dreamy. Powered by a GM ZZ4 crate engine.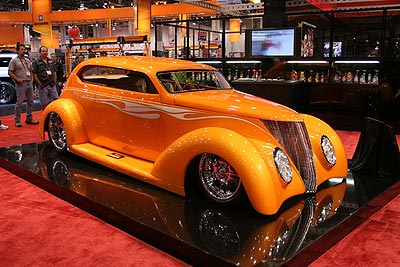 Seventh Place: Dearborn Deuce Coupe
Seventy-five years ago, the Ford Roadster was designed by Edsel Ford. Chances are he'd have some trouble recognizing it today, even if he were staring at the 75th Anniversary Dearborn Deuce Coupe – not that much of what's under the Deuce harkens back to yesteryear. Today's "32" has four-wheel independent suspension, disc brakes, rack and pinion steering, custom wheels, Pirelli performance tires, custom leather interior and more.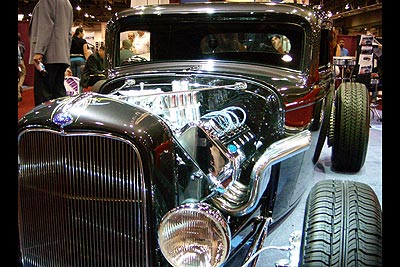 Sixth Place: Merc-N-Time
Even a sorta-famous old guy like Gene Winfield can appreciate a custom Mercury. This one, dubbed Merc-N-Time, is a built-to-order custom rod that will set you back around $130,000. Fifty are planned, and all come with a 4.6-liter Ford engine and Mustang suspension. Fiberglass versions will also be available but not in the limited edition.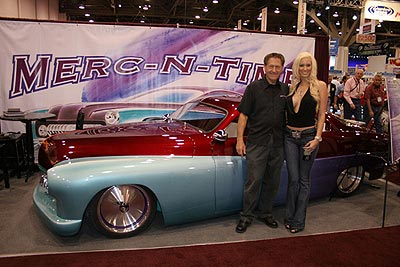 Fifth Place: Edelbrock's 32 Roadster
It's all about the flames. You can't have a collection of hot rods without at least one rod covered in streaking fire, and this '32 was one of the best we saw at the 2006 SEMA Show. Those flames aren't phony, either, as the hot rod makes 315 horsepower and 372 lb.-ft. of torque. Note the dark red body color and the simple flame design, executed in brilliant color.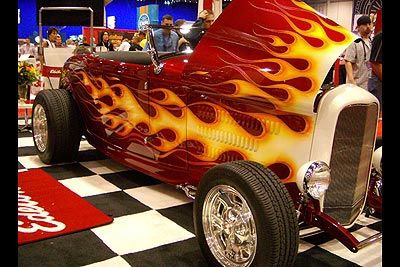 Fourth Place: 1955 Ford F-100
We often forget about the trucks, you know – the real trucks, the rods that look like trucks going in and coming out. This 1955 Ford F-100 is perfectly lowered, with a nice, detailed touch to the paint job, especially around the historic emblem. And check out those fenders!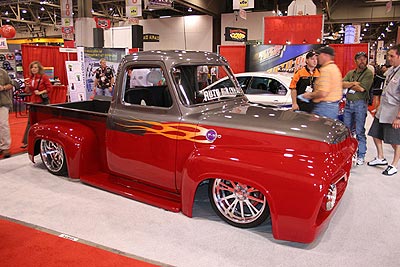 Third Place: The Radster
Known as the Iowa Radster, it looks like a movie star car. It's glam, bubba, so much so that one would be afraid to dirty its tires with asphalt. As beautiful as it is, rods are supposed to have at least a little grit, right? Based on a 1935 Ford Roadster, this is a museum piece that pulls 550 horsepower connected to a six-speed manual transmission. That's more than enough to blow the doors clean off that museum.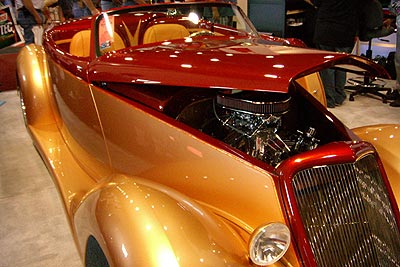 Runner Up: Foose's Hemisfear
The father of the Prowler is at it again, this time with the Hemisfear – a coupe version of the Prowler. Beautifully bad to the bone, the Hemisfear is powered by a 392 cubic-inch Hemi good for 540 horsepower. Total curb weight is around 2,300 lbs. Is that fast enough for ya?