Back in the late 70's, when the first major fuel crisis hit the United States, cars like the 1971 Dodge Charger – with its 440 cubic-inch 4-barrel V8 – were being traded in droves for more fuel-efficient vehicles like the Volkswagen Rabbit. Manufacturers raced to replace the gas-guzzling, high-horsepower engines in existing cars with smaller, more fuel-efficient motors, resulting in emasculated Corvettes, Trans-Ams, and Z28s. Heavy car + small engine = no fun! Today, fuel prices are again high. But thanks to technology advancements such as lightweight alloys, fuel injection and computerized engine management systems, plenty of 2005 model-year vehicles are capable of providing plenty of bang for the buck. In compiling this list, we made "fun-to-drive" the top priority. Next, the entrants had to get reasonable fuel economy, so we set the bar at an EPA rating of 30 mpg or better on the highway. Each selection also needed to have a base price under $25,000, including delivery. Once we had our list of possibilities whittled down, our editors selected the 10 vehicles they would park in their own driveways, ranked in order from one to ten.
Tenth Place
Tenth Place: 2005 Toyota Celica GT-S A peaky engine that needs to be revved above 6,000 rpm for power and a notchy six-speed manual transmission held back this wannabe racer, and the fact that production ends after the 2005 model year doesn't help. With fuel economy numbers at 24-mpg city and 33-mpg highway, the Celica GT-S fell in the middle of the pack on fuel economy. Combine these gripes with its above average price of $22,875 and the Toyota Celica GT-S just squeaked into our top ten. But the handling, braking, and utility of the hatchback body are pluses in the Celica's favor – almost good enough to outweigh the ridiculous power band and cheap plastic dashboard.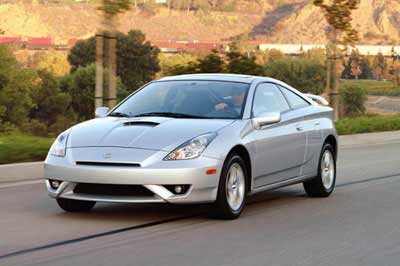 Ninth Place
Ninth Place: 2005 Ford Focus ZX4 ST Producing only 151 horsepower from a 2.3-liter, four-cylinder motor, the Ford Focus ZX4 ST landed at number nine on our list mainly because of its modest acceleration. We miss the more powerful SVT engine from last year, though the suspension from the old SVT Focus is installed in the ZX4 ST. Thanks to the five-speed manual transmission, the Focus ZX4 ST achieves mileage ratings of 22-mpg city and 31-mpg highway. But what makes this car most attractive is the low price of entry. Coming in at $18,765, the Focus ZX4 ST is one of the least expensive smile makers on our list.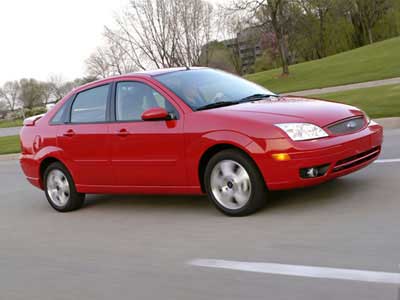 Eighth Place
Eighth Place: 2005 Honda Civic Si There was no doubt that the long beloved Honda Civic Si, with its reputation for durability and a fun-to-drive character, would meet the criteria to make the final cut on our list. Though producing only 160 horsepower from a 2.0-liter, VTEC, four-cylinder engine, the Civic Si's smooth, free-revving powerplant and slick shifting transmission beckon you to push it to its limits. No automatic here: The Civic Si comes standard with a five-speed manual transmission. And with fuel economy of 26-mpg city and 31-mpg highway, the Civic Si takes its place near the top of the economy ratings. Finally, considering the Civic Si's resale value and the fun this car produces, the price of $20,085 is a steal. But we're not fans of the Civic's doorstop styling or funky dash-mounted shifter, which forced the Si down in the rankings.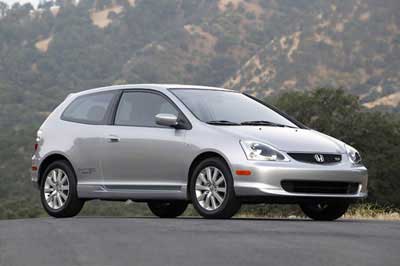 Seventh Place
Seventh Place: 2005 Saturn Ion Red Line Outside of performance enthusiasts who know about the Ion Red Line's performance capabilities and fuel economy, it's not likely many people expected to see a Saturn on our list. With 205 supercharged horsepower, a five-speed manual transmission, and standard Recaro seats, this car screams performance. And given the power rating, it's surprising to see the Ion Red Line top the fuel economy data at 26-mpg city and 35-mpg highway. The biggest downsides to the Saturn Ion Red Line are the lackluster styling and cheap interior appointments, and the Ion Red Line's price of $21,450 doesn't make it a good enough value to move it up in the rankings.
Sixth Place
Sixth Place: 2005 Volkswagen GTI 1.8T Landing at number six is the Volkswagen Golf GTI 1.8T. With 180 turbocharged horses and a five-speed manual transmission, the GTI 1.8T achieves a fuel economy rating of 24-mpg city and 31-mpg highway. The Volkswagen GTI 1.8T also offers the versatility of a hatchback and a decent-size cargo area. Reasons the GTI didn't climb higher in the rankings included a mushy suspension and potential reliability issues as reported by .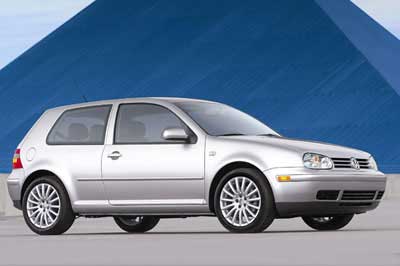 Fifth Place
Fifth Place: 2005 Acura RSX Type-S Acura has always been known for combining quality with performance, and the RSX Type-S delivers in both categories. But a lack of power in the lower rev range and the need for a styling update prevented the RSX Type-S from placing higher on our list. No doubt though, with 210 horses cranked from a 2.0-liter, i-VTEC four-cylinder engine coupled to a six-speed manual transmission, this car will get you smiling. And with a mileage rating of 23-mpg city and 31-mpg highway, the Acura RSX Type-S will keep that smile on your face between fill-ups. Though one of the pricier cars on our list at $24,240, the RSX, with its reputation for quality and high resale values, make it worth the extra cost.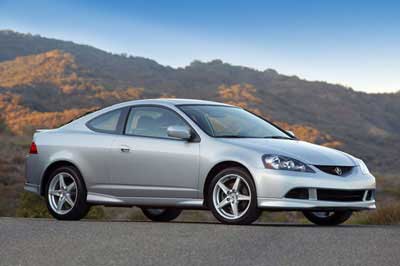 Fourth Place
Fourth Place: 2005 Mazda 3s Touting 160 horses from a 2.3-liter four-cylinder motor that is as smooth as silk all the way to redline, the Mazda 3s enters our list with the least expensive base price at $17,175. Its combination of excellent value, sharp steering, and a smooth-shifting five-speed manual transmission makes navigating any road in the Mazda 3s a delight. Combine the low price tag with a fun-to-drive character that mimics a BMW and mileage numbers of 25-mpg city and 32-mpg highway, and the Mazda 3s will keep owners happy in almost all respects. Now we just need a little more power under the hood.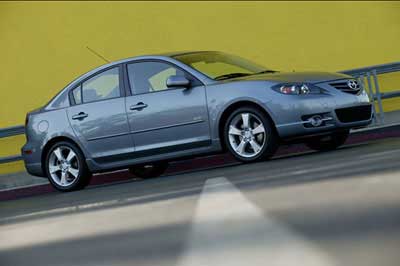 Third Place
Third Place: 2005 Chevrolet Cobalt SS Sporting 205 supercharged horses from a 2.0-liter four-cylinder engine mated to a heavy-duty five-speed manual transmission, the Chevrolet Cobalt SS lands in third place on our list. This unassuming entrant from Chevy earns an impressive fuel economy rating of 25-mpg city and 35-mpg highway – excellent, especially for a car delivering this kind of performance. The price tag of $21,995, combined with aggressive good looks and impressive build quality, place the Cobalt SS high on our list when shopping for an econo-hotrod.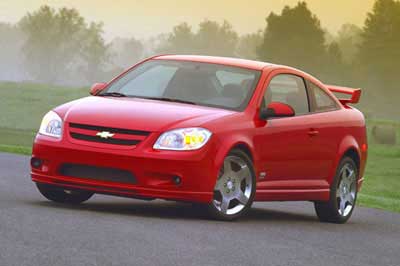 Second Place
Second Place: 2005 Dodge Neon SRT-4 When it comes to all-out performance, none of the others can touch the Dodge Neon SRT-4, thanks to its amazing 230 turbocharged horsepower linked to a five-speed manual transmission. Unfortunately, fun-to-drive is not just about raw horsepower, excellent brakes, responsive steering, and impressive grip in turns – the SRT-4's utter lack of interior refinement and silly styling cues like the oversized wing keep it out of first place. Coming in at $21,195, the Dodge SRT-4 delivers the most bang for the buck when it comes to sticker price, but mileage is rated low at 22-mpg city and 30-mpg highway. How anyone could keep their foot off the accelerator long enough to achieve these numbers is anyone's guess.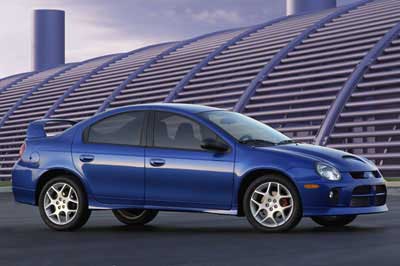 First Place
First Place: Mini Cooper S Among the many attributes that helped land the Mini Cooper S at number one on our list, its crisp handling, 163 supercharged horses, and precise six-speed manual transmission are among our favorites. Distinctive styling cues and its British charm also help to set it apart from the competition. Even ordering a Mini Cooper is fun, thanks to a wide range of colors and accessories. Finally, at a price of $20,950 and with fuel economy ratings of 25-mpg city and 32-mpg highway, the Mini is an all-around great deal – especially when considering how well it holds its value over time.