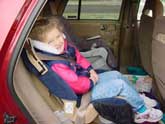 National Child Passenger Safety Week has just wrapped up, and the theme was booster seats – a critical issue given that an estimated 73% of kids who need a booster seat to ride safely are not riding in boosters.With this in mind, Autobytel has enlisted one of America's foremost child car safety experts, Alisa Baer, to help you make the right choices about this critical, but often poorly understood, child passenger safety phase.
Did you know that a child's weight is largely irrelevant when considering whether he or she needs a booster seat? Just how confident are you that your booster seat is being used properly? When it comes to booster seats, a lot of well-meaning parents know less than they think. If you have a child between 3-10 years old – or if you ever drive with one –make sure you're doing everything you can to "boost" your child's odds of safety and survival in a crash. Fact is, 4-to 8-year-old kids are much safer riding in a booster. A 2003 study found that 4-8 year olds riding in boosters are 59% less likely to be seriously injured in a crash than those wearing safety belts alone. That same study found that none of the 4- to 8-year-olds who were in belt-positioning booster seats had any injuries to the abdomen, neck, spine, or back. Yet, such injuries did occur in children who used safety belts alone. Seventy-three percent of kids who need a booster seat to ride safely are NOT in boosters. Most kids between the ages of 4-8 should be riding in boosters. Yet while 78% of 4-year-olds use booster seats, the number drops to 65% of 5-year-olds, 43% of 6-year-olds, 21% of 7-year-olds, and only 11% of 8-year-olds. The result? The motor vehicle occupant death rate for 5- to 9-year-olds has changed little in the past decade – while deaths among other (younger) child age groups have greatly declined. 63% of the kids who died were unrestrained, while most of the remaining 37% were inappropriately restrained using safety belts instead of boosters.
Tip 1 - install
A booster seat is very easy to use. Just place the booster on the vehicle seat, have the child sit in the booster seat, then buckle the child in using the vehicle's shoulder and lap belt. Make sure that the lap belt rests on the tops of the child's legs, and that the shoulder belt crosses the child's chest between the neck and shoulder. (Many boosters have armrests, which the lap belt should pass underneath.) If your child's booster has a guide for the shoulder belt that allows the belt to retract freely, place the shoulder belt in this guide. If the booster has a guide for the shoulder belt that holds the belt firmly – i.e., it doesn't let the slack out of the retractable shoulder belt mechanism – DON'T use it unless the shoulder belt is otherwise improperly positioned on the child.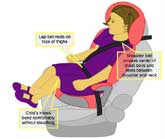 Tip 2 - travel
It's absolutely crucial to use a booster on EVERY trip – even ones where you're not going very far or very fast. In fact, studies show this is when you are MOST likely to be involved in a crash. In crashes involving children : • 95.5% occur on a route the driver is familiar with • 49% occur at or near an intersection • 60% occur within 10 minutes of home, and 90% within 30 minutes of home • 75% occur on roads with a posted speed limit of 45 mph or less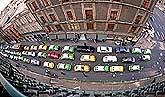 Tip 3 - how boosters work
Booster seats ARE SAFE, even though they may seem less secure than child restraints (with their own built-in harness straps). Many parents wonder how booster seats can be safe when they seem so loose in the car, and so flimsy compared to child restraints for kids under 40 pounds. The answer is that booster seats are designed to work very differently from child restraints that have their own harness straps. Child restraints (those typically used for children under 40 pounds) must be tightly secured to the vehicle because the child restraint's harness straps are responsible for restraining the child in a crash. A booster seat, on the other hand, does not restrain the child – that's the job of the vehicle's safety belt – but instead simply keeps the safety belt positioned so it can work properly – i.e. positioned over the strong bones: the collar bone (clavicle), chest bone (sternum), and hip bones (pelvis).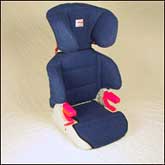 Tip 4 - five step test
For children over 40 pounds, how much they weigh is irrelevant to whether they do or do not need a booster seat. How they fit on the vehicle seat and how the safety belt fits on their body are what matters, and these variables depend more on the vehicle and the child's height than anything else. The best approach is to take a 5-step-test (which you'll notice mentions no numbers – weight, height, or age). It is important, however, to make sure your child weighs less than the maximum weight on your booster – which is usually 80-100 pounds.
The 5-Step Test 1. Does the child sit all the way back against the auto seat? 2. Do the child's knees bend comfortably at the edge of the auto seat? 3. Does the belt cross the shoulder between the neck and arm? 4. Is the lap belt as low as possible, touching the thighs? 5. Can the child stay seated like this for the whole trip?
If you answered "no" to any of these questions, the child needs a booster seat to make both the shoulder belt and the lap belt fit right and to keep them safest.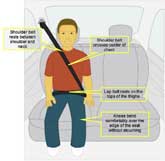 Tip 5 - laws
State laws governing booster seat usage rarely coincide with the safest booster seat practices. Your state law might specify that kids over 4 don't need a booster, while the state where your parents live might say that kids over 6 don't need a booster. But of course when you cross state lines, kids don't change – and neither do the laws of physics. The safest approach, once again, is the follow the 5-step-test, which is an easy way to know if your child is safe to ride without a booster seat – no matter which state they live in.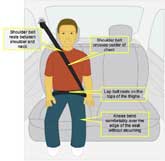 Tip 6 - comfort
Kids actually like boosters. Generally speaking, booster seats provide a more enjoyable riding experience for kids. They can ride comfortably because they don't have to slouch to allow their knees to bend, and they can also look out of the window more easily. Many models even have cup holders to store toys/drinks, and high-back versions give kids a place to rest their heads when they want to take a nap in the car.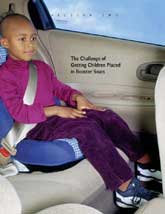 Tip 7 - shopping
A higher price does not necessarily mean that the seat is safer or will fit your child better. Most backless boosters are between $15-25 and many excellent high-back boosters cost between $25-50. The bottom line: You don't need to break the bank to make a sound investment in your child's safety.
Tip 8 - restraint
Kids need upper body restraint! Putting the shoulder belt behind the back or under the arm is extremely dangerous. And riding in a lap belt is much less safe than riding in a shoulder belt. Many parents worry that the shoulder belt rubbing the child's neck might be dangerous – thinking it could lead to spinal cord injury or even decapitation in a crash. These fears are completely unfounded. In fact there is little, if any, evidence in the literature of cervical spine (neck) injuries resulting from poor positioning of the shoulder belt near the child's neck (in situations where the child's head does not strike anything in the vehicle). A shoulder belt that touches the side of the neck is also not likely to cause injury unless the belt is very loose. With nothing to hold their upper body back when using just a lap belt, kids are at risk for head, spine/neck, and abdominal injuries.
Tip 9 – head injuries
Head Injuries - Without restraint, the upper body rotates around the lap belt in a "jackknife" motion, allowing the head to travel very far forward with a good chance of contacting hard structures in the vehicle, such as the back of the front seat or even the child's knees. Typical injuries include concussions, cerebral contusions, subdural hematomas, intracerebral hemorrhage, as well as myriad facial injuries. When compared with children appropriately restrained in boosters, those inappropriately restrained were 1.6 times more likely to suffer facial fractures. 2-5 year olds restrained in safety belts were more than 4 times more likely to sustain a significant head injury when compared with their peers riding in child restraints (car seats and boosters.) Spine/Neck Injuries – When the lap belt rides up over the pelvis, applying all of the forces to the spine and abdomen, the thoracolumbar (chest and back) spine is at risk for injury. Not using a shoulder belt (or placing it behind the back or under the arm) increases the loads (forces) in the lumbar spine by as much as 5 times. Cervical spine (neck) injuries may occur when no shoulder belt is used because the child's head and upper body will travel forward, making the head likely to strike the front vehicle seat or even the child's knees.
Tip 10 – abdominal injuries
Abdominal Injuries – Without a shoulder belt across your chest and shoulder bones, a child's body will often double over itself in a crash. But since they bend at the waist (near the belly button) instead of at the hip bones, the lap portion of the belt rides up over the hip bones and into the abdomen. This can lead to abdominal injuries and lumbar spine injuries. A large study on thousands of crashes found no cases of abdominal injuries among 4-to-8-year olds riding in boosters. Those 4-8 year olds who were using a safety belt when they should have been using a booster, meanwhile, were more than 3 times more likely to suffer an abdominal organ injury than those restrained in a booster seat.
Photos courtesy of NHTSA, Ford Motor Co. and General Motors
Illustrations copyright Michelle Iglesias, ShelleBelle