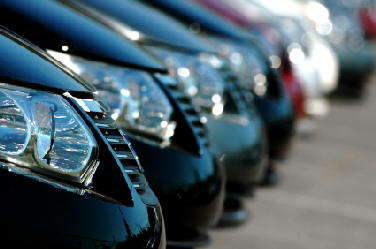 Traditionally, mothers look for new cars that offer a combination of comfort, storage versatility and reliability. Thankfully, there are plenty of 2010 cars that fit this bill. If you are also intent on saving at the pump, then chances are you'd like to shy away from gas-guzzling SUVs and minivans. Review these top five fuel-efficient new cars for mothers to find the family-friendly vehicle that's right for you.
Functionality meets affordability in the new Hyundai Elantra Touring. With driver-friendly maneuverability and 24.3 cubic feet of rear cargo area, the Elantra delivers exactly what parents are looking for in a vehicle. Rear seat passenger room is plentiful. Fold down those seats, and you'll have access to 65.3 cubic feet of storage. Though by no means luxurious, the Elantra offers a good mix of standard and optional features. Base price comes in at a wallet-friendly $15,995. The EPA estimates fuel consumption at 23 mpg in the city and 31 highway.
Yes, the Honda Fit is a compact car - a category that usually doesn't lend itself well to kids. However, the Honda Fit is remarkably more roomy and versatile than its exterior lets on. The rear seat easily accommodates two full-grown adults (let alone two children). Storage options are remarkable, with the Fit boasting a Magic Seat that offers three different rear-seat storage configurations. With the backseat folded flat, the Fit delivers a whopping 57.3 cubic feet of storage space - a figure that matches many compact SUVs. Add in a base price below $15,000 and fuel ratings of 28 mpg in the city and 35 mpg on the highway, and the Fit adds up to an extremely enticing bargain.
The Toyota Camry Hybrid offers all the user-friendliness of a traditional Camry and adds in mileage that tops out at 33 mpg in the city and 34 mpg on the highway. The interior design is exceptionally comfortable and offers one of the best dashboards in its class. The rear seat is plenty big for two adults or three children. Some moms may lament the below-average 10.6 cubic feet of trunk space. However, if you can live with that fact, then you should find plenty to like about this reliable hybrid. Base price starts at $26,150.
If you need the option of storing both cargo and kids in the rear seat at the same time, then the Volkswagen Jetta SportWagen may be for you. This stylish wagon boasts 32.8 cubic feet of cargo space with the seats up (and 66.9 cubic feet with seats down). The Jetta also delivers a boost in luxury without breaking the bank. Heated front seats, cruise control, AC, eight-speaker stereo and more can all be had for under $20,000. Those interested in conserving fuel may want to opt for the turbodiesel engine, which delivers 30 mpg in the city and 42 mpg on the highway.
The Prius' hybrid power plant and hatchback body style equate to an all-around great vehicle for families. Updates to the 2010 model result in added interior real estate, with both front and rear passengers being amply accommodated. The rear hatch allows for easy loading and unloading of cargo. With seats up the Toyota Prius offers 15.7 cubic feet of space. Put the seats down and you'll get 40 cubic feet of space. The Prius is also the most fuel-efficient vehicle for the year, with a combined estimated rating of 50 mpg. At $22,800, the Prius is also one of the most affordable hybrids on the road.