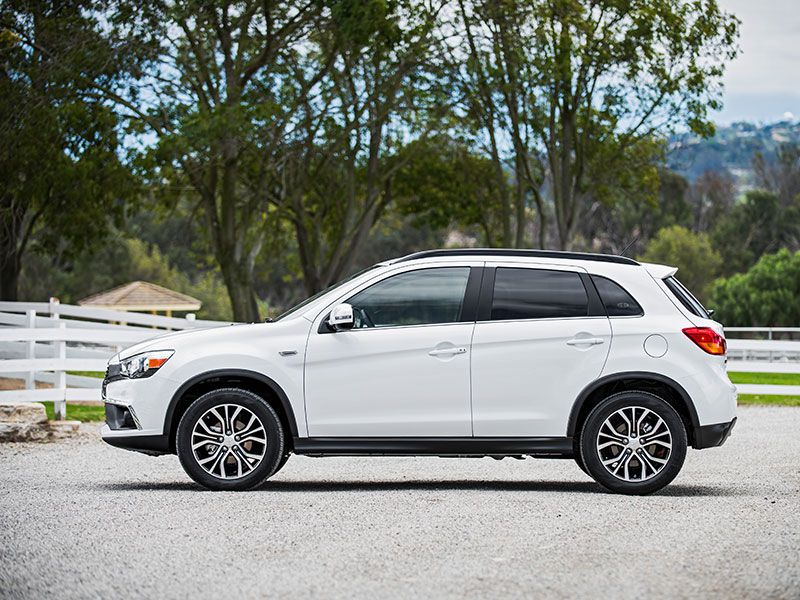 2016 Mitsubishi Outlander Sport ・ Photo by Mitsubishi Motors North America
Determining the top 10 safest SUVs means picking a particular metric and sticking to it. Yes, many sport utility vehicles manufactured today come with a respectable level of advanced safety equipment, but in order to be completely fair, we've decided to put together this list based on the Insurance Institute for Highway Safety's crash test results. Each of the following SUVs has received the Top Safety Pick award from the IIHS, which requires passing each of the organization's crash tests - moderate front overlap, side, roof strength - with a rating of "Good," as well as receiving a mark of "Good" for its head restraints and seats. Many of them also feature a number of useful safety features over and above their crash performance, and we'll highlight those, too. Let's take a quick look at 10 of the safest SUVs available.
1) 2016 Mercedes-Benz GLE-Class
The 2016 Mercedes-Benz GLE-Class, which is all new for this year, comes with a host of safety features as standard equipment, including the Pre-Safe system, which can snug seatbelts and prepare the vehicle for an accident if an imminent impact is detected. This is complemented by mbrace, which is a telematics feature that will automatically notify first responders in the event of a serious collision. Additional safety options that can be added to the Mercedes-Benz GLE-Class include blind spot and lane departure warning systems.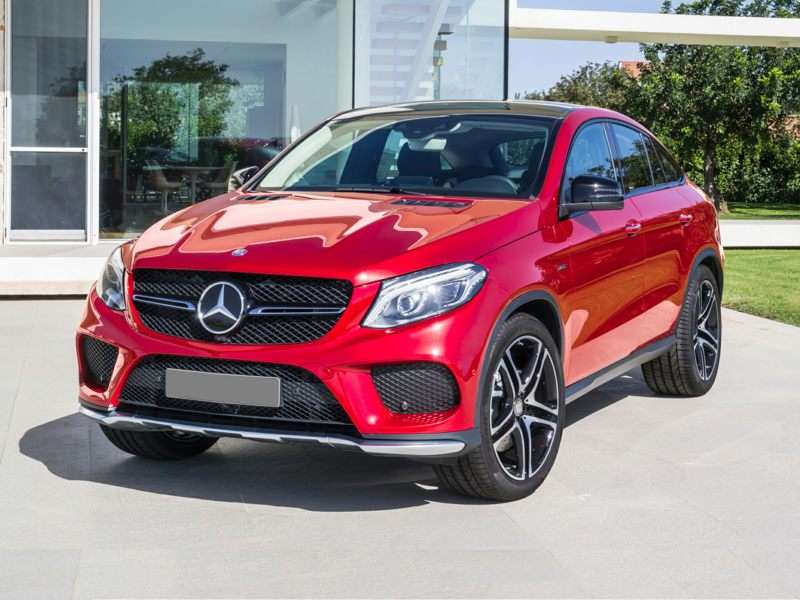 Photo by Mercedes-Benz
2) 2016 Mitsubishi Outlander
The 2016 Mitsubishi Outlander's modest level of equipment might not match up with luxury models from a comfort perspective, but the Outlander definitely delivers when it comes to crash safety. The Mitsubishi Outlander even offers a driver's knee airbag on top of the traditional 360-degree airbag protection that comes standard with the vehicle. For those interested in active safety, the Outlander can be ordered with a lane departure warning system as well as a collision mitigation feature. The collision mitigation system can not only warn drivers if it deems that the SUV is approaching an obstacle or other vehicle too quickly but it can even hit the brakes, going so far as to bring the Mitsubishi to a complete halt if it was originally traveling at 20 mph or less.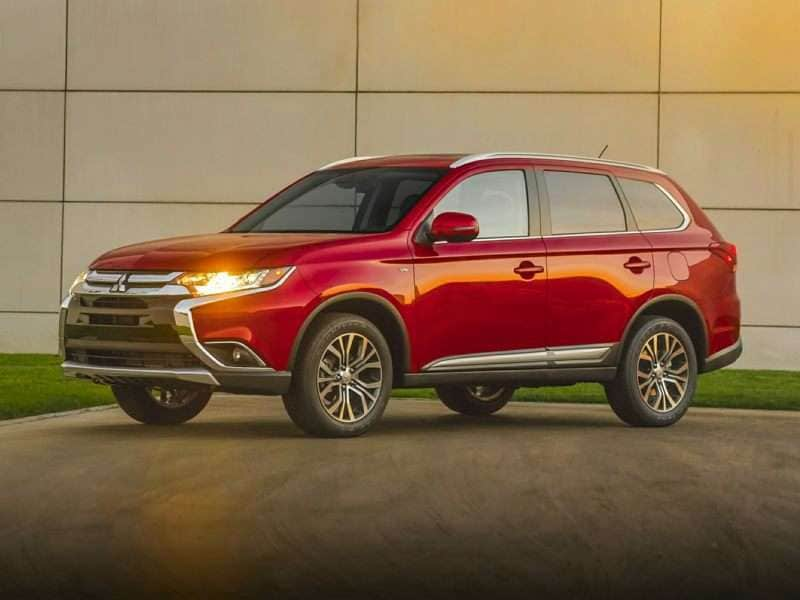 Photo by Mitsubishi
3) 2016 Acura MDX
That the 2016 Acura MDX should make our list of the top 10 safest SUVs should surprise no one who is familiar with the brand's push to pack its vehicles with as much technology as possible. Like the Outlander, the Acura MDX comes with a driver's knee airbag as standard equipment, and it also features a blind spot monitoring system as well as a lane departure warning system to help keep the SUV pointed straight and true. The latter is also available as an intervention-type system that will actively steer the Acura to keep it in its lane. The MDX divides its forward collision warning and mitigation system into two distinct features: you can order the vehicle with the ability to simply alert you to an impending collision, or you can get the whole-hog automatic braking system, too.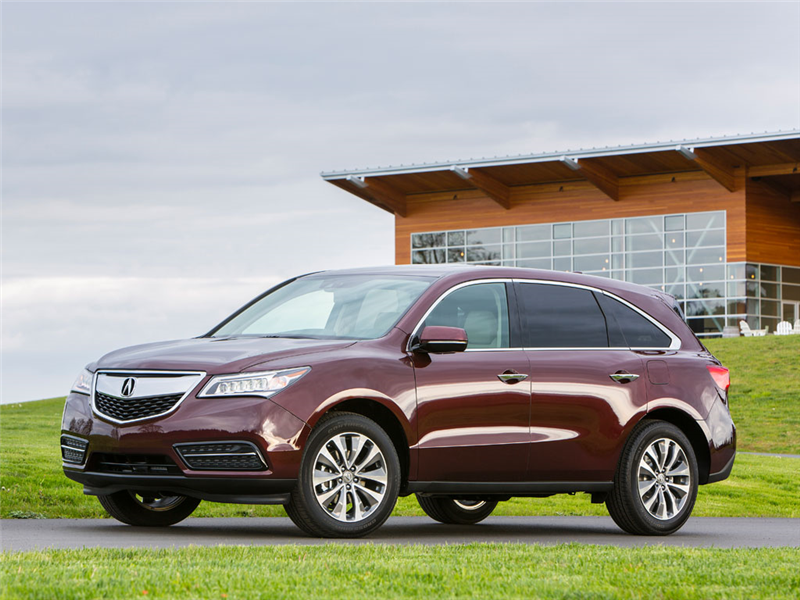 4) 2016 Lexus NX
The 2016 Lexus NX is a crossover that's been fitted with a bunch of standard safety equipment, including eight airbags. It also features plenty of optional equipment, such as a system that alerts drivers when the vehicle is straying from its lane, and automatic high beam dimming to protect the eyes of drivers in oncoming traffic. These features, as well as good crash test scores, have put the 2016 Lexus NX in the upper rankings for safe vehicles.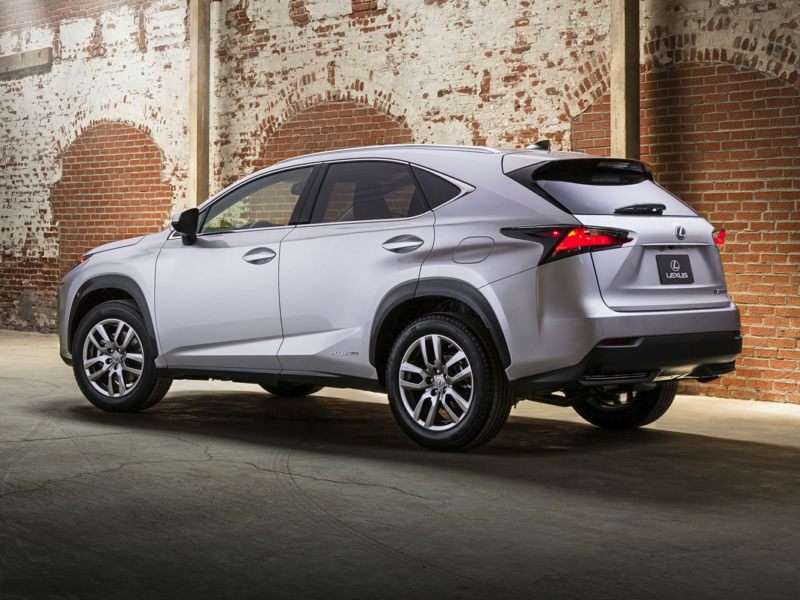 Photo by Lexus
5) 2016 Subaru Forester
The 2016 Subaru Forester continues the Japanese automaker's tradition of making crash safety its number one priority. Recently redesigned, the Subaru Forester features a robust and rugged design that is elite when it comes to protecting passengers in the event of an accident. This now includes a driver's knee airbag as well as the Subaru EyeSight system, which makes use of a front-facing camera to detect an impending collision as well as alert drivers when the SUV drifts out of its lane. The Forester's Eyesight feature even allows for automatic braking should the vehicle be traveling at speeds of less than 19 mph. The 2016 Subaru Forester gets more standard safety equipment than in years past.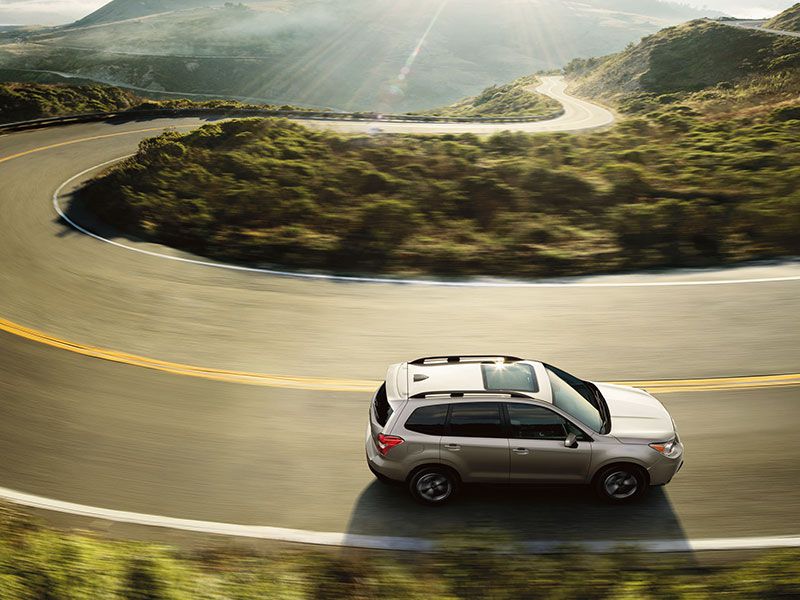 Photo by Subaru
6) 2016 Honda CR-V
Honda takes its reputation for safety seriously, and it's one of the factors that's contributed to the CR-V's enduring popularity. So when recent years of the CR-V earned mediocre safety ratings, Honda took it as a serious blow, yet treated it as an opportunity to improve. The current Honda CR-V was specifically engineered to thrive when faced with the latest safety testing. Thus, the 2016 CR-V offers good front and side visibility, a standard rear-view camera, and good crash test ratings.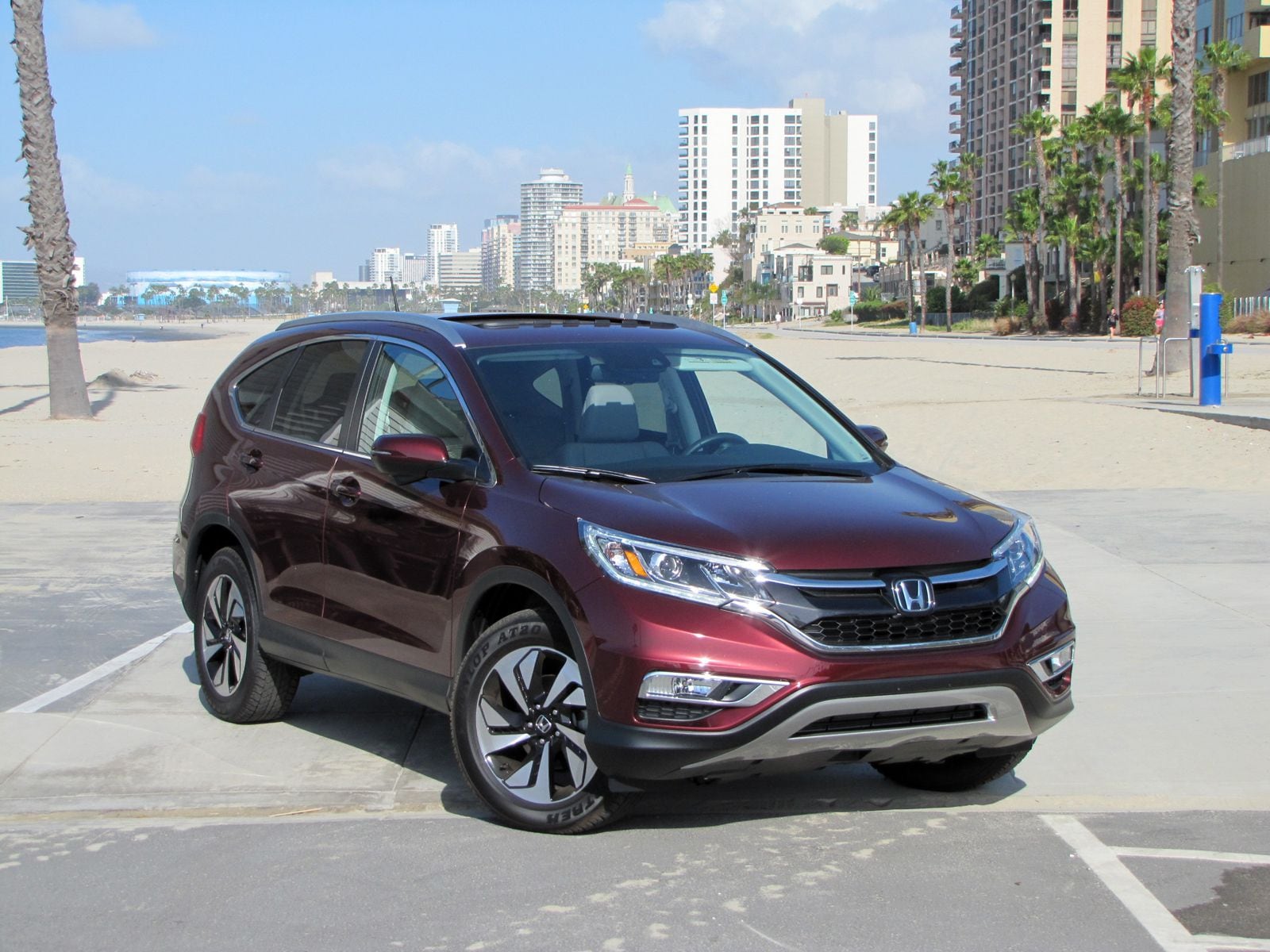 Photo by Ryan ZumMallen
7) 2016 Volvo XC60
Volvo has always been known for its commitment to safety, so it's no surprise that the 2016 Volvo XC60 qualifies as a Top Safety Pick. Standard equipment for the Volvo XC60 includes the City Safety feature, which can be thought of as a low-speed collision avoidance system that scans for pedestrians and cars ahead of the SUV and automatically brakes if it detects anything in its path. You can also add a lane departure warning system, a collision warning feature, and a driver attention monitor, as well as a more robust City Safety system that can slam the brakes on harder than the base version. The blind spot warning system that is optional with the Volvo also offers rear cross-traffic detection.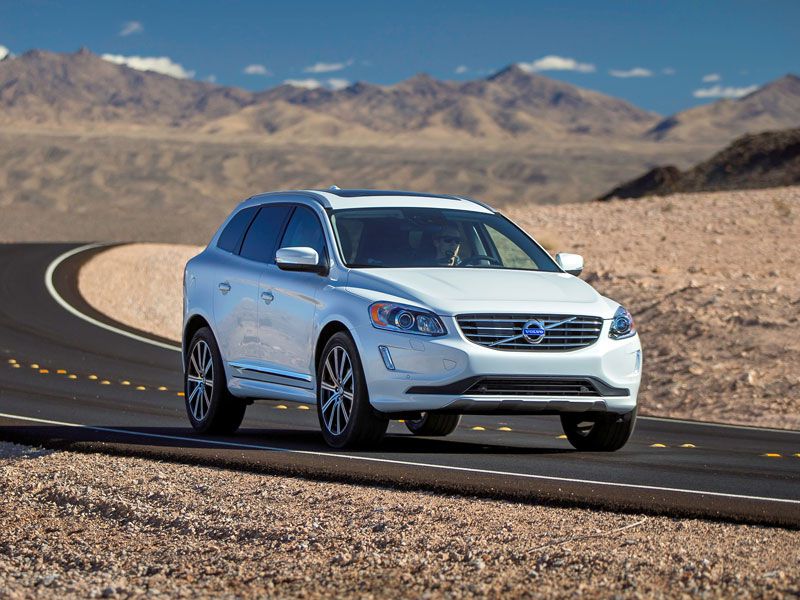 Photo by Volvo
8) 2016 Mazda CX-5
The 2016 Mazda CX-5 incorporates a lot of safety gear that one wouldn't typically expect to find in an affordable compact SUV, including a standard rearview camera in models built after mid-2016. The Mazda CX-5 can be had with adaptive cruise control, rear cross traffic alert, and a blind spot warning system, but it also offers a Smart City Brake Support, which is very much like the Volvo XC60's City Safety feature. The CX-5 actually makes use of lasers to determine whether there's a car or person about to cross the forward path of the SUV, and it can automatically brake the SUV at speeds of less than 19 mph.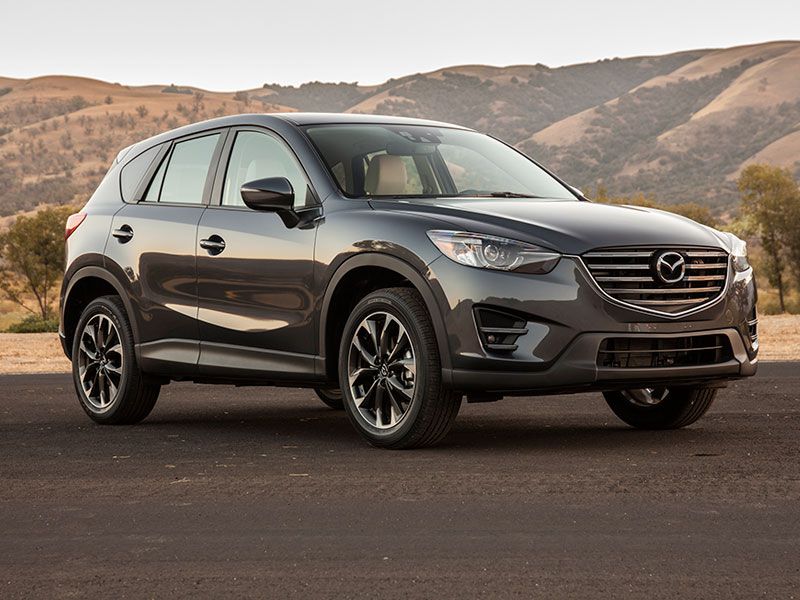 Photo by Mazda USA
9) 2016 Toyota Highlander
The 2016 Toyota Highlander is a midsize SUV that only offers active safety features once you start to get into the higher trim levels. All versions of the Toyota Highlander come with a driver knee airbag as one of the eight total airbags, but moving to the Limited trim introduces a blind spot monitoring system, free of charge. You can also add a lane departure warning system and a forward collision warning and automatic braking system to the Highlander Limited as options, along with the Safety Connect telematics system's ability to automatically contact emergency personnel in the event of a crash.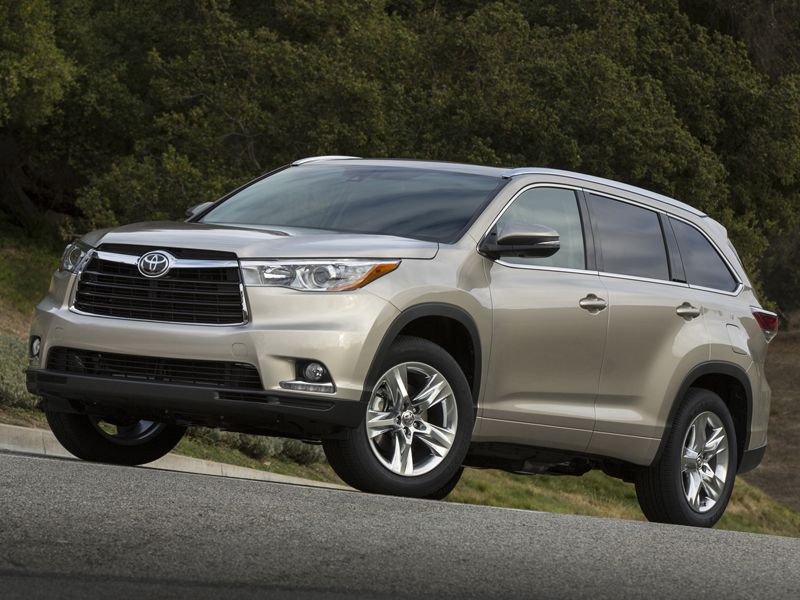 Photo by Toyota
10) 2016 Chevrolet Equinox
The 2016 Chevy Equinox suffers quite a bit in terms of driver visibility, but that is standard for the segment. Aside from that, this crossover does quite well in terms of safety, thanks to high-quality brakes, stability control, and a good airbag system, so even the base models are pretty well covered. Equinox buyers also have a wide selection of optional supplemental safety equipment on the order sheet.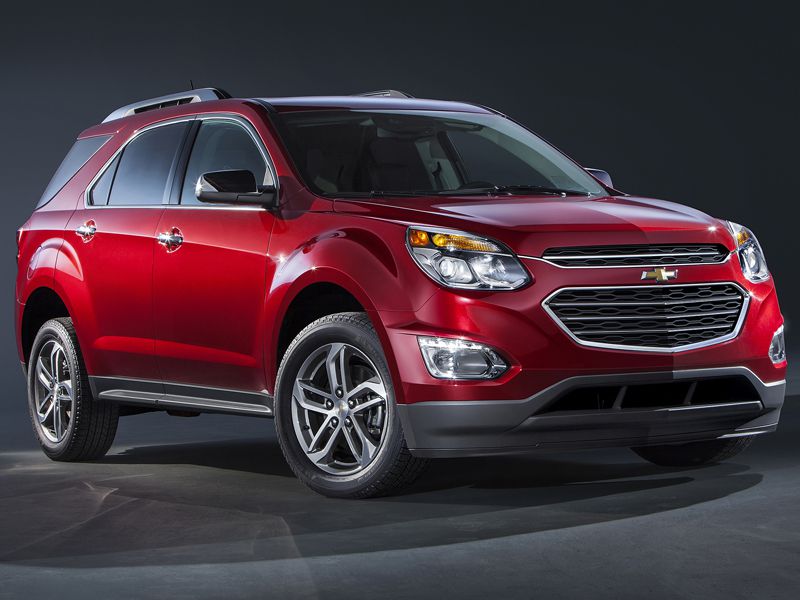 Photo by Chevrolet Media