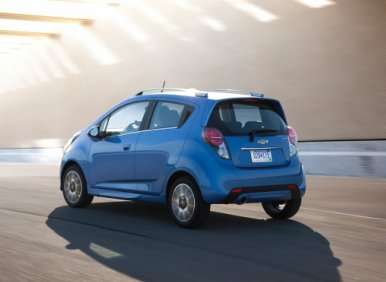 City cars have always been big overseas, where tiny rides are a daily fact of life in crowded cities with little room for parking or even driving.  They are also starting to make waves here in America, as a growing number of urban drivers realize that they really only need access to a car on an occasional basis - and even then, only to get them where public transportation can't conveniently take them.  City cars, which are typically inexpensive subcompact models that don't take up a lot of space or use a lot of gas, step into this gap to provide affordable wheels when needed.
Let's take a look at the top 10 city cars that you can currently buy in the United States.
Top 10 City Cars - 01 - 2013 Chevrolet Spark
Priced to sell, the 2013 Chevrolet Spark offers a surprisingly complete package despite its diminutive size.  The Chevrolet Spark hatchback offers four doors, 31.2 cubic feet of total cargo space, and the ability to actually transport adults in its rear seats.  Fuel mileage is good, checking in at 28-mpg city and 37-mpg highway, but power is a bit low from the vehicle's 1.2-liter, four-cylinder engine, which produces a scant 84 ponies.  Still, as a runabout commuter the Spark is a solid entry-level choice, and buyers can choose between either a five-speed manual or a four-speed automatic transmission.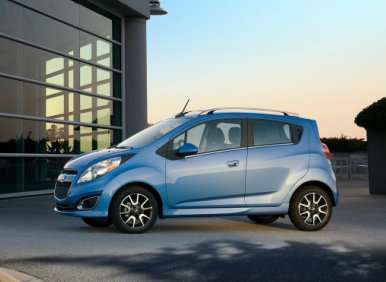 Top 10 City Cars - 02 - 2013 Fiat 500
The 2013 FIAT 500 is perhaps the most style-first of the subcompact city cars currently available on the market.  The two-door Fiat 500 is advertised as a four-seat hatchback, but in reality it's hard to squeeze much into that second row of accommodations, and it might be more worthwhile to simply keep the rear seatback folded forward and free up the car's 30.2 cubes of cargo room.  A 1.4-liter, 101 horsepower four-cylinder engine is standard with the Fiat, and it is possible to select a pair of turbocharged mills that jack up both output (to as much as 160 horsepower in the 500 Abarth) as well as the car's price.  Transmission choices for the 500 include a five-speed manual and a six-speed automatic, and fuel mileage is listed at 31-mpg city and 40-mpg highway.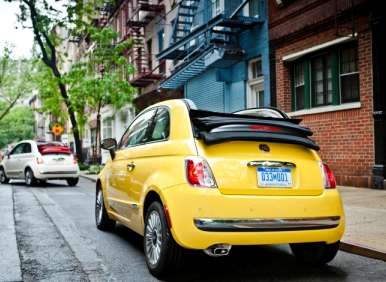 Top 10 City Cars - 03 - 2013 Scion iQ
The 2013 Scion iQ asks buyers to make a few sacrifices in the pursuit of a tiny city car package.  The Scion iQ coupe features '3+1' seating, with a special sliding arrangement that is designed to accommodate an extra occupant behind the first two positions.  In practice, the iQ is very much a tight fit for anyone other the driver and forward passenger, but children or teenagers might be able to fit themselves inside in a pinch.  Cargo space is also at a premium, checking in at 16.7 cubic feet in total or a thin 3.5 cubic feet behind the back seat.  The upshot is the ability to park almost anywhere due to the car's extremely short wheelbase, as well as fuel mileage of 36-mpg city and 37-mpg highway thanks to its 1.3-liter, 94 horsepower four-cylinder engine that is matched with a continuously-variable automatic transmission.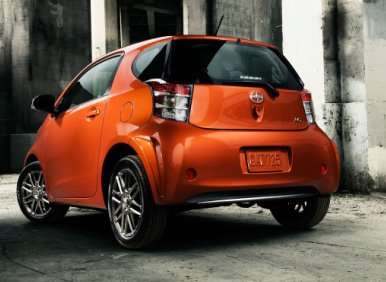 Top 10 City Cars - 04 - 2013 Nissan Cube
The 2013 Nissan cube is quite a bit larger inside than most of the vehicles so far mentioned on our top 10 city cars list, but it's still modest on the outside, which means that it remains easy to drive in an urban setting.  The Nissan Cube crossover makes the most of its rectangular dimensions to deliver comfortable seating for as many as five passengers, as well as a whopping 58 cubic feet of total cargo space.  A 1.8-liter, four-cylinder engine delivers 122 horsepower, which is managed by either a six-speed manual or a continuously-variable automatic transmission, and fuel efficiency for the crossover is listed at 27-mpg around town and 31-mpg on the highway.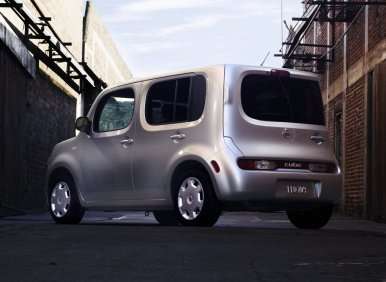 Top 10 City Cars - 05 - 2012 MINI Cooper
The 2012 MINI Cooper isn't just good around town - it's also a lot of fun to drive thanks to the attention paid to its chassis by the engineers at parent company BMW.  The MINI Cooper is one of the more expensive models on our list when found in base form, but it delivers genuine four passenger capacity, retro looks that are a standout in its class, and a practical 24 cubic feet of total cargo space.  The hatchback is motivated by a 121 horsepower, 1.6-liter four-cylinder engine which can also be had in not one, but two additional turbocharged versions peaking at 208 horses.  Fuel mileage for the base MINI shows as 29-mpg city and 37-mpg highway, and it can be shifted via either a six-speed manual or a six-speed automatic gearbox.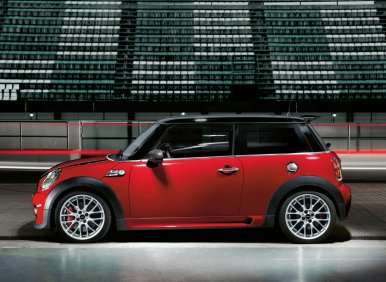 Top 10 City Cars - 06 - 2013 Toyota Prius c
The 2013 Toyota Prius c is the only hybrid hatchback on our list of the top 10 city cars, and it's also one of the smallest battery-assisted vehicles money can buy.  That being said, the Toyota Prius c is quite practical, thanks to a generous passenger compartment for its class as well as above-average handling (although nothing approaching sporty like the MINI Cooper).  17.1 cubic feet of cargo space is somewhat of a compromise, but the Prius c makes up for by way of its 53-mpg city and 46-mpg highway EPA rating.  A continuously-variable automatic transmission and a 99 horsepower hybrid drivetrain (consisting of two electric motors and a 1.5-liter, four-cylinder gas engine) are standard with the Toyota.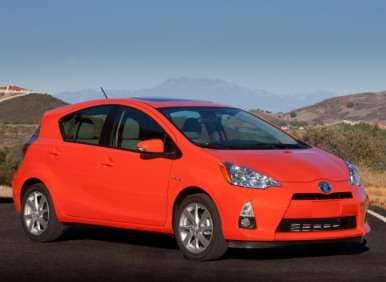 Top 10 City Cars - 07 - 2013 Ford Transit Connect
The 2013 Ford Transit Connect isn't exactly a car, but that doesn't disqualify it from our roundup.  In fact, the Ford Transit Connect was imported from Europe specifically to satisfy the needs of city dwellers who needed a cargo or passenger van that was small enough to be navigate traffic but still large enough to be useful on a daily basis.  The Transit Connect features a tall roof and a short wheelbase, and it can be configured to either haul as many as five passengers or 135 cubic feet of cargo.  Power is provided by a 2.0-liter, four-cylinder engine that produces 136 ponies, and a four-speed automatic transmission is included free of charge with the van.  Fuel economy for the Ford is rated at 21-mpg city and 27-mpg highway.
Top 10 City Cars - 08 - 2013 Nissan Leaf
The 2013 Nissan LEAF is a pure-electric compact automobile that has been specifically designed to handle the needs of those whose daily driving is restricted to trips of 75 miles or less.  That's the range of the Nissan Leaf's battery pack, which can be recharged in roughly four hours using a 240-volt outlet.  Output from the Leaf's electric engine is excellent for its class, showing as 107 horsepower, and the relatively light hatchback accelerates at a rate that is more than acceptable in city driving.  30 cubic feet of total cargo space are available with the rear seat folded forward, thanks in part to the decision to move the car's recharging tackle from the rear of the car.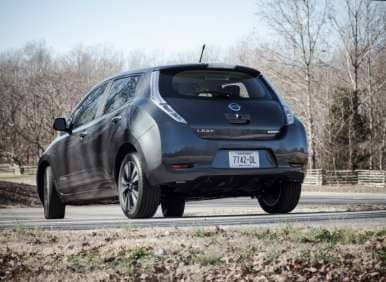 Top 10 City Cars - 09 - 2013 Honda Fit
The 2013 Honda Fit is one of the elder statesmen of Japanese city cars that have been imported to the United States, and it continues to dazzle buyers with the versatility of its interior - a feat made possible by its 'Magic Seat' feature that can free up 57.3 cubic feet of total cargo space.  The Honda Fit is also outfitted with a 117 horsepower, 1.5-liter four-cylinder engine that can be mated to either a five-speed manual or a five-speed automatic transmission, with the latter offering steering wheel-mounted shift paddles when ordered in Sport trim.  Fuel mileage for the five-passenger Fit shows as 28-mpg city and 35-mpg highway.
Top 10 City Cars - 10 - 2013 Smart Fortwo
The 2013 Smart fortwo is an ultra-subcompact coupe that seats two passengers.  Never really having hit its stride in the United States, the Smart Fortwo doesn't come through with a whole lot of trunk space but it can be ordered with either a gasoline or an electric engine.  The former is good for 70 horses from a 1.0-liter, three-cylinder mill, while the latter generates the same amount of power in short bursts (and is nominally rated at 47 horsepower).  An automated five-speed manual transmission comes with the 1.0-liter engine, and fuel mileage for this version of the Fortwo is listed at 34-mpg city and 38-mpg highway.  The electric Fortwo can travel roughly 80 miles on a single charge.