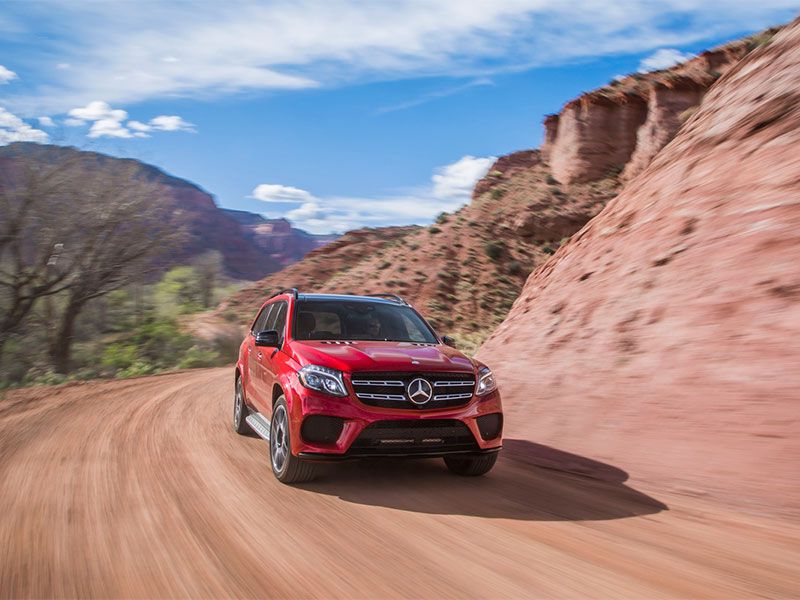 2017 Mercedes Benz GLS 550
You can get through life without all-wheel drive, but your life can be better with it. Same thing goes for a luxury SUV. If your budget allows, an AWD luxury SUV will make driving in rain and snow safer. It will make driving on dry roads more fun, and may even enable you to explore new terrain when the pavement ends, all without giving up the comfort, convenience and technology features that you deserve. You get all of the SUV benefits, too, like command seating position and flexible cargo space, and some luxury SUVs even offer decent towing capability. We've identified the top 10 AWD luxury SUVs that merit your consideration, presented here in alphabetical order by brand.
2017 Audi Q7
Audi's Q7 full-size crossover suv got a makeover for 2017, and it has a more sophisticated exterior and interior design than ever before. Luxury maker Audi has long been identified with all-wheel drive with its "quattro" system, which is celebrating its 35th anniversary this year. The system features both full-time torque split between front and rear wheels and available torque vectoring, which really shows its stuff during cornering in wet or dry situations. The Q7 seats up to seven passengers in its three rows of seating, and an available "virtual cockpit" places a 12-inch display in the instrument panel for a high level of information and technology integration. A supercharged 3.0-liter V6 gas engine provides Q7's motivation and makes luxury complete.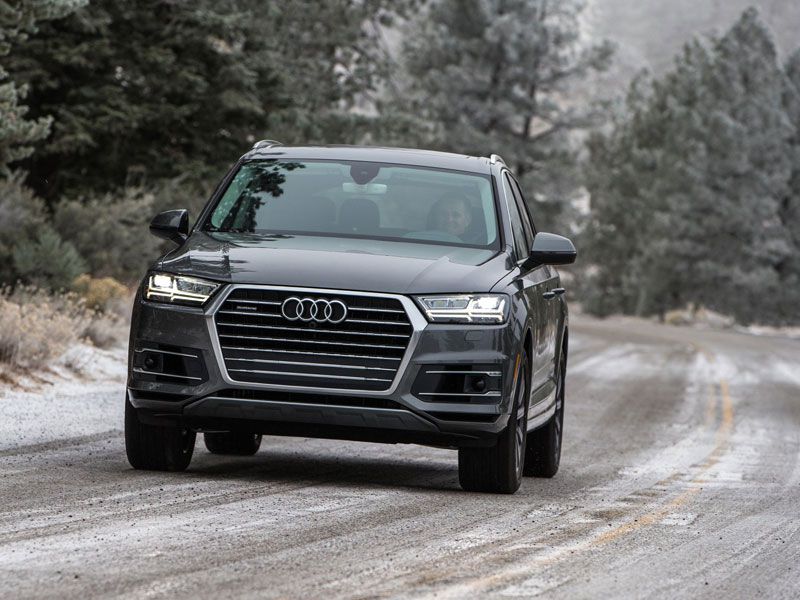 Photo by Audi
2017 BMW X3 xDrive28d
BMW has a broad range of all-wheel drive luxury SUVs, but the sweet spot is right in the middle with the X3. A compact crossover, the X3 still has room for five and a roomy cargo compartment (27.6 cubic feet behind the second row/63.3 cubic feet with seat folded). Where the X3 excels is in its driving experience. BMW's xDrive all-wheel-drive system is biased 60/40 toward the rear, which means that the system sends driving torque to the rear wheels and torque goes to the front wheels as needed to enhance handling. An 8-speed automatic transmission delivers the power. The 2.0-liter twin-turbo diesel engine is smooth and quiet and provides the low-end torque grunt that drivers love to exploit.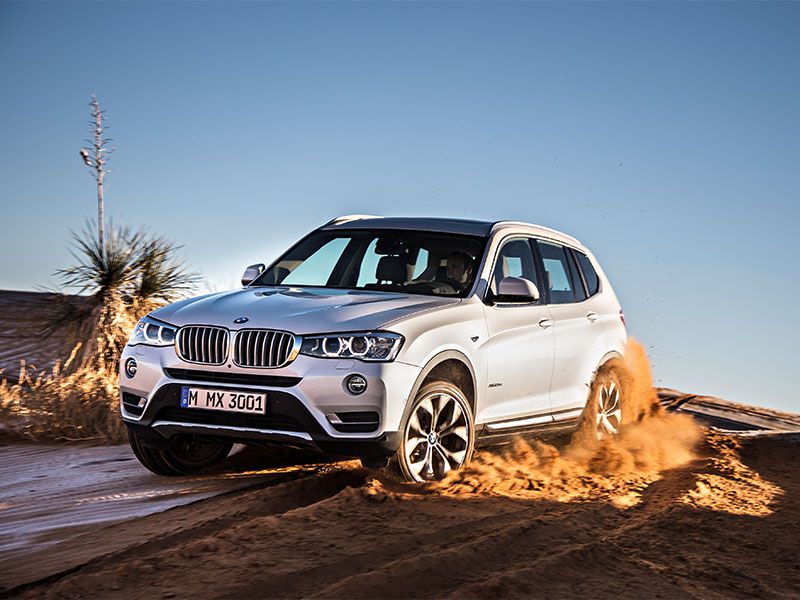 2017 Cadillac XT5 Luxury AWD
General Motors created a new platform to underlie the 2017 Cadillac XT5, which replaces the neglected SRX crossover in the lineup, and they nailed it. The top-of-the-line luxury AWD model is loaded with luxury features and technology packaged in a very attractive midsize crossover. The 3.6-liter V6 engine and 8-speed automatic transmission provide spirited performance, and the new chassis and all-wheel drive setup handles sharply. Real-time dynamic suspension damping with Driver Select modes fine tune the ride. XT5's exterior design is striking and attractive, and you can load up the dashboard with cutting edge features and driver assistance packages that rival the competition.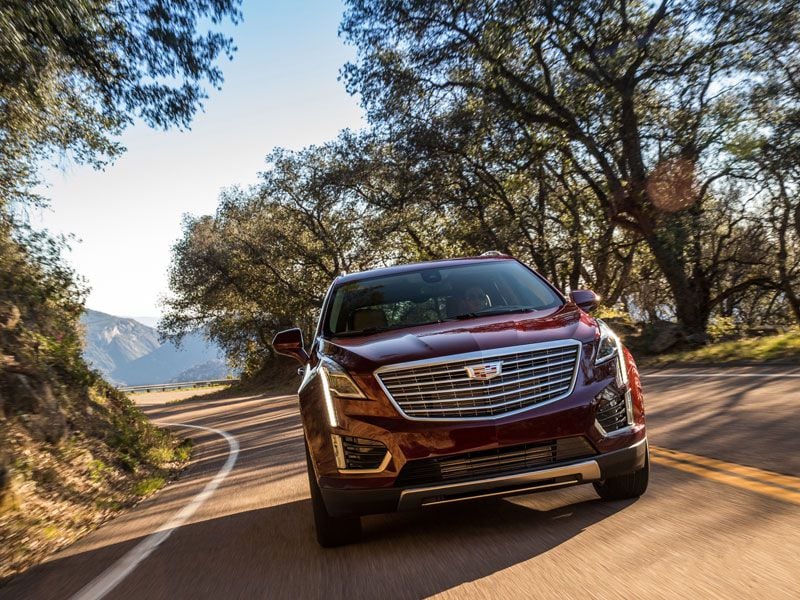 Photo by General Motors
2017 GMC Yukon Denali
Sometimes only a full-size luxury SUV will do, and following a makeover for 2016, the 2017 GMC Yukon Denali delivers presence, capability and passenger-hauling capacity that can't be beat. With the Denali package of luxury enhancements, the rugged Yukon swaggers down the road. A massive 6.2-liter Ecotec V8 engine and 8-speed automatic transmission are backed up with an electronically locking rear differential, and Magnetic Ride Control provides real-time dynamic damping for a smooth ride in all conditions. You can tow up to 8,100 lbs with your Yukon, and haul a payload up to 1,516 lbs. – impressive specs for any SUV, let alone a luxury yacht.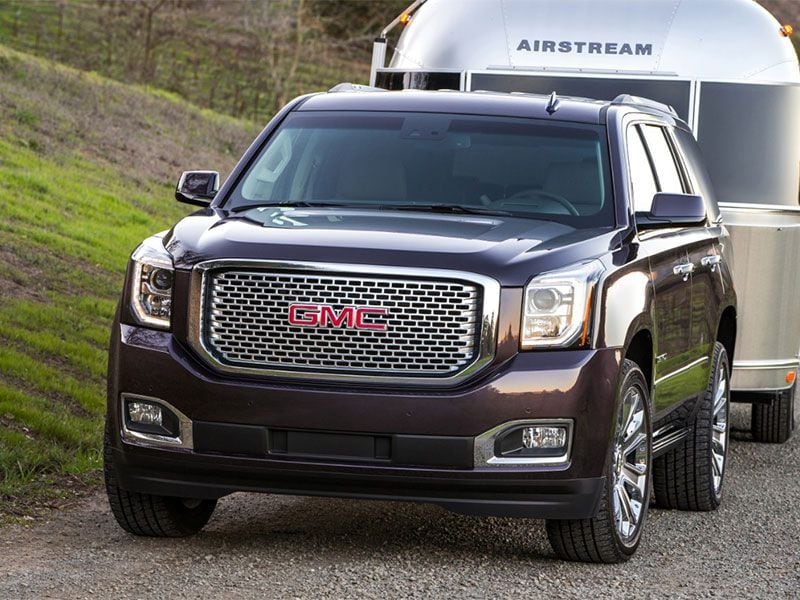 2017 Jaguar F-Pace
Jaguar's first-ever SUV is a good one. The 2017 Jaguar F-PACE brings the British brand's luxury and performance legacy to bear and borrows from sister company Land Rover for all-wheel drive technology. If you've always admired the styling and premier status of a Jaguar but needed the utility of an AWD SUV, F-Pace finally brings those qualities together in one package. There will be six F-Pace models at launch, including a performance-oriented R-Sport Edition, an S model and a special Launch Edition that will be loaded down with a broad range of luxury enhancements including 22" alloy wheels, houndstooth-embossed Windsor Leather sport seats, head-up display, traffic sign recognition, adaptive speed limiter and park assist (parallel and perpendicular parking, parking exit).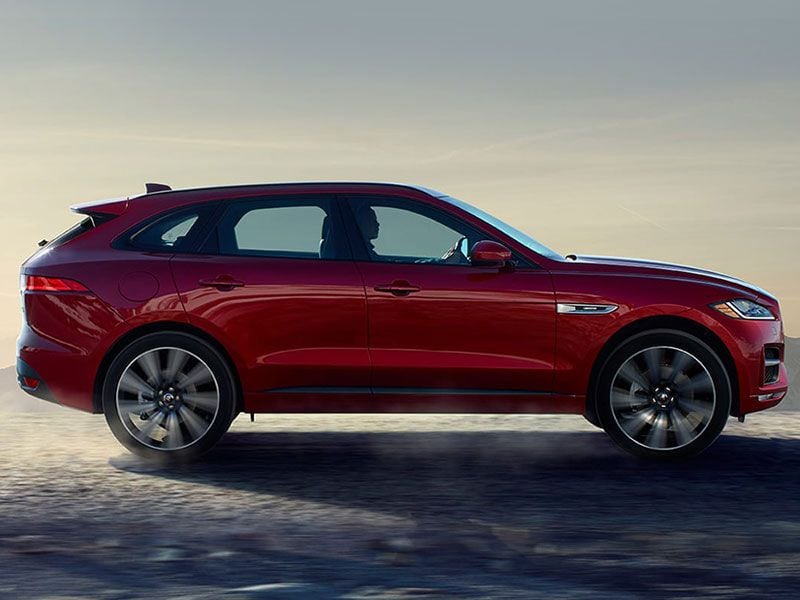 Photo by Jaguar
2016 Land Rover Range Rover
Range Rover was the first luxury AWD SUV. The 2016 Land Rover Range Rover represents the best that the company has to offer. Whether you're roaming the English countryside, rock crawling at Moab or rolling down Broadway on your way to the opera, Range Rover gets you there in style. You don't have to compromise on performance, either, as the SUV can be ordered up with a 510-horsepower supercharged 5.0-liter V8 engine that is capable of 0-60 mph runs of 5.1 seconds up to a top speed of 155 mph. Choose the Autobiography trim level, and you get all of that performance with an even higher level of luxury – and you can still conquer obstacles off-road when you need to.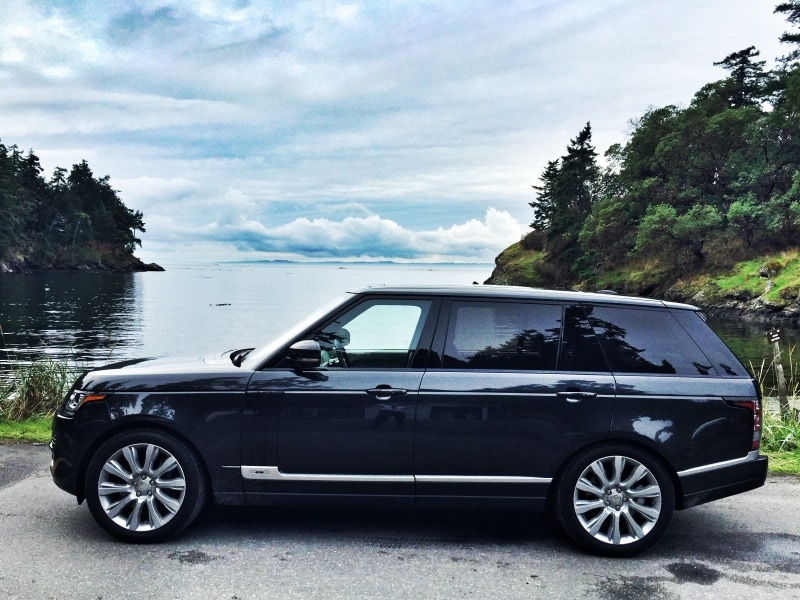 2017 Lincoln MKC Black Label 800A
Lincoln's compact luxury crossover SUV proves that good things do come in small packages. Choose the 2017 Lincoln MKC Black Label 800A, and you get Lincoln's highest level of luxury and service, including access to a Lincoln Concierge who will guide you all the way from vehicle selection through the ownership process, including lifestyle experiences and personalized attention. Lincoln's AWD system is designed to enhance on-road performance in dry, wet and snowy conditions. The elegant interior is put together with Lincoln's best materials and craftsmanship, and includes every technology feature that the company has to offer. The Lincoln Premium Sound system has been tuned to deliver concert hall sound in the cabin to enhance your commute with your own soundscape.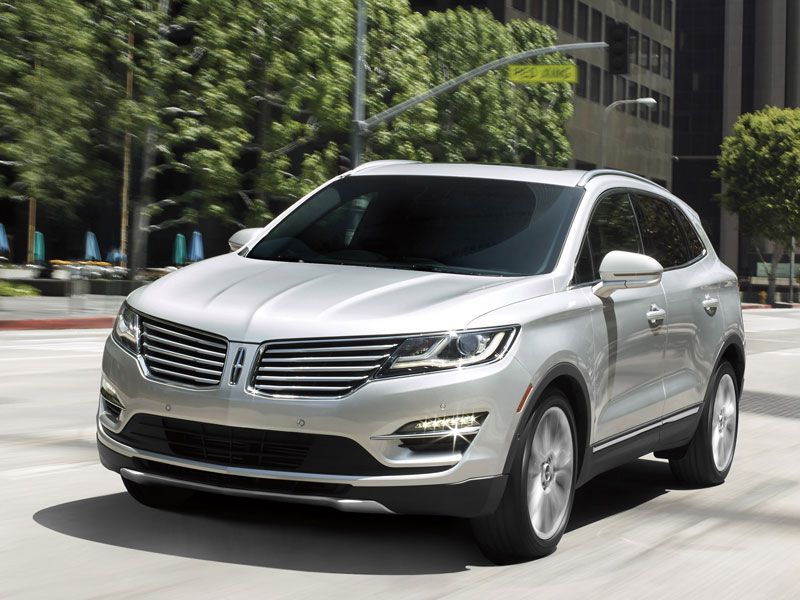 Photo by Lincoln
2017 Maserati Levante
Maserati's first SUV has been in the planning stages for years, and it's finally available as a 2017 model. A midsize crossover, the 2017 Maserati Levante brings the Italian automaker's flair for design and performance to an AWD luxury SUV that will be unique on the roadway and in the rough. Starting at just $72,000, it is priced to compete with the Porsche Cayenne and Land Rover Range Rover Sport. The throaty exhaust note from the Ferrari-built 3.5-liter twin-turbo V6 engine can send shivers up an enthusiast's spine, while the luxurious interior will calm the senses with comfort and convenience. It won't be hard to spot the Levante in a parking lot – it will be the one surrounded by admirers.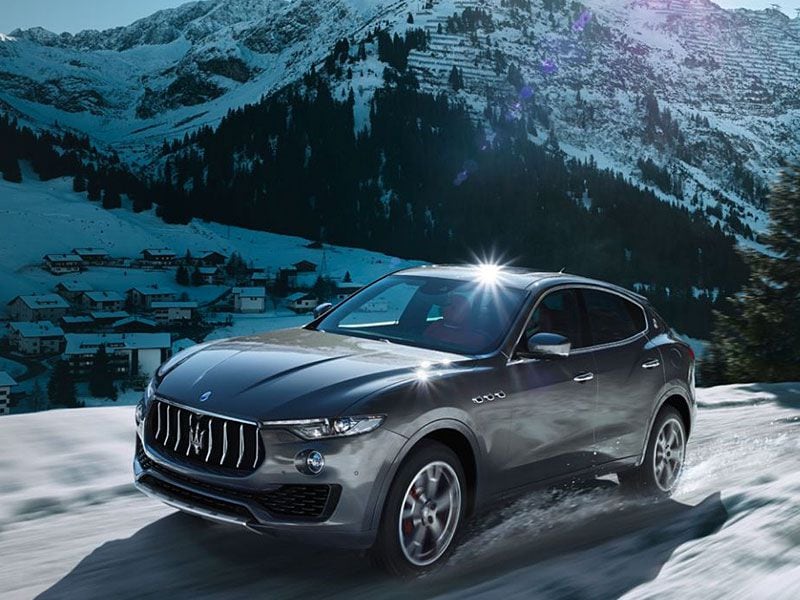 Photo by Maserati
2017 Mercedes-Benz GLS
Mercedes-Benz has shuffled its SUV naming conventions this year. The former GL-Class is now known as the 2017 Mercedes-Benz GLS, but it is still the fullsize AWD luxury SUV in the lineup. Mercedes-Benz has always been a leader in safety technologies, and the GLS benefits from the latest in the field, with the advanced driver assistance of Intelligent Drive. High-tech features like COMAND telematics and Mercedes-Benz mbrace smartphone controls add sophisticated capabilities, while the Mercedes-Benz tradition of high build quality and premium material selections provide a luxurious driving and riding experience on all terrains. 4Matic all-wheel drive is standard, and available AIRMATIC suspension with Active Curve System help to conquer rough terrain with minimal drama.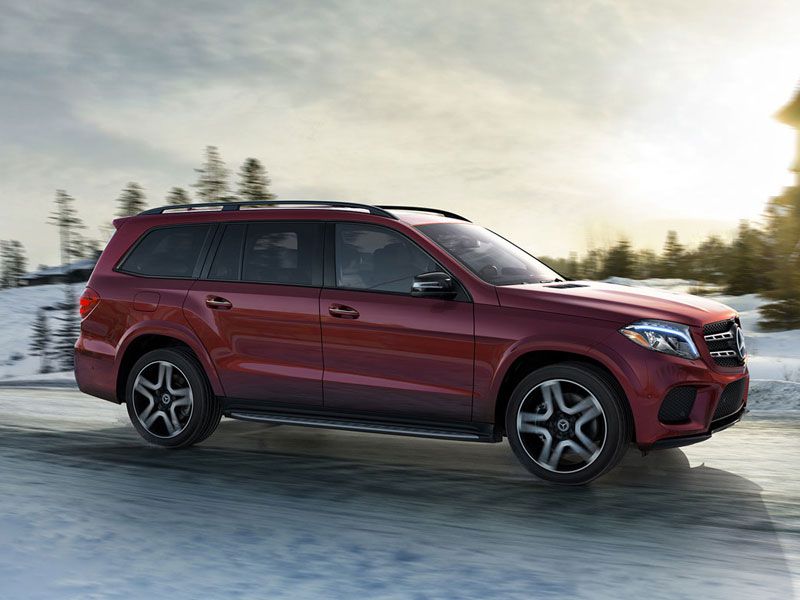 2017 Porsche Macan
Purists scoffed when Porsche introduced the Cayenne as its first SUV in 2003. After the midsized Cayenne went on to become the best-selling vehicle in the company's lineup, few complained at the appearance of the compact Macan AWD luxury SUV in 2014. Smaller and lighter than the Cayenne, the Macan seats five in comfort, and delivers an even more involving driving experience than its big sibling. It really is a sports car in luxury SUV clothing, and AWD adds soft-road and off-road capability that other Porsche models can only dream of achieving. Macan is a driver's SUV, and available luxury features assure that both driver and passengers are treated to comfort and convenience in all conditions.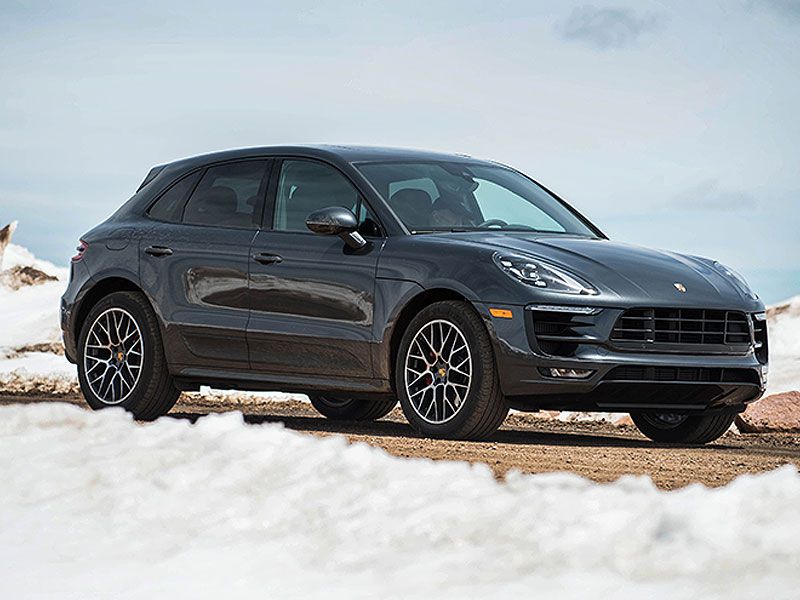 Photo by Porsche