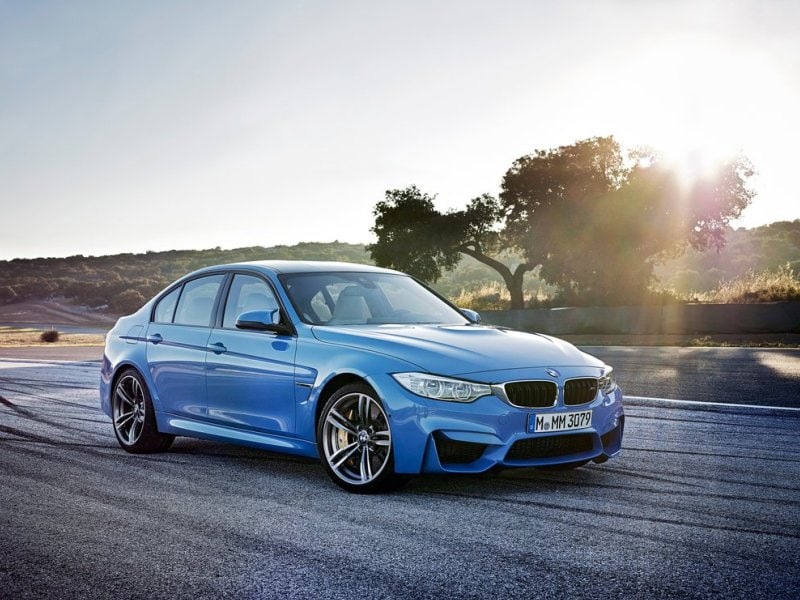 Four-door sports cars occupy that niche where fantasy intersects with reality. While we'd all love to get behind the wheel of a high performance coupe or open-top roadster on a daily basis, the facts of life typically dictate the need for a usable rear seat and a reasonable insurance rate. It's no surprise, then, that an entire crop of 4-door sports cars have sprung up to fill this gap between what we wish we were driving and what fits best into our lifestyles. Don't think of them as consolation prizes: these sedans and hatchbacks are in many ways the equal of far more exotic-looking machinery on both the street and the track.
Let's take a quick look at the top 10 4-door sports cars for 2015.
1. 2015 Porsche Panamera
The 2015 Porsche Panamera takes the brand's classic 911 Carrera styling and stretches it out across a 4-door sports car design. Although not the most graceful-looking vehicle in the Porsche line-up, the Panamera offers several different models designed to get your adrenaline flowing. The two most intriguing editions of the Panamera are the GTS, which comes with a 440 horsepower, 4.8-liter V-8 (that also generates 384 lb-ft of torque), and the Turbo S, which shatters preconceptions with its 570 horsepower and 553 lb-ft of torque from a turbocharged version of the same motor. Throw in standard all-wheel drive and a seven-speed automated manual transmission and you've got a formula for hair-raising acceleration on your hands.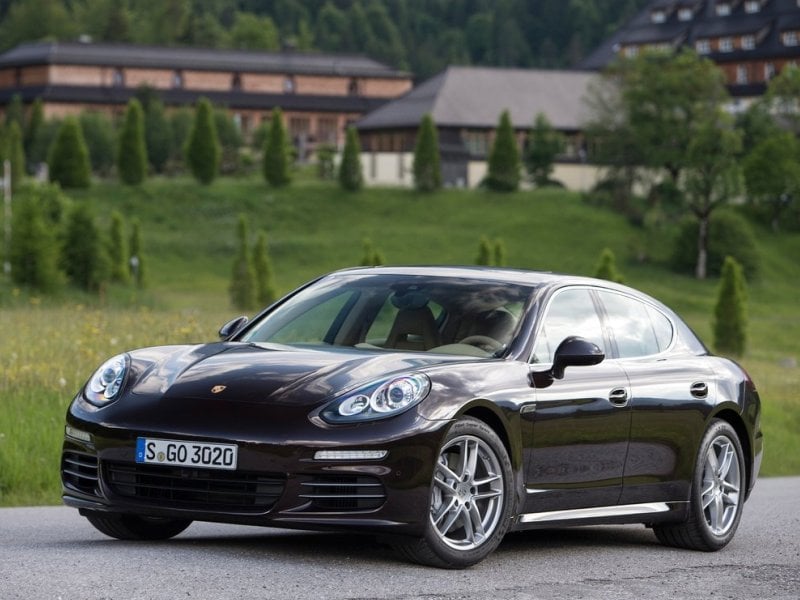 2. 2015 BMW M5
The 2015 BMW M5 is the latest evolution of a car that has long set the standard for what super sedans should drive like. The centerpiece of the BMW M5 is its 4.4-liter turbocharged V-8 heart, a unit that pumps out up to 600 horsepower (for the 30th anniversary model - 560 horsepower for the base) and as much as 516 lb-ft of torque. Transmission choices for the 4-door sports car include a 7-speed automated manual and a six-speed transitional manual, and engine output is shuttled exclusively to the rear wheels. Look for 0-60 times of under four seconds with this monster, along with excellent handling despite its considerable size.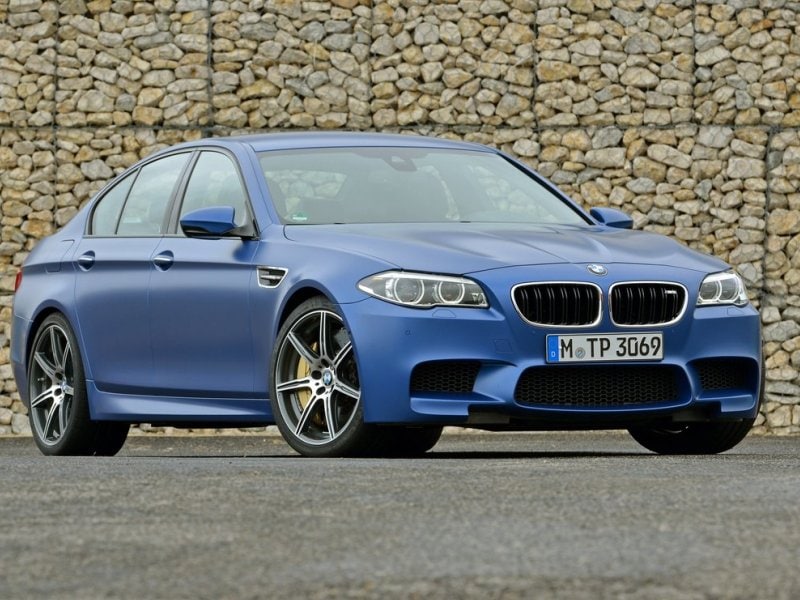 3. 2015 Aston Martin Rapide S
The 2015 Aston Martin Rapide S tricks the eye into thinking it's more two-door coupe than four-door hatchback, what with its sloping roof and unusual door design. Of course, there's nothing deceiving about the performance on offer from the Aston Martin Rapide S' 550 horsepower, 5.9-liter V-12. Also capable of generating 557 lb-ft of torque, the Rapide S offers lightning-quick throttle response and exceptional handling thanks to its lightweight chassis. A six-speed automatic transmission is standard with every edition of the Aston Martin, which reaches 60-mph from a standing start in the mid-four second range.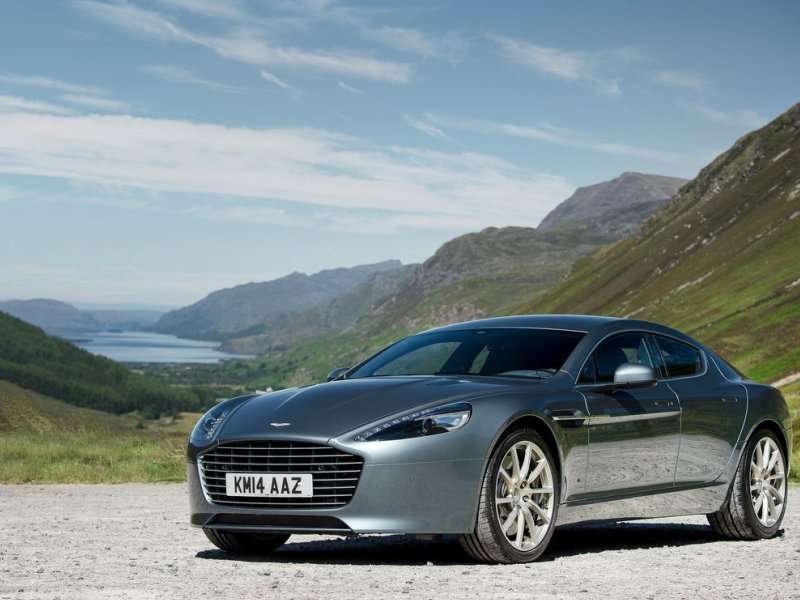 4. 2015 Dodge Charger SRT Hellcat
707 horsepower from a 6.2-liter supercharged V-8. That stat line is enough to crown the 2015 Dodge Charger SRT Hellcat the mightiest production eight-cylinder car in existence. In fact, you'd have to look long and hard even in the world of high-dollar exotics to find an automobile with more grunt on tap than this full-size four-door sedan (which also boasts 650 lb-ft of torque). Matched exclusively with an eight-speed automatic transmission, the Dodge Charger SRT Hellcat blasts its way to 60-mph in an astonishing 3.7 seconds, on its way to a top speed of over 200-mph.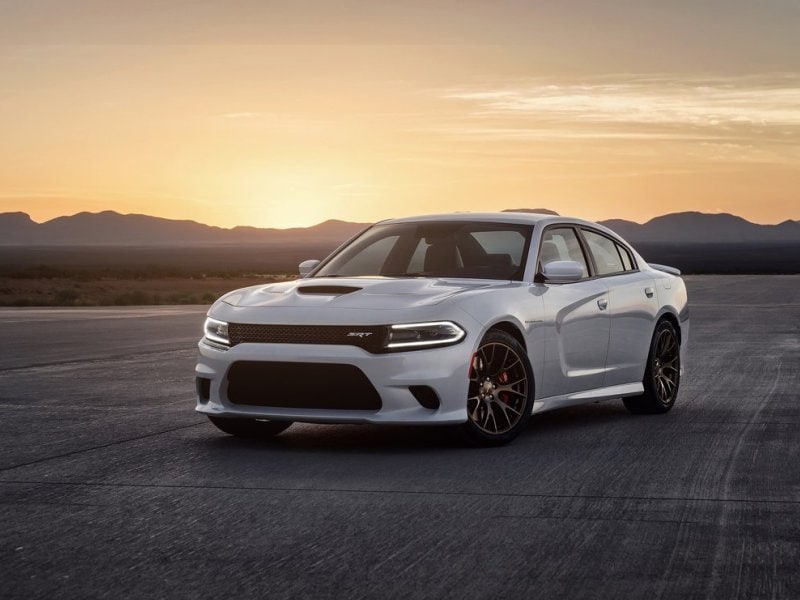 5. 2015 Audi RS 7
The 2015 Audi RS 7 is another full-size German hatchback, although unlike the Panamera it wears its four-door design with a little more grace. Of course, once ensconced behind the wheel of the Audi RS 7 you're unlikely to care too much what the car looks like, because your right foot is now in command of 560 horsepower and 516 lb-ft of torque from a turbocharged 4.0-liter V-8. Quattro all-wheel drive is standard, and helps to keep things under control at full throttle: look for the RS 7 to reach 60-mph in 3.4 seconds, a startling achievement made possible in part by the launch control system embedded in its eight-speed automatic transmission.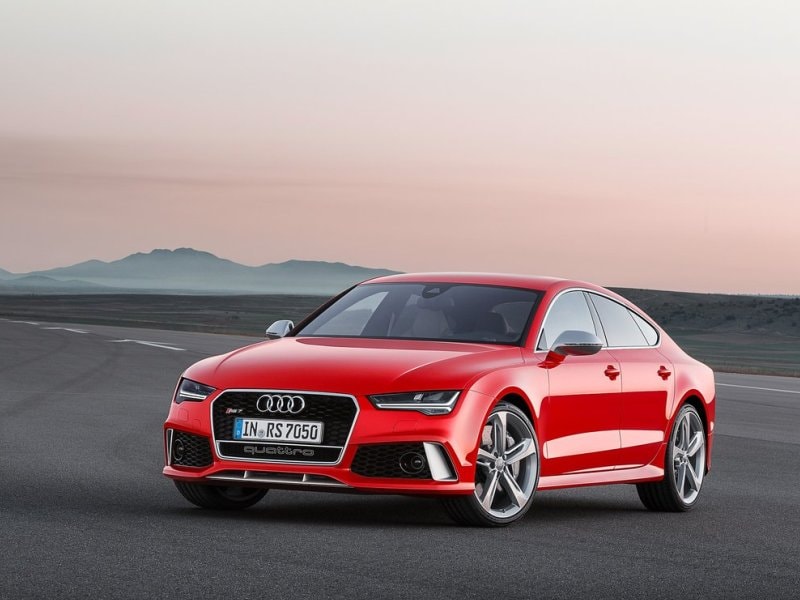 6. 2015 Subaru WRX STI
The 2015 Subaru WRX STI is a 4-door sports car born from a rally heritage that never really cared how many doors you rolled up to the beginning of a stage. The tradition of turning affordable compact sedans into fire-breathing rally competitors is a distinguished one at Subaru, and the WRX STI is the latest evolution of the brand's successful formula. A computer-controlled all-wheel drive system, a track-ready suspension design, and a turbocharged, 2.5-liter four-cylinder engine (rated at 305 horsepower and 290 lb-ft of torque) are all hallmarks of the WRX STI, which is sold exclusively with a six-speed manual transmission.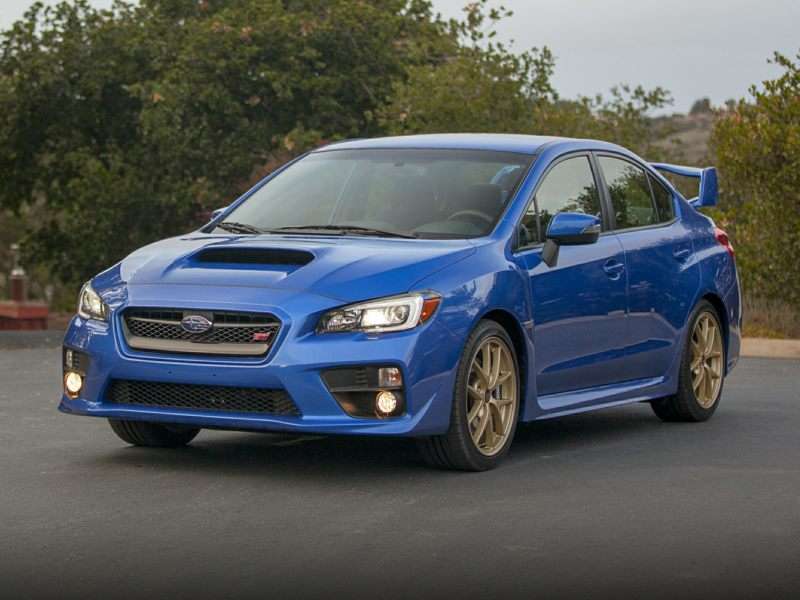 7. 2015 Cadillac CTS-V
The 2015 Cadillac CTS-V offers a pair of 4-door sports car options - a sedan and a wagon - making it an unusual entry on our list. The Cadillac CTS-V's 6.2-liter supercharged V-8 can be relied on to produce 556 horsepower and 551 lb-ft of torque, with the choice of either a six-speed manual or automatic transmission to put the car through its paces. Although portly, the CTS-V's handling approaches the level of more dedicated sports cars thanks to the use of a magnetically-adaptive suspension system that is standard with every model.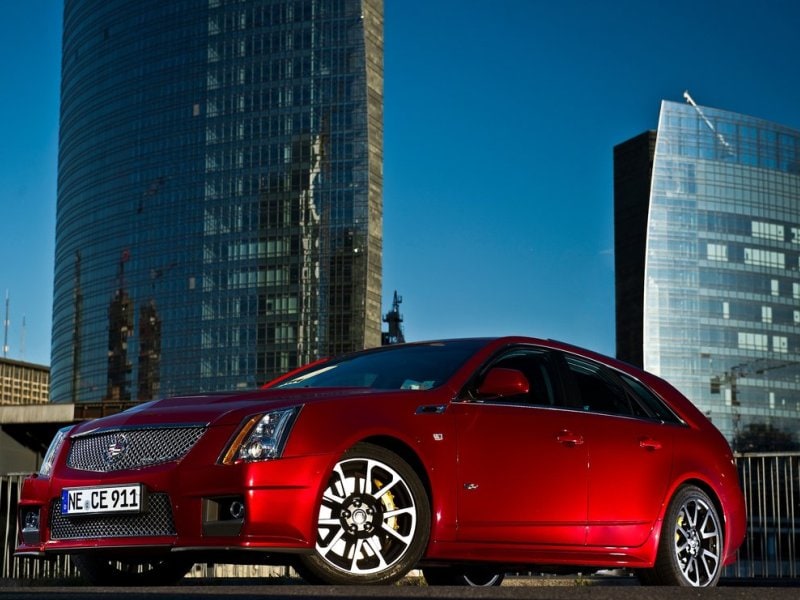 8. 2015 Ford Fiesta ST
The 2015 Ford Fiesta ST shrinks down the four-door sports car package into a fun-to-drive subcompact hatchback. Based on the already-enjoyable Fiesta chassis, the ST beefs up the car's shocks and springs to take further advantage of the platform's built-in lightness, and adds a turbocharged 1.6-liter EcoBoost four-cylinder engine that has been tuned to provide 197 horsepower and 202 lb-ft of torque. You'll have to shift it yourself in the Fiesta ST, as a six-speed manual is the only available transmission, and the car can reach 60-mph in a quick-for-its-class seven seconds.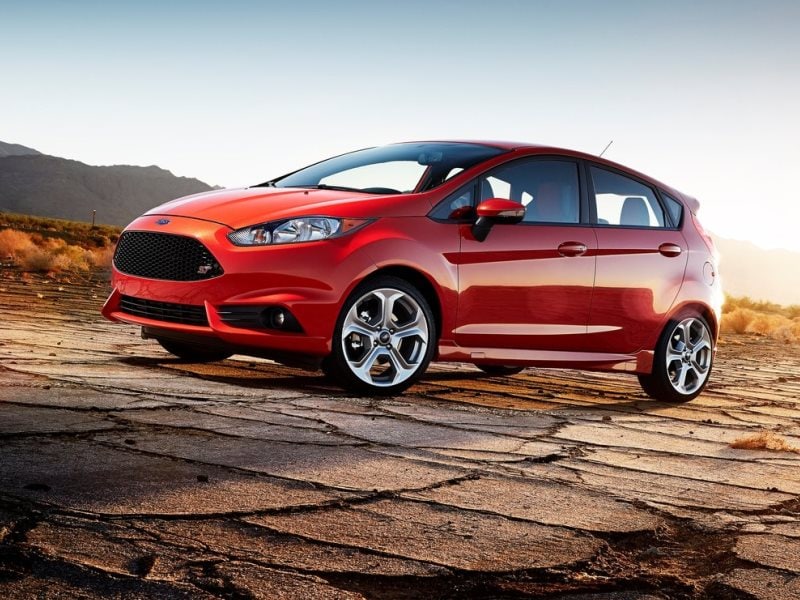 Photo by Ford Media
9. 2015 Volkswagen Golf GTI
The 2015 Volkswagen Golf GTI is the standard bearer for the hot hatch formula in the compact segment, and represents the perfect 4-door sports car upgrade for those who need something bigger than what the Fiesta ST has to offer. With as much as 210 horsepower and 256 lb-ft of torque on tap from a 2.0-liter turbocharged four-cylinder engine, the Volkswagen Golf GTI has plenty of muscle to go with its spry chassis and wheels-at-four-corners philosophy. A six-speed manual transmission is standard with the GTI, but a six-speed dual-clutch automated manual can also be ordered with the car.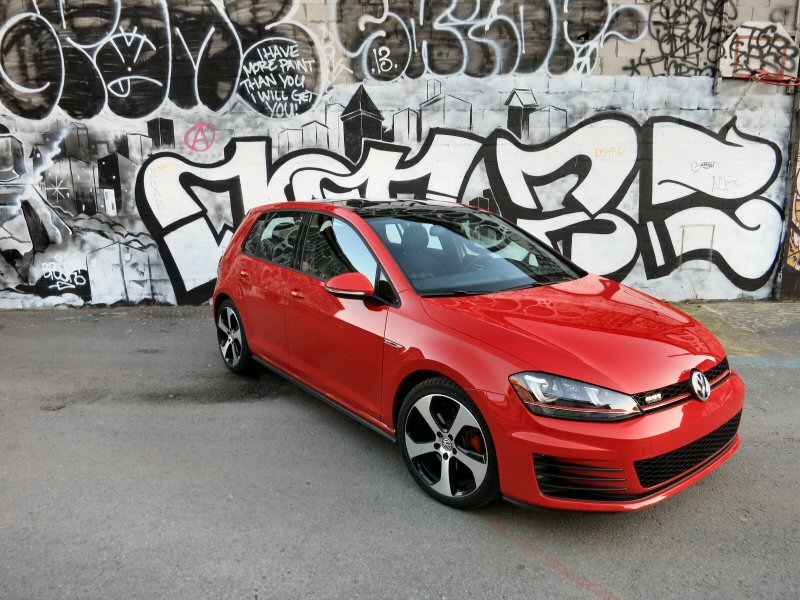 Photo by Benjamin Hunting
10. 2015 BMW M3
The second Bavarian entry on our list of the top 10 4-door sports cars for 2015 is the BMW M3. The smaller sibling to the M5, the 2015 BMW M3 is no slouch in the horsepower department, what with its 3.0-liter turbocharged six-cylinder engine generating 425 ponies and 406 lb-ft of twist. Launch control comes with the car's seven-speed automated manual transmission, but a purer driving experience can be had by sticking to the traditional six-speed manual gearbox. 60-mph arrives in a scant 3.9 seconds from the front seat of the BMW M3.