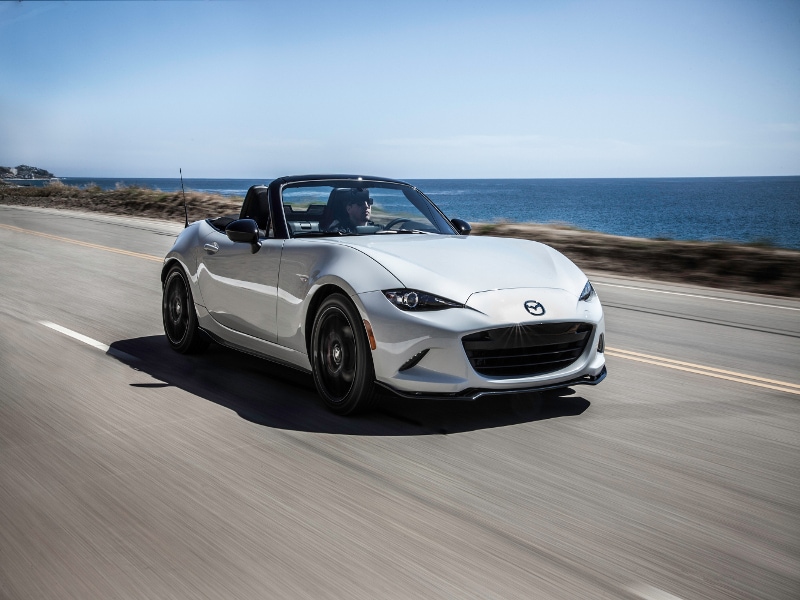 2016 Mazda MX-5 Miata ・ Photo by Mazda
Four-cylinder convertibles are the answer to at least a couple of prayers. If we're looking for open-top fun, then it's good for our cars not to be weighed down with heavy engines. We want them sprightly and sunny.
And if we're looking at four-cylinder convertibles, then we're probably also thinking of initial cost and gas bills down the road. Just because we're having fun doesn't mean we should pay through the nose for it. Many makers are bolting turbochargers to their four-cylinder engines, so we can enjoy excellent fuel economy but also call on power that's comparable to a V6 when the occasion demands.
Here are 10 convertibles with four-cylinder engines, ranging from "cheap and cheerful" to "pricey but oh so alluring." There should be something here to suit both the boulevard cruiser as well as the spirited driver.
2016 Alfa Romeo 4C Spider
Hard to believe this gorgeous thing only has a 1.7-liter engine. It is turbocharged, though, so it brings 237 hp and 258 lb-ft of torque to a party that uses a lot of carbon fiber, aluminum and composites in the construction to keep weight at a minimum. And the engine is placed right behind the two seats for excellent balance. 
The rear wheels are given their power by a six-speed dual-clutch transmission — with paddle shifters mounted under the steering wheel for race-driver flicks. Just like the 4C hard top, this model doesn't bother with wussy things like power steering. The car feels all the more immediate and tactile as a result. Driving slow around town isn't such a thrill, but get to a spot where you can mash that throttle pedal and everything comes into a noisy but glorious focus.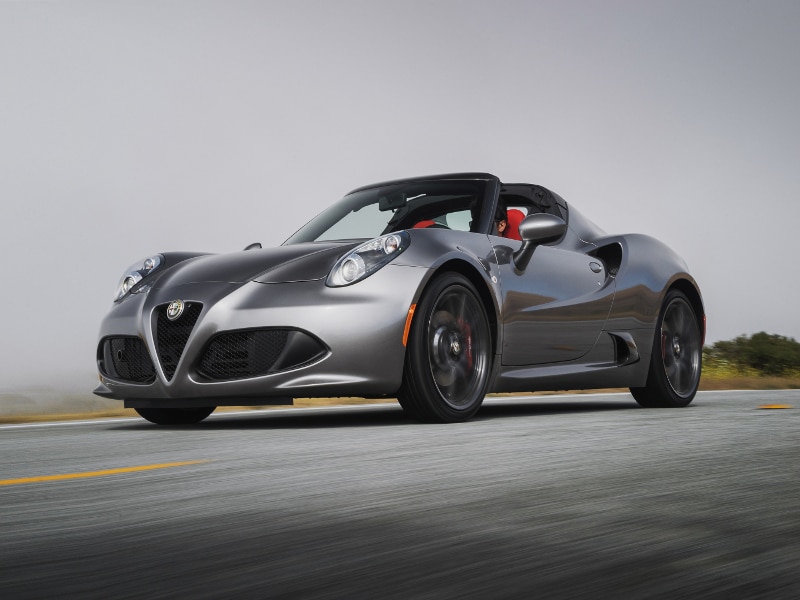 2016 Audi A3 Cabriolet
Audi makes a few convertibles powered by four-cylinder engines, but this one is the newest. The current A3 range debuted for 2015 and it's one of the most desirable luxury compact cars out there. Audi actually calls this model a cabriolet, but that term has become virtually interchangeable with convertible. The A3 also comes with two rear seats, so it can be a little more useful.
Motivation comes courtesy of a turbocharged 1.8-liter four-cylinder engine making 170 hp and 200 lb-ft of torque. Or a 2.0-liter turbo four with 220 hp and 258 lb-ft along with all-wheel drive for all-weather capability. Most people should find the A3 cabriolet's exterior and interior to be classy and attractive too.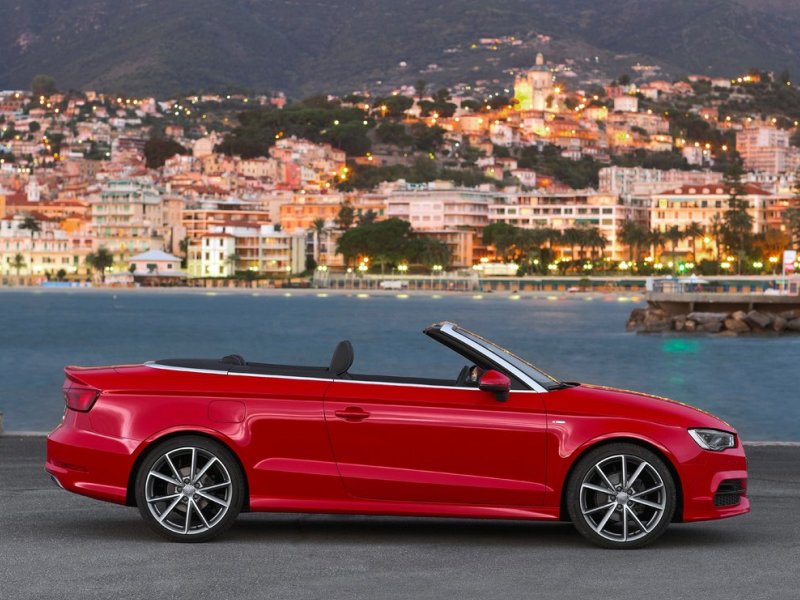 2015 Audi TT Roadster
We don't want to seem biased by highlighting two cars from one company, but really, this is the TT. Some may feel it lost something design-wise in the transition from that hugely influential first generation, but it gained in terms of driving dynamics and still has a wonderful interior. 
A turbo four is part of a package that also includes all-wheel drive. Audi calls this car a roadster (yet another name for a convertible), and offers it in regular TT form, with 211 hp and 258 lb-ft of torque from its 2.0-liter engine. Or there's the TTS, where that same engine is boosted to 265 hp and 258 lb-ft. Heated front seats are now standard in both models.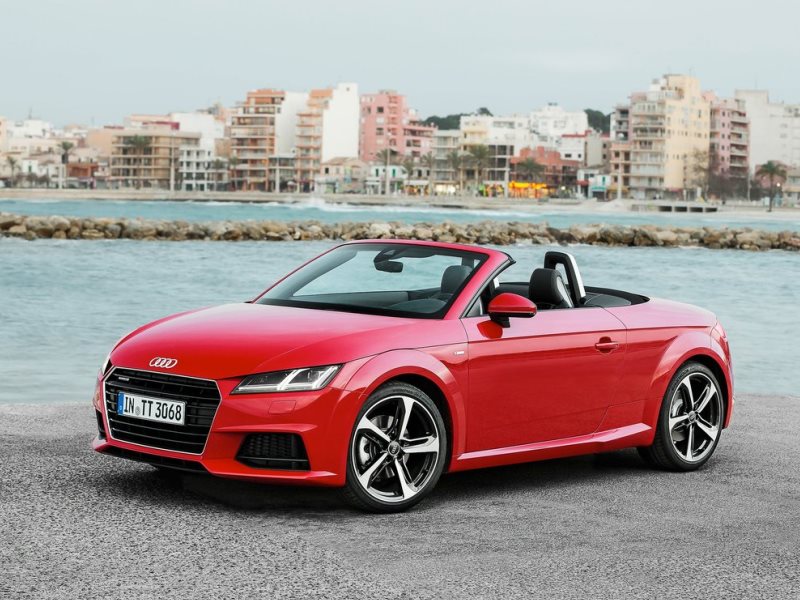 2016 BMW 428i Convertible
Despite the first number, this is a variant of the 3 Series, one of the best-driving cars you can get. Part of the Munich marque's charisma is that many of its cars have inline six engines, but the 2.0-liter turbo four in the 428i doesn't make it any less of a BMW, not with 240 hp boiling away under the hood.
A retractable hard top makes this a year-round convertible, enhanced by the option of all-wheel drive (rear drive is the standard setup). Two rear seats add a little practicality to the already tempting mix of open-top travel, luxury appointments, and renowned BMW dynamics.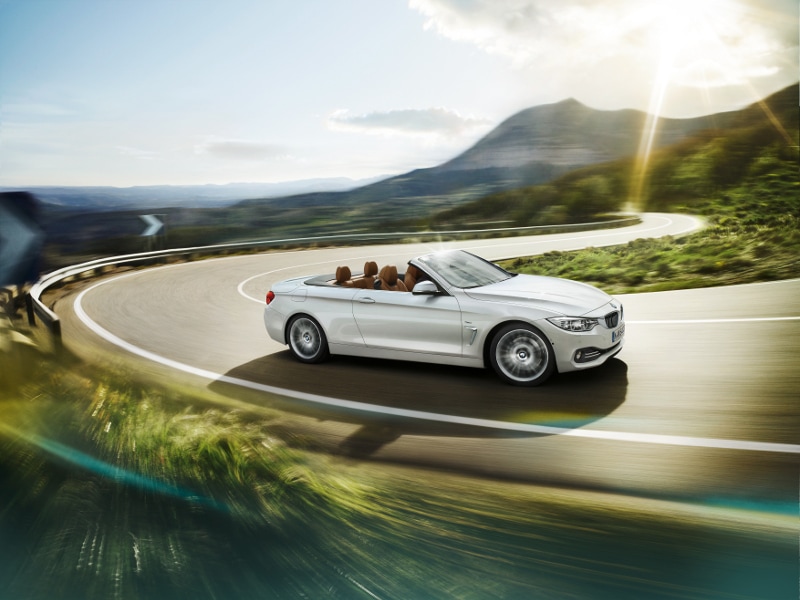 2016 Fiat 500C
This is the kind of convertible that looks tailor-made for quaint Italian villages. And some of that Mediterranean chic is available from the Atlantic to the Pacific. The 500C is more of a "rolled-back fabric roof" arrangement than a proper "full exposure to the elements" kind of convertible, but no less charming because of it. 
The upside is that the rear seats are still usable (as much as they ever are in the less-than-spacious 500). The basic engine is a 1.4-liter four making 101 hp and 97 lb-ft of torque. So not a machine for blistering acceleration, but then you'll be able to enjoy all those quaint villages to the full. For more pep, check out the sporty Abarth model with a turbocharged 135 hp and 150 lb-ft of torque. One more thing: in Pop trim, the 500C is the cheapest on this list.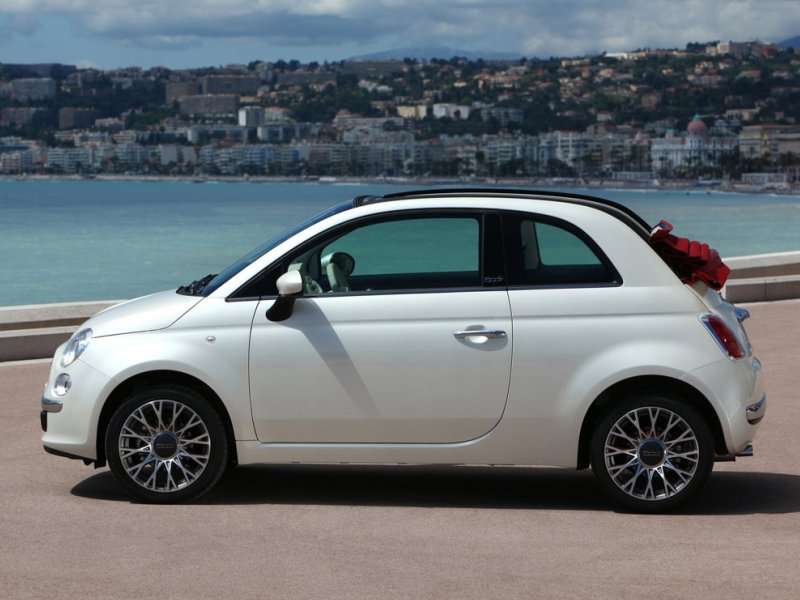 2016 Ford Mustang Convertible
It's only one of the most desirable and recognizable American cars ever. If we all looked deep into our hearts, how many of us would really not want to own a Mustang? And having a convertible version would be the ideal for most of us. 
Back in the day, a 'Stang had to have a V8, because there was no replacement for displacement. But then oil crises and emissions laws knocked some sense into us, and now Ford's EcoBoost turbocharged 2.3-liter four in the current model makes enough power to keep that pony running — 310 hp and 320 lb-ft of torque. That's more than the entry-level 2.7 V6. Factor in an independent rear suspension (as opposed to the old model's primitive live axle setup) and we have a Mustang for modern times.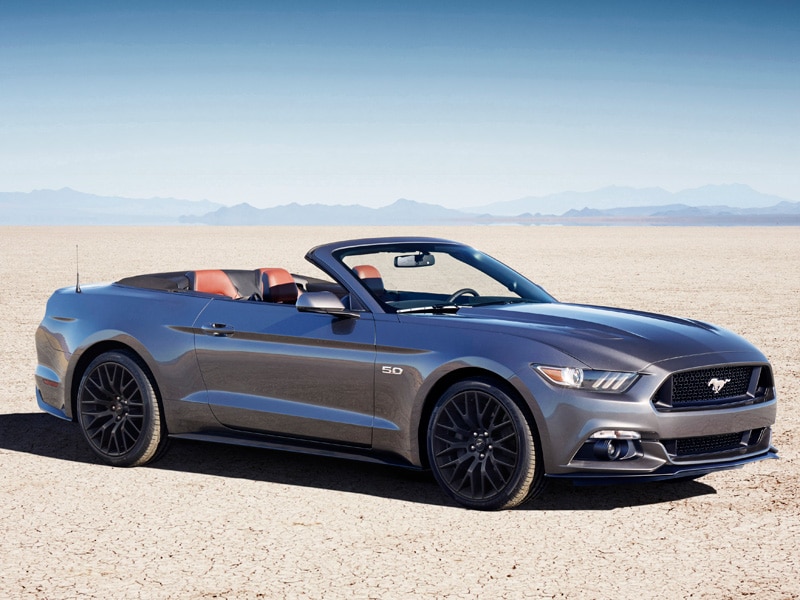 2016 Mazda MX-5 Miata
The best-selling two-seater roadster ever. And rightfully so. All the charm of an English sports car with all the reliability and build quality of a Japanese vehicle — that's an unbeatable combination. The 2016 model year heralds a new generation and it carries on the tradition of affordable, accessible rear-drive fun.
This could be the best MX-5 ever. It's already winning awards for its handling talents. An all-new 2.0-liter four-cylinder engine actually makes less power than the outgoing model: 155 hp, compared with 167. But that's offset by a lighter body (by about 150 pounds) and eight more pound-feet of torque (148 lb-ft). Among the creature comforts is a Bose audio system developed especially for open-top driving.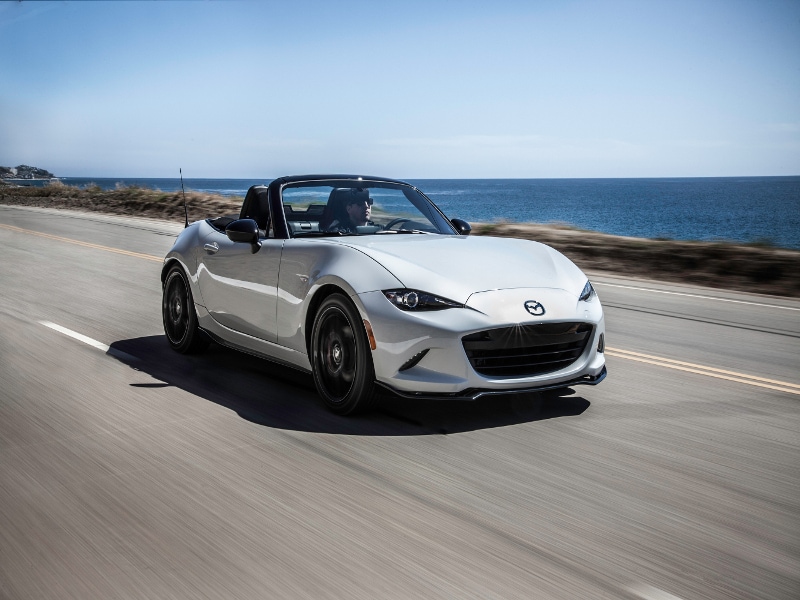 Photo by Mazda
2015 Mercedes-Benz SLK250
The more muscular versions of Mercedes-Benz's compact roadster enjoy V6 and V8 power, but don't underestimate the thrills to be had from the SLK250's turbocharged 1.8-liter four, with its output of 201 hp and 229 lb-ft of torque. 
The SLK was one of the first cars to ever have a folding hard top and the current (third) generation stays with the program. This model looks and feels like a smaller version of the SL grand tourer, with a similar panache. One option to check out is the ingenious Airscarf system that blows warm air onto your neck through vents in the seats. Oh, and Magic Sky Control, where the glass roof can become lighter or darker at the touch of a button.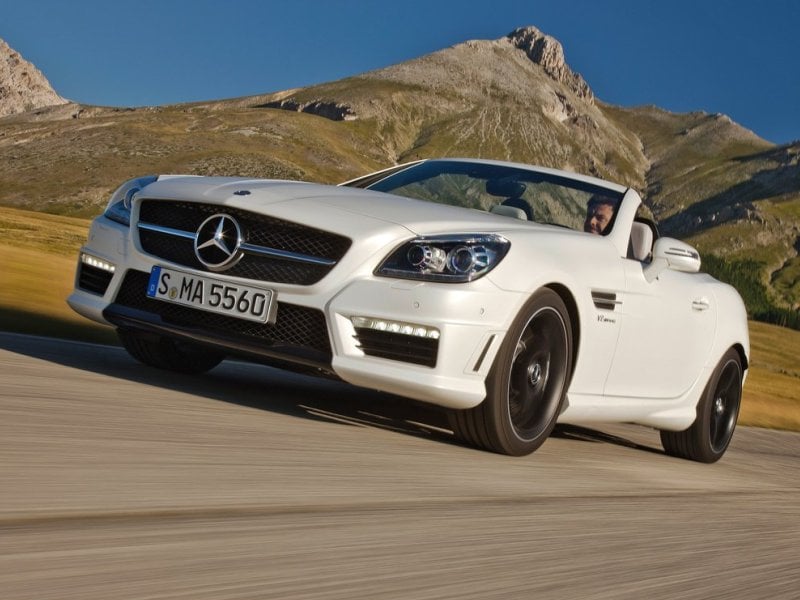 2015 Mini Cooper Convertible
Mini has discontinued the Roadster, so the Cooper Convertible is the marque's only open-top available right now (although there might be some Roadsters left at a few dealerships). And this model is still based on the previous generation; the Cooper Hardtop is a new generation. 
That said, 208 hp from the range-topping John Cooper Works version's 1.6-liter turbo four married to some of the best front-drive dynamics ever should be a fine recipe for al fresco frolics. But there are more modest versions too, like the base with 121 hp and the S with 181 hp. These will also have more forgiving suspension setups. If comfort is a major consideration, think about keeping the wheel size as small as possible.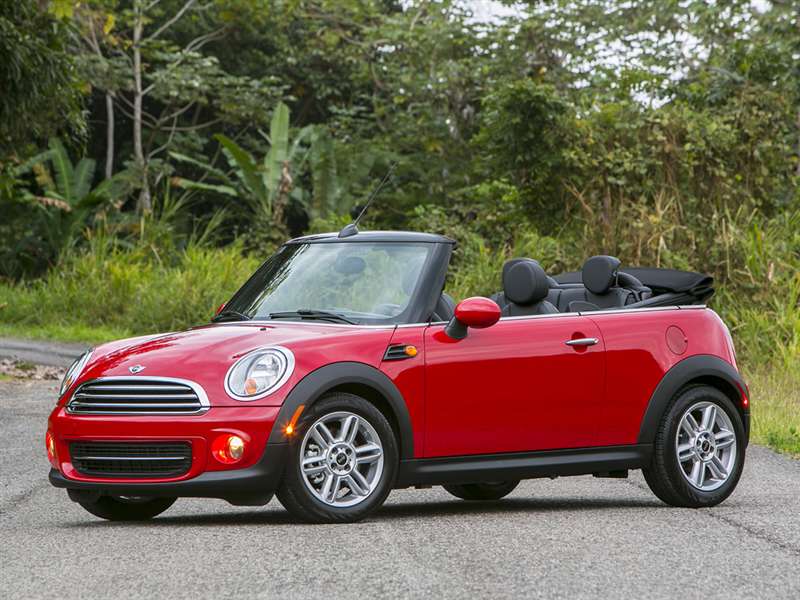 2015 VW Beetle Convertible
This retro-styled ride comes with a choice of three turbo fours: a 1.8 (170 hp), 2.0 (210 hp), plus the rare distinction of offering a torquey-yet-economical 2.0 diesel version (150 hp, 236 lb-ft of torque and 41 mpg highway). And don't forget that VW's excellent DSG dual-clutch automated manual transmission is also available. 
The fabric roof can be opened remotely for a little bit of parking lot theater. And when the roof is in place, the car's silhouette has a lower line than its tin-top sibling. There's seating for four and a new arrangement for 2015 where the rear seats can split and fold in 60/40 manner to bring more cargo space when required.